'Time for empowering women... is now': Melania Trump honors international activists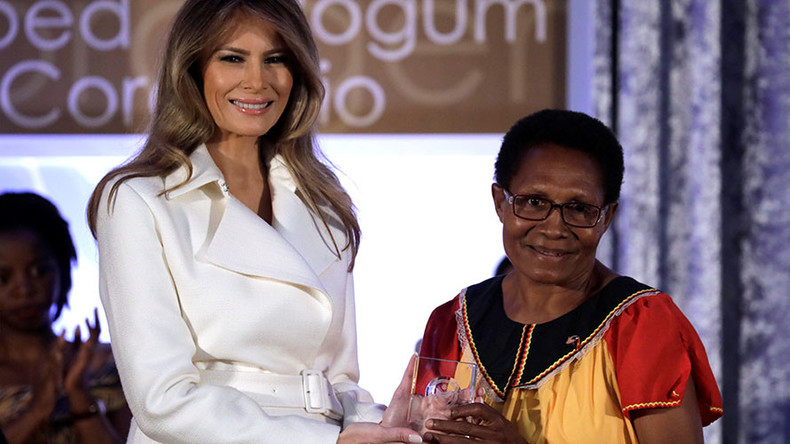 First Lady Melania Trump made a rare public appearance to present 13 women with the 2017 Secretary of State's International Women of Courage Award. The prize honors those who fight for women's empowerment, often at great personal risk.
"Together, we must declare that the era of allowing the brutality against women and children is over while affirming that the time for empowering women around the world is now," Trump said.
"For wherever women are diminished, the entire world is diminished with them. However, wherever women are empowered, towns and villages, schools and economies are empowered, and together we are all made stronger with them," she continued. The remark echoed then-First Lady Hillary Clinton's 1995 speech at the United Nations Fourth World Conference on Women, in which she said that "women's rights are human rights and human rights are women's rights."
Trump called on leaders to "continue to work towards gender empowerment and respect for people from all backgrounds and ethnicities," and on the international community to "stand up against evil" by fighting all forms of injustice.
More than 100 women from over 60 countries have received the award since its inception in 2007. Each US embassy can nominate one woman for the award. The 13 women were honored based on regional bureaus within the State Department.
"Each of these courageous women are dedicated to issues high on the list of global challenges we currently face," the State Department said in a statement. "Together, they provide a hopeful message that in the face of even some of the most daunting challenges, courage and leadership can pave the way to greater peace and progress."
Trump was joined by Under Secretary of State for Political Affairs Thomas A. Shannon, who officially hosted the awards ceremony. She personally handed out the awards to the dozen recipients who were present; many of the women became emotional as they were honored.
The Bureau of African Affairs honored three women: Malebogo Molefhe (Botswana), Rebecca Kabugho (Democratic Republic of the Congo) and Major Aichatou Ousmane Issaka (Niger). Molefhe, who used to play for the Botswana national basketball team, has served as an advocate for survivors of gender-based violence after she was attacked and shot eight times by her ex-boyfriend in 2009 and confined to a wheelchair. Kabugho has led peaceful anti-government protests calling for credible elections in the DRC, and spent six months in prison for her role as an activist. Issaka, currently the deputy director of social work at the Military Hospital of Niamey, was one of the first women to join the Nigerien army in 1996, and was one of the first to attend a military academy. She has served throughout Niger, including in the Diffa Region, a stronghold of the Boko Haram terrorist group.
The Bureau of East Asian and Pacific Affairs honored two women: Veronica Simogun (Papua New Guinea), the founder and director of the Family for Change Association, who works to help shelter and relocate women affected by violence, and Nguyen Ngoc Nhu Quynh (Vietnam), a blogger and activist who promotes environmental and human rights issues under the nom de plum Me Nam or Mother Mushroom. Quynh was the only recipient not in attendance because she was arrested in 2010 and charged with "conducting propaganda against the state." She has been "held incommunicado since then," according to the State Department.
Saadet Ozkan of Turkey was the only honoree from the Bureau of European and East Asian Affairs. As a primary school teacher, she uncovered a "decades-long pattern of sexual abuse" and forced a criminal investigation of the principal; she still supports the victims and their case as a private consultant.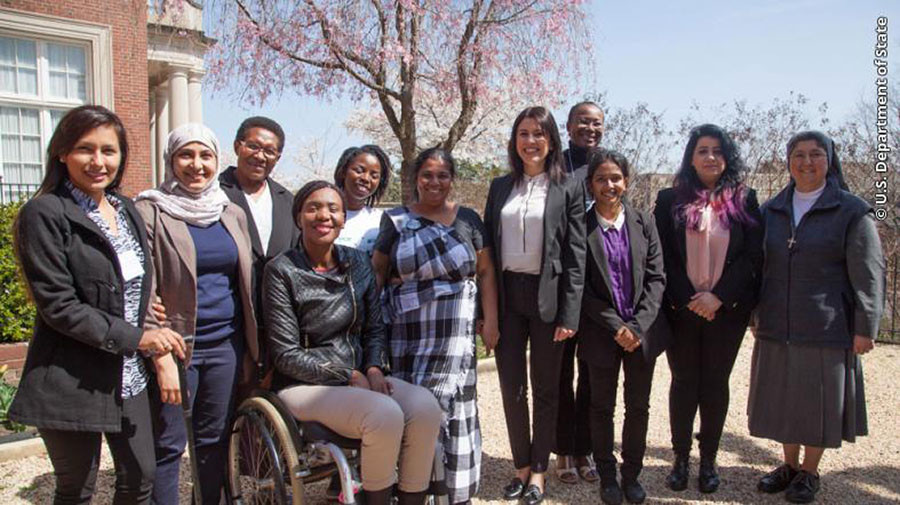 The Bureau of Near Eastern Affairs honored three women: Jannat Al Ghezi (Iraq), Sister Carolin Tahhan Fachakh (Syria) and Fadia Najib Thabet (Yemen). Al Ghezi helps Iraqi women escape violence, rape and domestic abuse, as well as Islamic State terrorism and occupation, and offers them shelter, training, protection and legal services through the Organization of Women's Freedom in Iraq. Known as Sister Carol, Fachakh runs a nursery school in war-torn Damascus for more than 200 Muslim and Christian children, as well as a tailoring workshop for internally displaced women. Thabet is a child protection officer who has dissuaded young boys from joining Al-Qaeda, exposed its Yemeni branch Ansar al-Sharia as a recruiter of child soldiers and reported on human rights violations for the UN Security Council.
The Bureau of South and Central Asian Affairs honored Sharmin Akter (Bangladesh), a student who refused an arranged marriage at age 15, which resulted in the prosecution of her mother and her much-older prospective husband, and Sandya Eknelygoda (Sri Lanka), who fought for justice after the disappearance of her journalist husband in 2010 and who has served as a voice for the families of others who have disappeared during the country's civil war.
The Bureau of Western Hemisphere Affairs honored Natalia Ponce de Leon (Colombia), who has become a human rights activist for the victims of acid attacks after a stalker threw a liter of sulfuric acid on her in 2014, and Arlette Contreras Bautista (Peru), a domestic violence survivor and activist, who helped launch the Not One Woman Less movement, which aims to increase the social and political awareness of women's rights and gender-based violence in Peru.
Trump did not mention her husband or his presidential administration during her 10-minute remarks. President Donald Trump has denied accusations of sexual assault, sexism and sexual harassment. He "is proud that his administration is full of so many female leaders," White House press secretary Sean Spicer said Wednesday.
The awards ceremony occurred near the end of Women's History Month. Congress officially designated the month of March as Women's History Month in 1987; it incorporates International Women's Day on March 8.