Life-size statue of girl stares down Wall Street's bull on Women's Day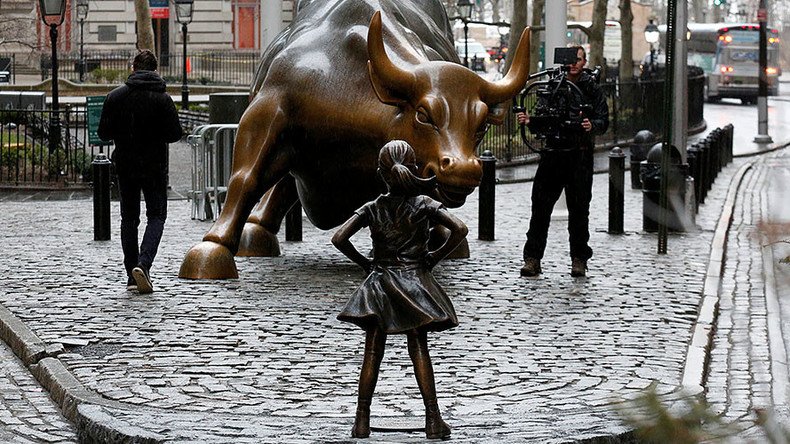 A 50-inch bronze statue of a girl defiantly facing Wall Street's iconic charging bull has been installed in New York as part of a month-long campaign to get companies to add more women to their boards and combat the gender pay gap in financial services.
"One of the most iconic images on Wall Street is the charging bull. So, the idea of having a female sort of stand against the bull or stand up to the bull just struck us as a very clever but also creative and engaging way to make that statement," Lori Heinel, deputy global chief investment officer at State Street Global Advisors, which funded statue, told Business Insider.
The statue, 'Fearless Girl' was installed Tuesday ahead of International Women's Day on March 8. The statue will stay up for a month.
"There has been a lot of discussion on this topic, but the needle hasn't moved materially," Heinel said.
State Street Global Advisors is a nearly $2.5 trillion subsidiary of State Street Corporation, which invests in US companies.
Heniel said they want every company to have at least one female board member and to take steps to fixing the gender pay gap.
"We're not going to always automatically vote against the company, but we want to make sure there are tangible concrete measures they are taking," Heinel said.
Nearly one quarter of boards represented in the Russell 3000, an index of the entire US stock market, have no women at all, according to Heinel.
Heinel's group commissioned the statue from sculptor Kristen Visbal. The work was completed in two months.
Visbal said she had driven past the charging bull years ago and remembered thinking, "I wish I had made it."
The statue is a combination of her friend's seven-year-old daughter and a nine-year-old Latina girl, Visabal said.
"We didn't want her to be dated in any way. It's leggings, high tops and a simple dress," Visbal told the Wall Street Journal.
The Fearless Girl, a new bronze statue stands directly across from Wall Street's iconic Charging Bull, silently asserting her equal prowess pic.twitter.com/ZCQWNm1e2S

— Iustin Simion (@joggrunner) March 8, 2017
The figure's features were smoothed down to give the artwork a slick, simple appearance akin to the bull's.
You can share this story on social media: