#DressLikeAWoman: Internet threads holes in Trump's 'sexist' comments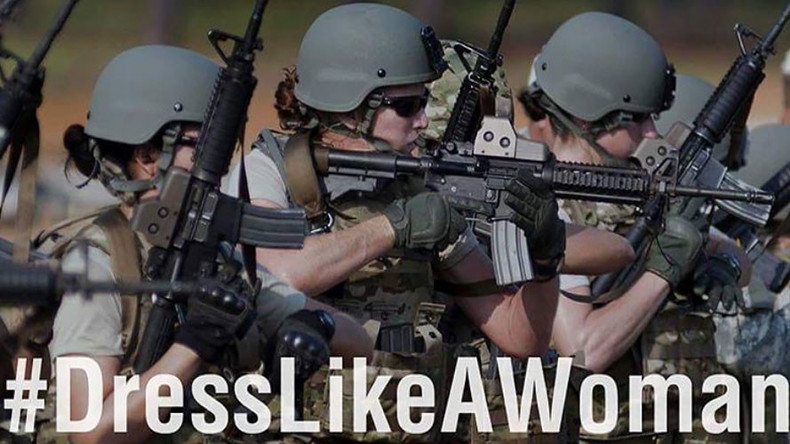 Men and women across the internet have fired back at reports that US President Donald Trump prefers his female colleagues to "dress like women," giving the former beauty contest owner a lesson in exactly how women dress.
From army vets to heart surgeons and scientists, social media has hit back at the president's out-of-touch comments.
According to Trump aides, the president "likes the women who work for him 'to dress like women,'" Axios reports. "Even if you're in jeans, you need to look neat and orderly," a source said.
Women working in the Trump campaign field offices reportedly felt the pressure to dress up to impress Trump.
In response, #DressLikeAWoman quickly became the top trending topic of Twitter, as women flooded the internet with evidence of how to "dress like women."
Many chose to highlight the many women working in the US military, donned in army fatigues and parachute packs, while others chose to show Trump how police officers and firefighters dress when they serve.
This may have come as a surprise to the man who in 1994 said "putting a wife to work is a very dangerous thing."
The #ActualLivingScientist hashtag – which was started as a response to the fact that many Americans can't name any living scientists – then morphed to represent all the lady scientists out there.
Others pointed to well-known women such as Supreme Court Justice Ruth Ginsburg, Hillary Clinton, Mae Jemison, and Malala Yousafzai, asking Trump whether their style was what he had in mind?
Images of sports icons, including tennis star Serena Williams and Olympic fencer Ibtihaj Muhammad, were also shared.
It's not just women that Trump judges on looks. The Axios report pointed to Trump's penchant for choosing administration candidates based on looks. General David Petraeus' height was commented upon, while economic adviser Gary Cohn impressed the president with his swagger.
You can share this story on social media: