Bible break-in: Colorado Islamic center vandalized, community rallies in solidarity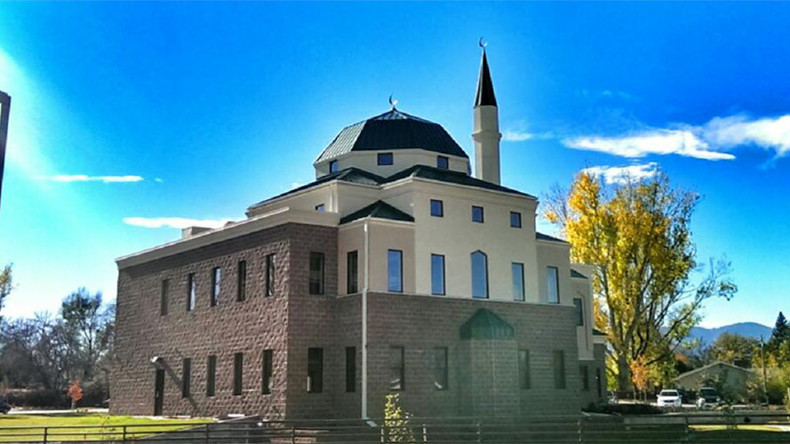 A man tried to break into the Islamic Center of Fort Collins with rocks, outdoor furniture, and even a Bible, resulting in heavy damage to the building's doors and exterior. About 1,000 people gathered later in the day to show support.
At about 4:00am local time on Sunday, a man did "quite a bit of damage" to the Islamic Center of Fort Collins, the center said on its Facebook page. The vandal threw large rocks and other objects to break glass doors outside a prayer room, though he did not enter the building.
No one was in the facility at the time of the incident. No injuries have been reported, according to local news outlets.
"I think the perpetrator is a young man, probably in his late 20s or early 30s, very strong," Tawfik Aboellail, the center's president, told The Denver Post, based on security footage of the incident. "He tried to break in using a screwdriver, kicking at the door. Finally he broke two back doors with five-pound rocks."
A Bible was found laying amid broken glass inside the building, according to reports. The Muslim-advocacy group Council on American-Islamic Relations (CAIR) says that, due to this piece of evidence, the attack should be investigated as a potential hate crime.
"Because of the use of a Bible in the vandalism, we would urge state and federal law enforcement authorities to investigate the possibility of a bias motive for this attack on a house of worship," said spokesman Ibrahim Hooper, according to the Post.
Fort Collins Police Chief John Hutton called the vandalism "unacceptable" and asked for anyone who might have any information on the crime to report it to his department. While the Fort Collins police has opened an investigation, it has yet to categorize the crime as bias-motivated, the Coloradoan reported.
AboEllail said the damage was first discovered around 5:30am as worshippers arrived for first prayer.
"Anything he could get a hold of, he wanted to damage," Aboellail said, adding "Thank god he didn't burn the building down," according to the Coloradoan.
Aboellail added that the worshippers at the center, which is located near the campus of Colorado State University, are a "peaceful people."
"The Bible being thrown into the prayer hall is a message in itself," Aboellail said, stressing "we are peaceful people. We love our Christian and Jewish brothers. We don't have any problems with anyone," according to the Post.
"Nobody is safe anymore. It could happen to anybody," he warned.
The center has established a GoFundMe page to raise money to pay for the repairs and improve the building's security, and the account has already eclipsed its $20,000 funding goal.
Later on Sunday, Aboellail and several public officials spoke at a community event organized by a local rabbi that was attended by about 1,000 people, according to the Coloradoan.
"As a Rabbi, I'm particularly sensitive to this," said Rabbi Hillel Katzir of Temple Or Hadash. "An attack on a house of worship, any house of worship, is an attack on all houses of worship. If we let this one go, if we don't respond, who's next?"
During the event, City Council member Kristen Stephens said she was "heartbroken," noting that Fort Collins doesn't "expect this in our community … but it's here," the Coloradoan reported.
Yet the center's members said they weren't surprised by the vandalism.
"There are a lot of people talking about how this is not Fort Collins, this is not our community, but unfortunately it is," Michelle Skeens told the Coloradoan, adding, "How can we address that? The biggest way is to start a conversation about it, first and foremost."
Thus far in 2017, CAIR has counted at least 34 incidents of possible bias-motivated crimes against mosques across the US. Late last week, the civil rights group called out the Trump administration for its "deafening silence" on these attacks. CAIR said in the first three months of 2016, there were 19 such incidents.
"Every day, we receive more reports of hate incidents, threats and violence targeting American Muslims, Islamic institutions and even those perceived to be Muslim, yet we hear only a deafening silence from the Trump administration," said CAIR National Executive Director Nihad Awad. "President Trump must speak out against the growing Islamophobia in our nation for which he bears substantial blame."
CAIR, like other monitors of such attacks, said anti-Muslim bias incidents had increased substantially in 2016, up more than 50 percent from the previous year.
In February, hate-group monitor Southern Poverty Law Center called 2016 a "banner year for hate" in the US, attributing much of the spike in bias-related crimes and similar incidents to Donald Trump's presidential campaign. SPLC said anti-Muslim hate groups nearly tripled to about 100 in 2016.
Trump's incendiary campaign rhetoric on race, gender, religion, and immigration "electrified the radical right, which saw in him a champion of the idea that America is fundamentally a white man's country," the SPLC said in its annual report.
The Trump administration is currently fighting in federal courts on multiple fronts to bring its travel ban on six Muslim-majority countries and an accompanying refugee freeze into effect. The administration's first attempt was successfully challenged in numerous federal courts.
The second version signed by Trump on March 6 has also been dealt setbacks by court rulings in Hawaii and Maryland. However, late last week, a Virginia judge ruled in support of administration's ban.
In addition to anti-Muslim activities, anti-Semitic vandalism, intimidation and threats of violence are on the uptick in the US. Jewish community centers have been targeted by several waves of phoned threats this year. The Anti-Defamation League has recorded more than 100 bomb threats targeting Jewish institutions around North America since January.
A 19-year-old US-Israeli citizen was arrested last week for allegedly making a series of threats to Jewish Community Centers. In early March, a Missouri man was arrested for threatening at least eight centers and the Anti-Defamation League.
You can share this story on social media: