Missouri man arrested for at least 8 Jewish center threats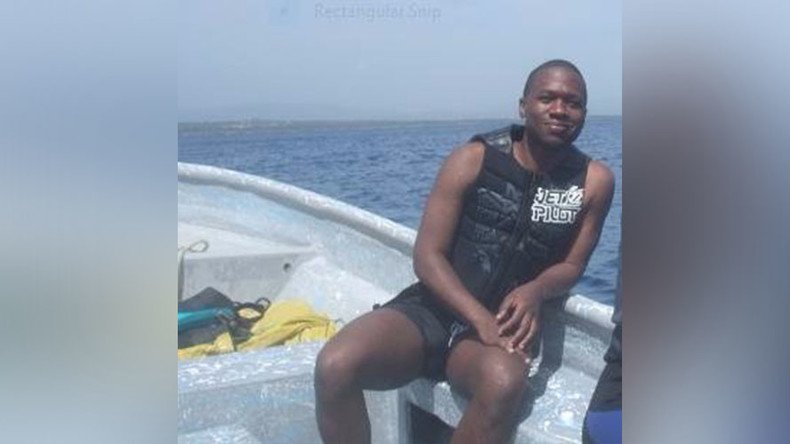 A former journalist for The Intercept is accused of making at least eight bomb threats to various Jewish community centers and the Anti-Defamation League. The threats were made to settle a score with a woman, authorities say.
Juan Thompson, 31, was arrested by the FBI early Friday in St. Louis. He has been charged with cyberstalking in the state of New York. The bomb threats made to the various Jewish community centers (JCCs) were part of a "campaign to harass and intimidate" a woman with whom Thompson was formerly in a romantic relationship, according to federal prosecutors.
Some threats communicated to JCCs were made in the woman's name, according to the US Attorney's Office of the Southern District of New York.
Thompson is a former staff writer for The Intercept who was fired a year ago for fabricating sources and quotes in stories published in 2015.
The arrest comes after five waves of bomb threats, totaling nearly 100 specific instances, made to JCCs in 30 states since the beginning of the year. The most recent wave occurred on February 27.
Thompson's intimidation campaign against the woman likely began "shortly after their romantic relationship ended," federal prosecutors said. He reportedly sent "defamatory emails and faxes" to the woman's employer, made "false reports of criminal activity" by the woman, including possession of child pornography, and made threats to JCCs in her name.
The Anti-Defamation League was emailed bomb scares at its offices in New York on February 21 and 22, according to the criminal complaint. Thompson is accused of saying in a February 21 email that "[the victim's name and birthdate] is behind the bomb threats against jews. She lives in nyc and is making more bomb threats tomorrow." On February 22, the ADL office received a phone call claiming there was explosive material on site.
Thompson even made JCC threats in his own name in an attempt to claim the woman was trying to frame him. One email threat made on February 7 from an anonymous email account said, "Juan Thompson [Thompson's birthday] put two bombs in the office of the Jewish center today. He wants to create Jewish newtown tomorrow," referring to the Newtown, Connecticut massacre of December 2012.
On February 24, Thompson used his own Twitter account to accuse the woman, dubbed "Victim-1" by federal prosecutors, of blaming him for the JCC threats that she was making, as he alleged. He tweeted: "[s]he [Victim-1], though I can't prove it, even sent a bomb threat in my name to a Jewish center, which was odd given her antisemitic statements. I got a visit from the FBI. So now I'm battling the racist FBI and this vile, evil, racist white woman."
Two days later, another post on the Twitter account stated: "The hatred of Jews goes across all demos. Ask NYC's [Victim-1's employer]. They employ a filthy anti-Semite in [Victim-1]. These ppl are evil."
The FBI and the New York Police Department were engaged in the investigation that led to Thompson, federal prosecutors said.
"The defendant caused havoc, expending hundreds of hours of police and law enforcement resources to respond and investigate these threats," said New York City Police Commissioner James O'Neill. "We will continue to pursue those who pedal fear, making false claims about serious crimes."
Thompson has been charged with one count of cyberstalking, a crime that comes with a maximum of five years in prison.
"Today, we have charged Juan Thompson with allegedly stalking a former romantic interest by, among other things, making bomb threats in her name to Jewish Community Centers and to the Anti-Defamation League," said US Attorney Preet Bharara. "Threats of violence targeting people and places based on religion or race – whatever the motivation – are unacceptable, un-American, and criminal."
In February 2016, The Intercept, best known as the news outlet launched in part by Glenn Greenwald amid the Edward Snowden-led NSA leaks of 2013, announced Thompson was let go by the news website the previous month for fabricating "several quotes in his stories and created fake email accounts that he used to impersonate people," including a Gmail account in the name of Betsy Reed, editor-in-chief of The Intercept.
One story that Thompson was accused of fabricating was based on an alleged interview with "Scott Roof," a supposed cousin of Dylann Roof, who shot and killed nine African-American parishioners of a South Carolina church in 2015.
The Intercept said Friday that it was "horrified" to learn of Thompson's alleged behavior. "These actions are heinous and should be fully investigated and prosecuted. We have no information about the charges against Thompson other than what is included in the criminal complaint."
You can share this story on social media: