Trump drops legal challenge to travel ban, will issue new order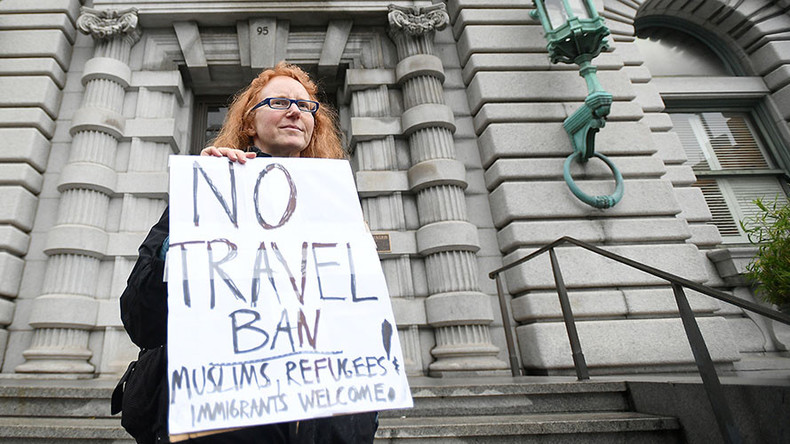 The US Department of Justice will not appeal the 9th Circuit Court's decision on staying the January travel ban affecting seven Muslim-majority countries. President Donald Trump will issue a new executive order instead, the DOJ said in a court filing.
"In so doing, the President will clear the way for immediately protecting the country rather than pursuing further, potentially time-consuming litigation," the Justice Department said in a brief filed with the 9th Circuit on Thursday, according to Reuters.
Trump announced he would issue the new order during a press conference at the White House earlier in the day, adding it would be tailored to address "what I consider to be a very bad decision" by the court.
"We can tailor the order to that decision and get just about everything, in some ways more," he said.
The January 27 order suspended the issuance of visas to citizens of Syria, Libya, Sudan, Somalia, Yemen, Iraq, and Iran. All those countries, except for Syria, were singled out as "countries of concern" by the Obama administration in 2015, restricting visa waiver benefits for people who traveled to any of them.
Critics denounced the order as a "Muslim ban," pointing to Trump's comments on the campaign trail about banning immigration from Muslim countries in the aftermath of the terrorist attack in San Bernardino, California.
On February 4, a federal judge in Seattle, Washington stayed the order. That decision was upheld by three judges on the 9th Circuit Court of Appeals five days later, prompting Trump to angrily tweet, "See you in court!"
Doing so would have involved taking the case before the US Supreme Court that is still divided between conservative-leaning and liberal judges, however. Confirmation proceedings for Judge Neil Gorsuch, Trump's nominee to fill the seat vacated by last February's death of Justice Antonin Scalia, are scheduled to begin in March.
Last week, a judge on the 9th circuit called for en banc review of the decision, involving 11 members of the 25-judge circuit bench. While Thursday's DOJ filing did not seek such a review, it said the earlier ruling "should not remain circuit precedent," and asked the circuit to vacate it once Trump issues the new executive order.