'Real leaks, fake news': Trump spars with hostile media in first solo press conference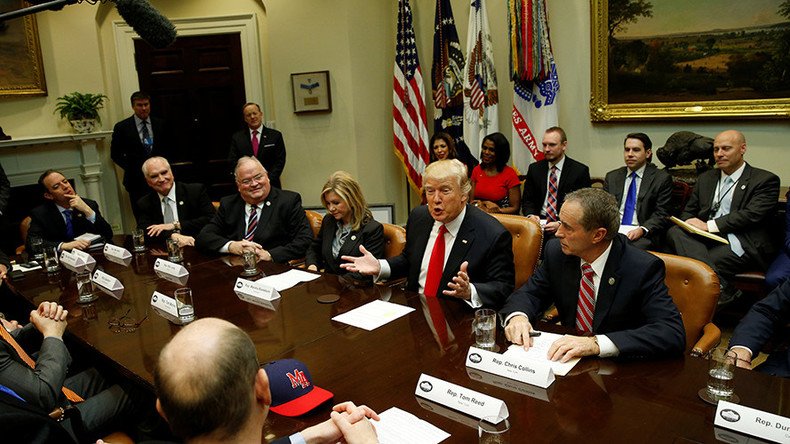 In his first solo press conference at the White House, US President Donald Trump announced his new nominee to head the Department of Labor and berated reporters for "fake news" about his administration.
Meeting with congressional Republicans earlier in the day, Trump complained about the "slowest in history" Cabinet confirmations, and said his new labor nominee would be "really phenomenal." The original pick for the position, fast-food executive Andrew Puzder, withdrew from consideration on Wednesday.
The new nominee, Alexander Acosta, previously served on the National Labor Relations Board and as assistant attorney general for the Department of Justice's Civil Rights division, both under President George W. Bush. He is a graduate of the Harvard Law School and dean of the Florida International University College of Law.
16 February 2017

19:11 GMT

Trump said he would love to meet with the Congressional Black Caucus, but pointed out that Rep. Elijah Cummings (R-Maryland) backed out of meeting with him, saying it would be bad politically.

19:09 GMT

Many people in inner cities are "living in hell," afraid to leave their apartments due to violence, Trump said. "We can't let that happen."

19:08 GMT

First Lady Melania Trump will be moving to Washington in a few months, when the couple's 11-year-old son Barron finishes school, the president said.

19:05 GMT

Trump was asked about the Deferred Action for Childhood Arrivals (DACA) program, as there has been at least one person arrested by immigration officials who was covered under the program.

"DACA is a very difficult subject for me," he said. "You have some absolutely incredible kids, but they were brought here in such a way" that they would be treated very harshly. "The existing law is very rough," he added.

The new executive order on immigration is tailored to address the "bad decision" handed down by the 9th Circuit Court.

19:02 GMT

When asked by a "friendly reporter" about an uptick in anti-Semitism, Trump responded:

"I hate the charge [of anti-Semitism], I find it repulsive. I am the least anti-Semitic person you've ever met."

19:00 GMT

Asked if anyone on his campaign had contact with the Russians during the election, Trump became exasperated. "Russia is a ruse, I have nothing to do with Russia."

18:59 GMT

"We had a very good roll-out on the travel ban, but we had a very bad court."

18:57 GMT

"I am not going to tell you what I intend to do" about the Russian ship, North Korea or Iran, Trump told a reporter, "because they shouldn't know."

18:48 GMT

"The whole Russia thing, that's a ruse. It would be great if we could get along with Russia."

18:46 GMT

"The leaks are real, the news is fake."