Trump's revised travel ban partially blocked by Maryland federal judge
Published time: 16 Mar, 2017 15:29
Edited time: 17 Mar, 2017 08:37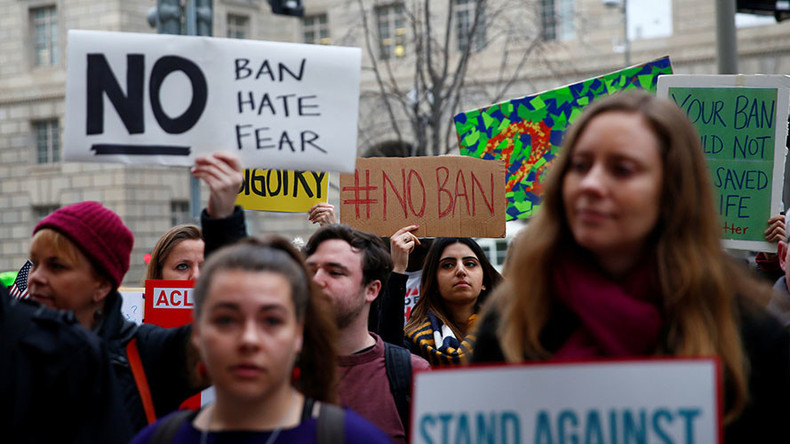 A federal judge in Maryland has suspended a portion of President Donald Trump's travel ban which prevents US visas from being issued to citizens of six countries. It comes after a similar ruling from a judge in Hawaii.
US District Judge Theodore D. Chuang determined on Thursday that Trump's revised executive order was "the realization of the long-envisioned Muslim ban."
Citing previous comments made by the president, Chuang concluded that "the history of public statements continues to provide a convincing case that the purpose of the Second Executive Order remains the realization of the long-envisioned Muslim ban."
He determined that there were "strong indications" that national security is not the primary purpose for the ban, and that Trump may have intended to violate the constitutional prohibition on religious preferences.
Chuang wrote that he "should not, and will not, second-guess the conclusion that national security interests would be served by the travel ban," he had no choice but to block the executive order if national security was secondary to an attempt to disfavor a particular religion.
He granted a preliminary injunction on a nationwide basis, but declined to stay the ruling if an emergency appeal were to be filed.
Chuang only blocked the provision affecting the issuance of visas, saying those suing had "not provided a sufficient basis" for other sections to be declared invalid.
The ruling was made in a case brought by non-profit groups which work with refugees and immigrants.
It came just one day after Hawaii Judge Derrick K. Watson blocked the ban hours before it was set to come into effect, saying that a "reasonable objective observer" would view the order as "issued with a purpose to disfavor a particular religion, in spite of its stated, religiously neutral purpose."
He took it a step further by also suspending the portion of the order that affects the arrival of refugees into the US.
Watson's ruling will remain undisturbed by Chuang's. However, appeals courts would ultimately have to decide which was right and to what extent.
Trump lashed out at Watson during a rally in Nashville on Wednesday night, accusing the judge of ruling "for political reasons."
He went on to stress that it is within the president's power to halt entry into the US "when he or she deems it to be in the national interest of our country."
The revised executive order dropped Iraq from the previous ban's list of affected countries. Under the new order, no green cards or visas would be issued to citizens of Iran, Libya, Somalia, Sudan, Syria and Yemen for at least 90 days. The entry of refugees would also be halted for 120 days, with the total number of admissions capped at 50,000 for the 2017 fiscal year.
Trump's original travel ban, which sparked international protests, was rejected by the 9th Circuit Court of appeals last month after it concluded that it was likely unconstitutional.
The case will likely reach the Supreme Court, with Trump stating on Wednesday night that "we are going to fight this terrible ruling..."
"...We are going to take our case as far as it needs to go, including all the way up to the Supreme Court. We're going to win. We're going to keep our citizens safe..." he continued.