Judge blocks new travel ban on Syrian family as AGs in 6 states challenge Trump's new order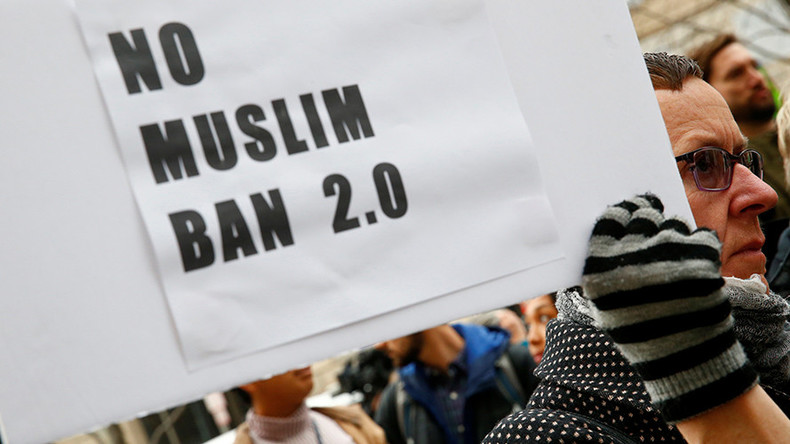 President Donald Trump's revised travel ban is already the subject of many legal actions, including from six state attorneys general. A federal judge has also ruled against barring a Syrian family from entering the country under the new ban.
On Friday, US District Judge Michael Conley blocked Trump from enforcing his new travel ban against a Syrian family who were looking to leave Aleppo and join the father of the family who was granted asylum and settled in Wisconsin over a year ago.
Read more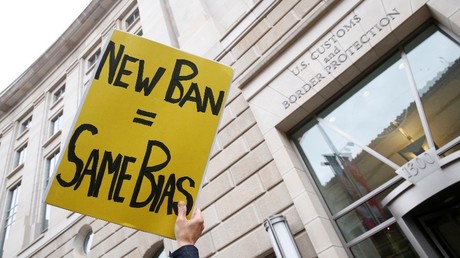 The Syrian Muslim man first filed a lawsuit in February, and Conley set that challenge aside after the travel ban was blocked by Robart.
Then, after the new travel ban was issued, the man filed a new complaint on Friday afternoon, arguing that the new order is still an "Muslim ban" that violates his religious freedom, and his rights to due process.
Conley granted the man's new request, saying the threats to his family could cause "irreparable harm," and issued a temporary restraining order of the travel ban for his family, according to the Associated Press.
After Hawaii became the first state to file a lawsuit against the new executive order, attorneys general from five other states, including Washington, Maryland, Minnesota, Oregon, New York and Massachusetts are planning to file a complaint challenging the ban on Monday, March 13.
The state of Hawaii already filed a lawsuit against the new executive order, which a federal judge agreed to hear on March 15, just before the order is supposed to go into effect.
On Thursday, New York Attorney General Eric T. Schneiderman announced that he was joining Washington in the suit against the travel ban, which he called "a Muslim ban by another name."
Massachusetts Attorney General Maura Healey announced his state would join Washington in its lawsuit against the ban, which she said "remains a discriminatory and unconstitutional attempt to make good on his campaign promise to implement a Muslim ban."
Attorney General Ellen Rosenblum announced that Oregon also granted its request to join the lawsuit against the ban.
"I am pleased that several state attorneys general are combining our resources to continue to fight the President's attempt to fulfill a campaign promise of banning Muslims from entering the United States. Though repackaged, the President's revised Executive Order has the same discriminatory intent as the first one," Rosenblum said.
In Minnesota, one of the states to take legal action against the first travel ban, Attorney General Lori Swanson wrote a brief response that the Trump administration cannot "unilaterally modify a preliminary injunction" with their revised executive order.
Maryland Attorney General Brian Frosh announced that his state would also join the lawsuit, saying "President Trump's second executive order is still a Muslim ban."
In Washington State, Attorney General Bob Ferguson asked Judge James Robart, who issued the temporary restraining order against the first travel ban, to determine if his restraining order would apply to the new executive order.
READ MORE: Democrats move to challenge Trump's new travel ban in court
On Friday, Robart said that he cannot rule on whether his restraining order applies to the new ban because lawyers from states opposed to the measure failed to file the proper paperwork. Instead of filing a new complaint, lawyers filed a response on the previous order. Ferguson said that he would review the decision with his legal team to determine the next step.