Hawaii challenges Trump's new travel ban in court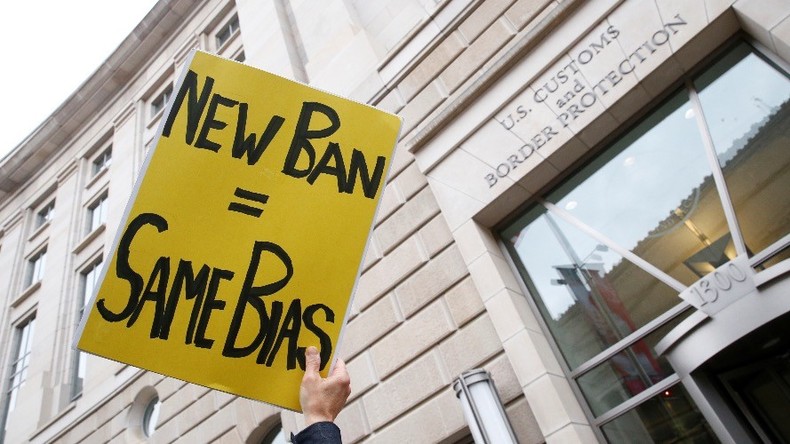 US President Donald Trump's new restrictions on six Muslim-majority countries are unfair to an imam's mother-in-law and threaten Hawaii's sovereign interests in welcoming people from around the world, attorneys for the state said in a legal challenge.
Hawaii Attorney General Douglas Chin and Imam Ismail Elshikh asked the US District Court for an injunction against the travel ban, which is scheduled to go into effect on March 16. They were joined by seven attorneys from Hogan Lovells LLP, a major lobbying law firm with long-standing ties to the Clinton and Obama administrations.
"This new executive order is nothing more than Muslim Ban 2.0. Under the pretense of national security, it still targets immigrants and refugees," Chin, a Democrat, said in a statement on Monday.
Trump's executive order "inflicts a grave injury on Muslims in Hawai'i, including Dr. Elshikh, his family, and members of his Mosque," and denies "all Hawaii residents the benefits of an inclusive and pluralistic society," said the filing submitted just before midnight on Tuesday.
On Wednesday, US District Court Judge Derrick Watson allowed Hawaii to file the challenge as an amendment to the original lawsuit relating to the travel ban issued at the end of January.
"The Order denies them their right to associate with family members overseas on the basis of their religion and national origin," the plaintiffs argued in the amended filing, adding that it is also "damaging Hawaii's institutions, harming its economy, and eroding Hawaii's sovereign interests in maintaining the separation between church and state as well as in welcoming persons from all nations around the world into the fabric of its society."
As the chief example of harm done by the travel ban, the plaintiffs cite the case of Elshikh's mother-in-law. She lives in Syria and was approved for US permanent residence in February 2016 as a family member, but does not currently hold a US visa.
One of the lead attorneys for Hawaii, Neal Katyal, made his case on CNN and MSNBC. The executive order "suffers from the same constitutional and statutory defects," said Katyal, who was one of the lawyers for Al Gore in 2000, and served as Barack Obama's solicitor general before going on to become a partner at Hogan Lovells.
The fact that Trump's new travel ban did not go into effect immediately "just underscores the lack of national security justification here" Katyal told MSNBC's Rachel Maddow. "This isn't about protecting us from bad guys rushing into the country, this is about politics."
On Monday, Trump issued an executive order imposing a 90-day travel ban on Iran, Libya, Syria, Somalia, Sudan, and Yemen, pending review of vetting procedures. Unlike the January order, which ended up blocked by federal courts, the new ban contains multiple exemptions.
US Secretary of State Rex Tillerson, Homeland Security Secretary John Kelly, and Attorney General Jeff Sessions spoke of the executive order solely in terms of national security and repeatedly pointed out it was a lawful and proper use of presidential powers.
"Like every nation, the US has a right to control who enters our country and to keep out those who would do us harm," said Sessions, who later warned that the Department of Justice will defend the order in court, and that those US attorneys who had qualms about it were free to resign.
Democratic attorneys-general from Washington, Virginia and Massachusetts said they were considering legal action against the travel ban, but Hawaii ended up being the first to do so.