Love it or leave: Sessions warns DOJ as Democrats push back on new travel ban
Published time: 6 Mar, 2017 22:38
Edited time: 7 Mar, 2017 09:57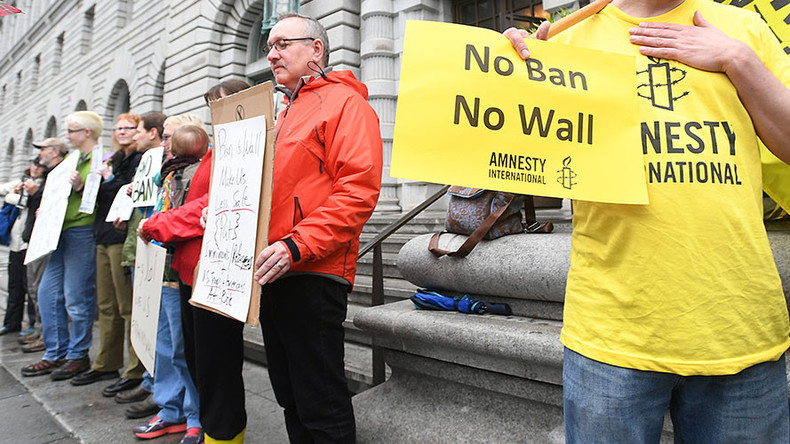 Several Democratic state attorneys general are mulling legal challenges to President Donald Trump's new travel ban, but Attorney General Jeff Sessions has said the Justice Department will defend and enforce it, hinting he may fire US attorneys who refuse.
Trump issued an executive order on Monday, imposing a 90-day travel ban on citizens of Iran, Libya, Syria, Somalia, Sudan and Yemen, effective March 16. The order is intended to replace the January 27 travel ban that sparked widespread protests and was quickly blocked by the courts after complaints from several attorneys general from Democratic-leaning states.
Several Democratic attorneys general have already voiced opposition to the new ban, and said they were considering challenging it in court. Washington state Attorney General Bob Ferguson, the face of the legal challenge to the first ban, said Monday he was "carefully reviewing the new executive order to determine its impacts on Washington state and our next legal steps."
"By rescinding his earlier executive order, President Trump makes one thing perfectly clear: His original travel ban was indefensible — legally, constitutionally and morally," Ferguson said in a statement. "The president has capitulated on numerous key provisions blocked by our lawsuit, including bans on Green Card holders, visa holders and dual citizens, an indefinite ban on Syrian refugees, and explicit preferences based on religion."
Massachusetts Attorney General Maura Healey likewise said she was considering all legal options in response to the ban, which she called misguided and described as "a clear attempt to resurrect a discredited order and fulfill a discriminatory and unconstitutional campaign promise."
Virginia Attorney General Mark Herring said Trump's ban "remains a solution in search of a problem."
"Although the new order appears to be significantly scaled back, it still sends a horrible message to the world, to Muslim-Americans, and to minority communities across the country, without any demonstrable benefit to national security,"said Herring.
Sessions, however, told reporters on Monday that the new order was "a lawful and proper exercise of presidential authority" and that the Department of Justice will both enforce it and defend it in court.
"Like every nation, the US has a right to control who enters our country and to keep out those who would do us harm," Sessions said on Monday, in a joint appearance with Homeland Security Secretary John Kelly and Secretary of State Rex Tillerson.
"Attorneys who don't like it, can leave," Sessions noted on Twitter, following up with a news clip from 1993, when Bill Clinton's administration fired all 93 US attorneys from Janet Reno's DOJ.
The statement was in marked contrast to the reaction by then-acting Attorney General Sally Yates to the first executive order in January. Yates, an Obama administration appointee who was in charge of the DOJ until Sessions could be confirmed in the Senate, quickly announced the DOJ would "not present arguments in defense of the executive order" for as long as she was acting as head of the Justice Department.
Trump responded by promptly firing Yates.