Trump issues new travel ban for 6 Muslim-majority countries, excludes Iraq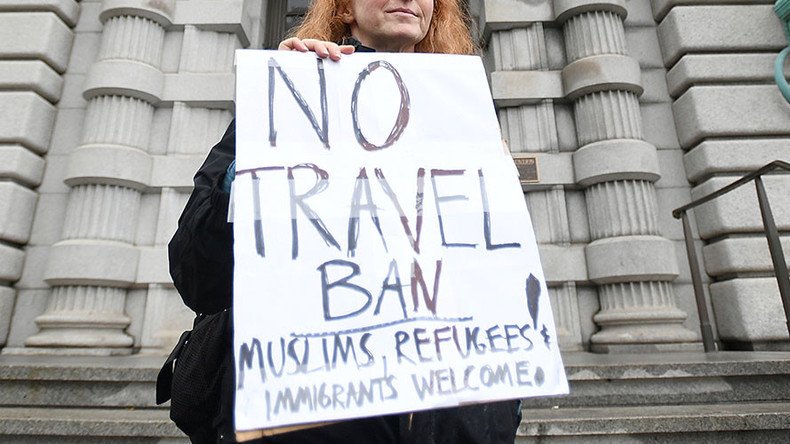 President Donald Trump has issued a new executive order, temporarily blocking travel to the US for residents of six Muslim-majority countries pending revision of visa procedures. The previous travel ban, issued in January, was blocked in federal courts.
Secretary of State Rex Tillerson, Homeland Security Secretary John Kelly, and Attorney General Jeff Sessions announced the new executive order to reporters on Monday.
The order halts the issuance of new US visas to citizens of Iran, Libya, Syria, Somalia, Sudan and Yemen for the next 90 days.
Iraq, which was included in the January ban, was left off the list this time after the government in Baghdad agreed to increase cooperation with the US on background checks for its citizens applying for visas, AP reported.
Iraqi Foreign Ministry spokesman Ahmed Jamal called the decision "an important step in the right direction" that "consolidates the strategic alliance between Baghdad and Washington in many fields, and at their forefront the war on terrorism."
Tillerson thanked the government in Baghdad for working with the State Department on improving vetting, and called the order "a vital measure for protecting our national security."
The new order also imposes a 120-day halt on refugee admissions from the six countries. Legal permanent residents ('Green Card' holders) from the countries will not be affected, however, Reuters reported citing a fact sheet supplied by the administration.
"Nothing in this executive order affects existing lawful permanent residents," Kelly said, adding that Homeland Security will enforce it "humanely, respectfully and with professionalism."
Trump's senior aide Kellyanne Conway provided confirmation in an interview with Fox News on Monday.
"If you have travel docs, if you actually have a visa, if you are a legal permanent resident, you are not covered under this particular executive action," Conway said, adding that the new order will go into effect on March 16.
The new order also includes exemptions such as business or medical travel and gives room for waivers on a case-by-case basis.
In the 90-day review period, Homeland Security is supposed to define a new set of requirements for travel to the US, and recommend restrictions for countries that do not comply.
"Like every nation, the US has a right to control who enters our country and to keep out those who would do us harm," said Sessions, adding that the Department of Justice regards the new executive order as "a lawful and proper exercise of presidential authority" and will both enforce and defend it.
Groups that opposed the original travel ban have vowed to protest the new one as well, calling it religious discrimination.
"Trump's revised executive order is the same Muslim ban with a fresh haircut," Jon Rainwater, executive director of Peace Action, said in a statement. "There's no evidence that banning travelers based on nationality actually protects anyone."
You can share this story on social media: