'I never said media is enemy, I said fake media,' Trump tells Breitbart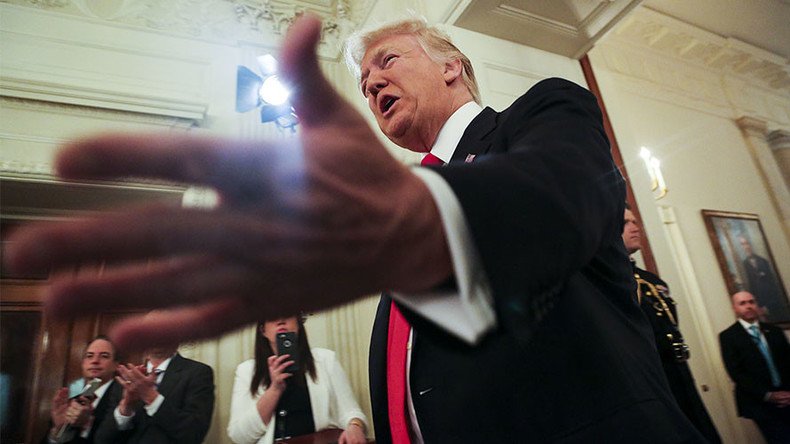 US President Donald Trump has clarified his hostile stance towards the mass media, explaining that what he actually opposes is media that spread "fake news." He also outlined some of the topics he'll touch upon at his upcoming address to Congress.
"I didn't say the media is the enemy—I said the 'fake media'," Trump told Breitbart in an exclusive interview on Monday.
"There's a difference. The fake media is the opposition party. The fake media is the enemy of the American people. There's tremendous fake media out there. Tremendous fake stories. The problem is the people that aren't involved in the story don't know that."
The president branded some of the mainstream media as "fake" when still in the run-up for presidency, and later – after reports that Russia interfered with the election and helped Trump win.
Trump marked the New York Times as an example of "failing" media that "writes lies," stressing that the outlet's approval ratings are already in serious decline due to this stance.
He stressed that competition is essential for the media to work properly, but did not comment specifically on the possible merger between AT&T and Time Warner, which if successful would unite a handful of news networks under one owner and which was criticized by Trump during pre-election days.
"I don't want to comment on any specific deal, but I do believe there has to be competition in the marketplace and maybe even more so with the media because it would be awfully bad after years if we ended up having one voice out there. You have to have competition in the marketplace and you have to have competition among the media," the president said.
Trump also commented on Sunday's Oscars ceremony coverage, during which he was the target of a number of jokes by Oscar-winners, while Oscars host Jimmy Kimmel openly trolled him during the live broadcast.
"I want to say thank you to President Trump. Remember last year when it seemed like the Oscars were racist? That's gone, thanks to him!" Kimmel said.
Trump said the focus of the event on politics instead of cinematography ruined it and was the reason for the unfortunate mistake that was made when announcing Best Picture.
"I think they were focused so hard on politics that they didn't get the act together at the end. It was a little sad. It took away from the glamour of the Oscars. […] There was something very special missing, and then to end that way was sad," Trump said.
Trump's first address to Congress
Trump's interview to Breitbart came ahead of his first address to a joint session of Congress as president, which is to take place later on Tuesday. Outlining the focal points for that speech, Trump said there will be a number of them, from healthcare to foreign affairs, as he "inherited a mess" from the previous administration.
"We're going to be talking about healthcare. We're going to be talking about Obamacare, and what we're going to do about the disaster known as Obamacare because it's a complete and total disaster. We're going to be talking about taxes. We're going to be talking about the economy generally. We're going to be talking about the military and spending money on the military, and the border […]
READ MORE: Trump signs executive order withdrawing US from TPP
"I inherited a mess. […] The Middle East is a mess. North Korea is treading on very dangerous territory. North Korea is a mess. Our border is a total disaster. Our trade deals are beyond bad — beyond bad. The result looks like they were negotiated by children. We'll fix them," the president said.
He spoke of his intent to "increase military spending significantly" to soon "have the finest military that the United States has ever had by far."
Trump also once again stressed the need to put up the wall on the border with Mexico, which he said is already ahead of schedule.
READ MORE: Trump to boost Pentagon budget by $54bn - White House
"We're going to have a wall and it will be a great wall and it will stop the drugs from pouring in and destroying our youth. And it will stop people from coming in that aren't allowed to come in. We're going to have a wall and it's ahead of schedule already now, and [Secretary of Homeland Security] General Kelly wants it badly now and everybody wants it."
Regarding trade deals, Trump said that instead of taking part in partnerships like the free-trade TPP (Trans-Pacific Partnership), from which he withdrew the US last month, he will look to "individual deals with individual countries."
"We're going to do it bilaterally, we're not going to have a big mosh pit. We're going to do it bilaterally, have deals with — we've already started the process. We're going to do individual deals with individual countries so we don't get bogged down," the president said.
You can share this story on social media: