Trump blasts Dems for peddling 'fake news' Russian narrative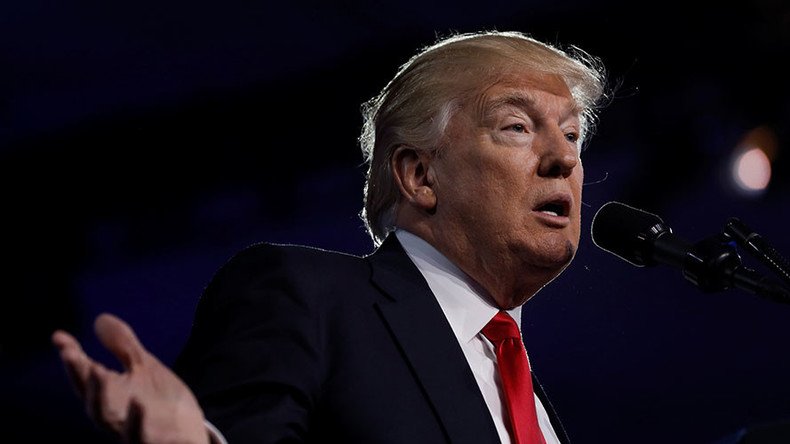 Donald Trump has taken to Twitter yet again to blast reports that Russian hackers interfered to help him win the presidency as "fake news."
"Russia talk is FAKE NEWS put out by the Dems, and played up by the media, in order to mask the big election defeat and the illegal leaks!" the US leader wrote.
Russia talk is FAKE NEWS put out by the Dems, and played up by the media, in order to mask the big election defeat and the illegal leaks!

— Donald J. Trump (@realDonaldTrump) February 26, 2017
Trump's latest tweet went out Sunday as the White House sought to downplay alleged contact between Russian intelligence and Trump aides during last year's election.
Speaking on ABC's This Week, deputy White House press secretary Sarah Huckabee Sanders, said: "The FBI has already said this story is BS, (bullshit) "Those were their words, so I apologize to my mom. But literally those are the words of the FBI, that the story is BS."
Who within the FBI actually asserted that remains up for debate, with some sources claiming that Deputy Director Andrew McCabe told White House Chief of Staff Reince Priebus that reporting on the matter was inaccurate.
The fact that Priebus and high-ranking FBI officials have apparently been engaged in conversation on the matter has also come in for some criticism, as a separation between the bureau and the administration is seen to be critical to the investigation of the allegations, especially as there are potential FBI targets within Trump's administration.
For its part, the FBI has made no official comment on the investigation, but White House press secretary Sean Spicer did confirm that the chief of staff asked top bureau officials, including FBI Director James Comey, to deny any contact between Russia and Trump; they have so far declined.
Some within the Trump administration have claimed that calls for a special prosecutor to investigate the alleged ties amount to nothing more than a "witch hunt," resembling the McCarthyism of the 1950s when then senator, Joe McCarthy, conducted a number of overblown investigations targeting alleged communists in the United States.
Speaking to reporters at Saturday's California Republican convention in San Francisco, Rep. Devin Nunes said: "At this point, we can't go on a witch hunt against any American people…just because they appeared in a news story," adding: "I have to have some evidence that some American actually had contact with Russians. And I don't have that now. This is almost like McCarthyism revisited."
READ MORE: US intel agencies keep Trump in dark citing alleged 'Russian contacts' – media
This is not the first time the POTUS has rebuffed claims of Russian interference in either the US presidential elections or the current administration.
There is the infamous "intelligence dossier" leaked by Buzzfeed and partly published by CNN, in which claims of sexual fetishes were made about President Trump with no solid evidence provided. The claim was that Russian Intelligence were blackmailing the US President and that he was a puppet of the Kremlin. Needless to say, the claims didn't hold up to scrutiny and Trump was quick to lambaste all involved.
"Intelligence insiders now claim the Trump dossier is "A COMPLETE FRAUD!" Trump wrote on Twitter in the aftermath.
This, in turn, led to the now infamous soundbite in which President Trump dismissed CNN as "Fake News" at a press briefing.
In an interview with Fox News' Bill O'Reilly, President Trump was pressed on whether he respected Russian President Vladimir Putin.
"I do respect him, but I respect a lot of people," Trump said, adding: "That doesn't mean I'm going to get along with him."
By playing down the supposed close, pre-existing relationship with the Kremlin, Trump once again dismissed any notion of an overly amicable relationship between the two presidents.
A joint report on "Russian malicious cyberactivity" prepared by FBI and Department of Homeland Security in December, accused Russian military intelligence of being behind the leaks of Democratic Party emails to swing the election in favor of Donald Trump. The claims of Russian authorities' affiliation with WikiLeaks, that published the emails, were disputed by the whistleblowing site's editor Julian Assange, who claimed that the source of the leaks was not a state actor.
Then-President-elect Trump himself also cast doubt on the credibility of the report. In an interview to Fox News in December, he argued that the report's real goal was to explain the defeat of Hillary Clinton by third-party interference rather than by her own faults.
"I think it's ridiculous. I think it's just another excuse. I don't believe it," the president-elect said in an interview.
In January, the Office of the Director of National Intelligence (ODNI) released an in-depth report ordered by Barack Obama which purported to prove the fact of alleged Russia meddling in the US presidential elections. However, the declassified version of the document presented to the public did not contain any hard evidence pointing to the Russian role in the hacks, instead relying on assessments and analysis of CIA, FBI and NSI and "human intelligence."
You can share this story on social media: