La La Land mistakenly announced as Best Picture at Oscars; Moonlight wins (VIDEO)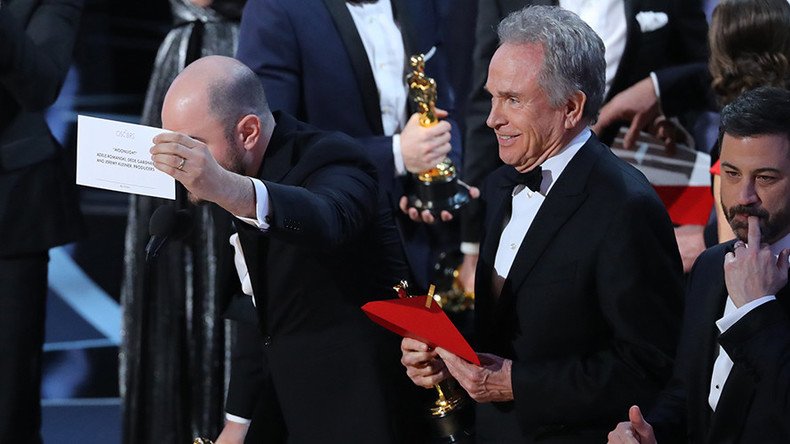 Moonlight has won Best Picture at the Oscars – but before that, La La Land was announced as the winner by mistake. Watch the flub below.
The cast and crew of La La Land were already on the stage to give their acceptance speech, when one of the producers, holding the envelope up to the camera, said that Moolight had actually won the award.
Presenter Warren Beatty reportedly paused for so long because he had been given the envelope for the wrong category, which read, "Emma Stone, La La Land."
Actress Faye Dunaway, however, quickly read the name 'La La Land.
Oscars host Jimmy Kimmel joked following the blunder: "I knew I would screw this show up. I really did."
PricewaterhouseCoopers, which has monitored the Academy's ballot-counting process for the past 83 years, issued a statement saying they deeply regret what happened.
"We sincerely apologize to Moonlight, La La Land, Warren Beatty, Faye Dunaway, and Oscar viewers for the error that was made during the award announcement for Best Picture," the statement said.
"The presenters had mistakenly been given the wrong category envelope and when discovered, was immediately corrected. We are currently investigating how this could have happened, and deeply regret that this occurred. We appreciate the grace with which the nominees, the Academy, ABC, and Jimmy Kimmel handled the situation."
La La Land went into the Oscars with a record-tying 14 nominations, eventually winning six, and making 32-year-old Damien Chazelle the youngest person to win an Oscar for Best Director.
Emma Stone won Best Actress for her role in La La Land, while Manchester by the Sea's Casey Affleck was named Best Actor.
Viola Davis and Mahershala Ali were named Best Supporting Actress and Actor for their roles in Fences and Moonlight.
Moonlight also took home Best Adapted Screenplay, while Manchester by the Sea won Best Original Screenplay.
You can share this story on social media: