Bernie Sanders calls on Trump to apologize for 'racist' birther comments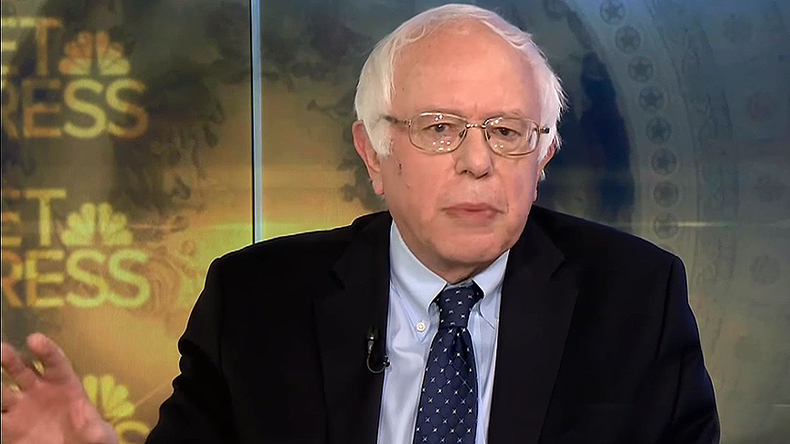 Bernie Sanders has called on President-elect Donald Trump to apologize for his "disgraceful" and "racist" claims that President Barack Obama wasn't born in the United States.
READ MORE: Conflicts of interest pile up as Donald Trump prepares for presidency
Speaking on NBC's "Meet the Press" on Sunday, the Vermont Senator lashed out at Trump's statement supporting birther conspiracies.
"When Donald Trump helped lead the birther movement, that was nothing less than a racist effort to undermine the legitimacy of the first African-American president we have ever had," he told Chuck Todd. "That was racist. That was disgraceful. The African-American community, and all of us, deserve an apology."
Trump had claimed Obama was not born in the United States for years. In September 2016 he finally admitted Obama was born in the US.
It's worth noting that even Obama's brother Malik, who emerged as an avid Trump supporter, has made ambiguous statements about Barack's birthplace and origin, further spurring the conspiracy.
"I'm beginning to doubt if Barack Obama is really my brother," Malik tweeted on October 28, two days after telling Twitter followers, "Barack was born on Hawaii. His mother told me."
He also seemed to be in doubt of Obama's heritage altogether: "I will take a DNA test. Why doesn't my brother take one too? How can he let this country down?"
Meanwhile, Sanders also blasted Trump's statements about Latinos, Mexicans and Muslims, including calling Mexicans rapists and planning to prevent Muslims from entering the country, as being "outrageous."
"On those issues - let me be very clear, speaking only for myself - there is no compromise," he said.
READ MORE: Donald Trump & Alec Baldwin in Twitter feud over latest SNL sketch (VIDEO)
"We have come too far as a country to try to move forward in a non-discriminatory way to go backwards and see us divided up by racism or xenophobia."
Sanders commended Trump on his promises to raise the minimum wage, repeal Glass-Steagall and rebuild infrastructure, saying he would work with Trump on those issues.
READ MORE: We're watching you: Sanders vows Democrats will hold Trump to his promises (VIDEO)