Donald Trump & Alec Baldwin in Twitter feud over latest SNL sketch (VIDEO)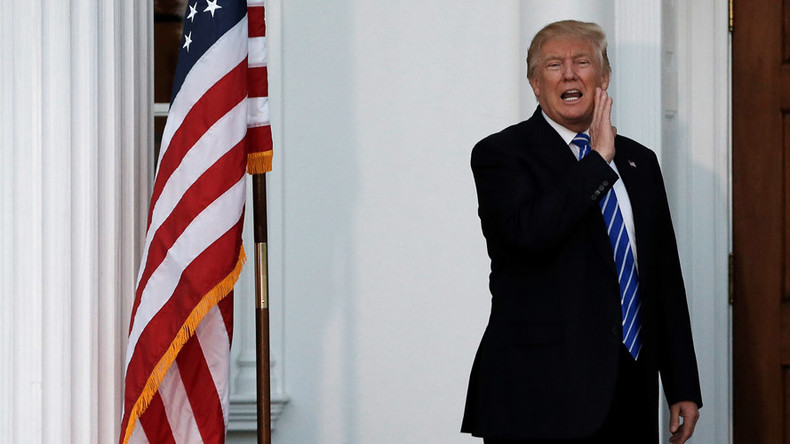 Donald Trump is continuing his attack on performance art, this time having a go at NBC's Saturday Night Live (SNL), saying their latest portrayal of him was unfunny and biased.
I watched parts of @nbcsnl Saturday Night Live last night. It is a totally one-sided, biased show - nothing funny at all. Equal time for us?

— Donald J. Trump (@realDonaldTrump) November 20, 2016
Not long after demanding an apology from the cast of the Broadway musical "Hamilton," (which Trump said he had heard was "highly overrated") the President-elect managed to catch a couple of minutes of SNL, despite being in the midst of organizing his Cabinet.
Alec Baldwin continued his portrayal of Trump in Saturday night's sketch, which saw Baldwin's bewildered Trump search "What is ISIS?" on Google, admitting his incompetency as president.
Comedian Kate McKinnon portrayed Trump's campaign manager Kellyanne Conway, who shows remorse throughout the sketch for helping her boss become president.
The sketch even manages to fit in a joke about Vice-President-elect Mike Pence's trip to a Broadway theater, where he claims he got a "free lecture."
READ MORE: Pence supporters call to #BoycottHamilton as Trump brands Broadway show 'terrible'
"I love you Mike, you're the reason I'll never get impeached," Trump tells Pence, before scrapping all his campaign promises as he now realizes the complexities of implementing them.
Trump's remarks didn't go unnoticed, with Alec Baldwin responding to him via the Alec Baldwin Foundation Twitter account.
"Equal time? Election is over. There is no more equal time. Now u try 2 b Pres + ppl respond. That's pretty much it," Baldwin tweeted.
"You know what I would do if I were Prez? I'd be focused on how to improve the lives of AS MANY AMERICANS AS POSSIBLE," he added.
...@realDonaldTrump
Equal time?
Election is over. There is no more equal time. Now u try 2 b Pres + ppl respond. That's pretty much it.

— ABFoundation (@ABFalecbaldwin) November 20, 2016
...@realDonaldTrump
You know what I would do if I were Prez? I'd be focused on how to improve the lives of AS MANY AMERICANS AS POSSIBLE.

— ABFoundation (@ABFalecbaldwin) November 20, 2016
...@realDonaldTrump
I would make every effort 2 retrain Americans so 2 cre8 jobs.
1 way u make America gr8 again is 2 put it back 2 work.

— ABFoundation (@ABFalecbaldwin) November 20, 2016
The show, which is known for lampooning political figures including Bernie Sanders, Hillary Clinton and Sarah Palin, has been criticized by Trump before when he took to Twitter to vent frustration at Baldwin's portrayal of him, saying it "stinks."
Watched Saturday Night Live hit job on me.Time to retire the boring and unfunny show. Alec Baldwin portrayal stinks. Media rigging election!

— Donald J. Trump (@realDonaldTrump) October 16, 2016
In an interview with ExtraTV in October, Trump claimed, "I'm a much nicer guy than he's portraying. He's portraying somebody who's very mean and nasty and I'm not mean and nasty."