Pence supporters call to #BoycottHamilton as Trump brands Broadway show 'terrible'
Published time: 20 Nov, 2016 18:23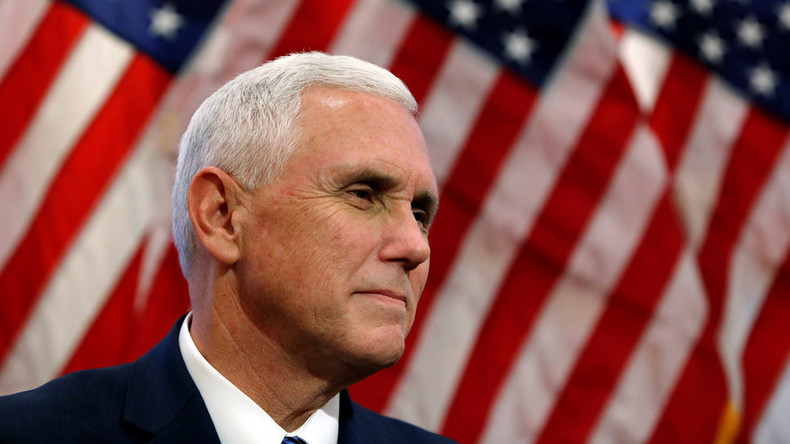 Social media users continue to react to a statement made by the cast of the Broadway musical Hamilton that was directed to Vice-President-elect Mike Pence… including President-elect Donald Trump.
Both #BoycottHamilton and #NameaPenceMusical continue to trend on Twitter, as users take sides in the controversy.
Pence attended the popular show on Friday, when cast member Brandon Victor Dixon delivered a statement to him following the performance.
"We sir, we are the diverse America who are alarmed and anxious that your new administration will not protect us, our planet, our children, our parents, or defend us and uphold our inalienable rights, sir," Dixon said.
"We truly hope this show has inspired you to uphold our American values and to work on behalf of all of us. We truly thank you for sharing this show, this wonderful American story told by a diverse group of men and women of different colors, creeds and orientations."
Ur hypocrites u lost get over it #BoycottHammilton

— Mikey Man (@MSchemes27) November 20, 2016
The Theater must always be a safe and special place.The cast of Hamilton was very rude last night to a very good man, Mike Pence. Apologize!

— Donald J. Trump (@realDonaldTrump) November 19, 2016
Trump responded, calling the statement harassment and demanded that the cast apologize, which was met with amusement on social media.
Early on Sunday, Trump tweeted about Hamilton for the third time, calling the play overrated and repeated his call for the cast to apologize to Pence.
The cast and producers of Hamilton, which I hear is highly overrated, should immediately apologize to Mike Pence for their terrible behavior

— Donald J. Trump (@realDonaldTrump) November 20, 2016
It has been suggested that Trump's reaction was calculated to distract attention from the Trump University lawsuit, which he settled for $25 million on Friday.
Supporters of Trump and Pence have called for a boycott of Hamilton, which was also met by a mixture of support and ridicule.
What happened at Hamilton last night was disgusting. Those crybaby actors should be ashamed of themselves #BoycottHamilton

— Hispanics for Trump (@HispanicsTrump) November 20, 2016
#BoycottHamilton Because when you fail to support & respect our VP-Elect, Pence, millions of Americans will fail to support & respect you.

— Brittany Pettibone (@BrittPettibone) November 19, 2016
Yes, I'm sure the Tea Klux Klansmen now tweeting #BoycottHamilton were dying to see a hip-hop musical celebrating immigrants and diversity.

— Victor Laszlo (@Impolitics) November 19, 2016
People go to a show for entertainment, Not to be lectured. There's something people having forgotten. It's called RESPECT #BoycottHamilton

— Riya sharma (@riyasharma266) November 19, 2016
Hamilton is one of the most in-demand musicals in Broadway history, and the irony of calling for a boycott of a play for which tickets are like gold dust was not lost on Twitter users.
Others questioned why Trump's supporters were so offended by the cast's statement, but didn't seem to be bothered about any of the controversial statements made by the president-elect during his election campaign.
Trump talks of apologies, yet the disabled reporter he mocked in front of the entire nation is still waiting for his. 🤔 #BoycottHamilton

— Ricky Davila (@TheRickyDavila) November 19, 2016
Hey #BoycottHamilton you cannot be upset over that "disrespect" and not have been offended by your leader Trump for the last year even once

— Meagan Peck (@mfriel25) November 20, 2016
The guy who harassed Obama about his birth cert for years is whining about a lecture from theater kids. #boycottHamilton

— Adam C. Birch (@A_C_Birch) November 19, 2016
Both #BoycottHammilton and #BoycottHamilton have been trending, with many users failing to realize that the play is spelt with one 'm'.
Others didn't appear to be aware of what the actors had said, accusing them of threatening Pence.
Remnants of Obama's Failed Democrat Party ~ Race-Baiting, Rioting and Negativity. #BoycottHamilton

— Katarina (@Welly_World) November 20, 2016
Hamilton cast:
thanked Pence for coming
called him "Sir"
said they hoped play would inspire him to uphold American values#BoycottHamilton?

— lancegould (@lancegould) November 19, 2016
how is informing your future vice president of your fears and asking for protection considered harassment and disrespect? #BoycottHamilton

— ravyn (@ravyndaviss) November 19, 2016
Trump supporters even held a protest outside the theater, chanting "USA, USA."
#NameaPenceMusical continues to be shared, with social media users coming up with inventive musical titles inspired by the political viewpoints of the Republican Party and Pence.