We're watching you: Sanders vows Democrats will hold Trump to his promises (VIDEO)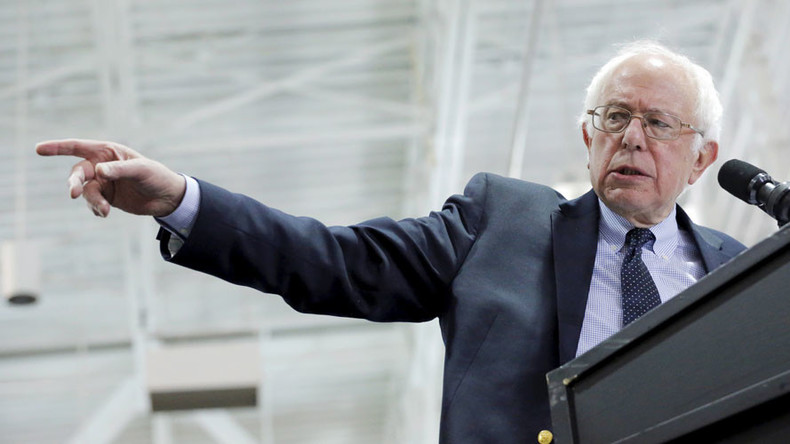 Vermont Senator Bernie Sanders has issued a staunch warning to President-elect Donald Trump over his campaign claims which portrayed him as a champion of the working class, saying: "We will hold you to account."
Speaking at George Washington University on Wednesday, former Democratic presidential candidate Sanders sought to allay progressives' fears over the impending Republican presidency.
"I know there are a lot of people who are frightened; a lot of people who are extremely unhappy and I would not be telling you the truth if I didn't tell you that Tuesday [US election] night was a very, very depressing evening for me," he said.
Sanders also alluded to the language and rhetoric that had become typical of the billionaire businessman's campaign.
When Trump is racist, sexist, homophobic and Islamophobic, we're going to vigorously oppose him.

— Bernie Sanders (@BernieSanders) November 17, 2016
The self-described democratic socialist said that as the nation moves into the Trump era it was important to know that "real politics never takes place from the top on down. It always occurs from the bottom on up."
"When millions of people stand together and they refuse to allow demagoguery to divide us up, by race, by the country we were born in, by our sexual orientation. When we stand together by the millions we can stop Mr Trump or anyone else from doing bad things to this country," he told a roaring crowd.
He added: "Change only takes place when millions of people look around them and they say the status quo is not working and are prepared to fight for social, racial, economic and environmental justice."
I will be damned if we're going to go backwards and try to divide up this country again.

— Bernie Sanders (@BernieSanders) November 15, 2016
In the days following Clinton's election failure despite the party winning the popular vote, Sanders has been accused by some commentators of eroding the Democratic candidate's voter base and facilitating Trump's victory. Sanders was Clinton's Ralph Nader, according to McGill University's Gil Troy.
Perhaps challenging that perception, the New York politician highlighted how he visited "12 battleground states" in the final week of the campaign in an effort to help Clinton become the next US president. But it wasn't to be, he said.
Echoing both Clinton and Obama's recent messages that it's in America's interest for people to work with the next president, Sanders warned that Democrats would still be keeping tabs on Trump's every policy move.
This includes Trump's pledges to invest $1 trillion in infrastructure, expand social security, raise the minimum wage and bring in six weeks of paid maternity leave – a measure which Sanders said should actually be lengthened to 12 weeks.
"By the end of the campaign he [Trump] was actually using the term that many Democrats used. He was saying he was going to be the 'champion of the American working class,' that's what he said.
"Well Mr Trump, we have a list of everything that you said and we are going to hold you to account.
"The question that will be resolved pretty quickly is whether or not everything he was saying to the working families of this country was hypocrisy, dishonest, or whether he was sincere."
Meanwhile, in her first appearance since conceding the election, Clinton acknowledged on Wednesday that the campaigns had "laid bare" deep seated divisions across the nation.