Conflicts of interest pile up as Donald Trump prepares for presidency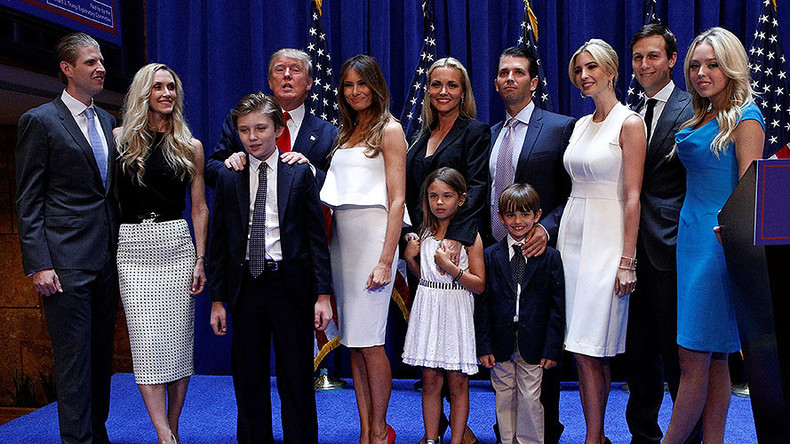 As President-elect Donald Trump prepares for the White House, his promises to keep his business and presidential life separate are being called into question.
In the two weeks since winning the election, Trump's meetings with businessmen and politicians haven't instilled confidence into critics that he will manage to keep things separate once he enters the Oval Office.
The House Oversight Committee's phones were reportedly jammed on Friday following a social media storm as people called to urge the committee to investigate Trump's perceived conflicts of interest.
Trump's conflicts of interest are staggering:
- Still holding business meetings
- Diplomats admitting to stay for play
- No true blind trust

— Matt McDermott (@mattmfm) November 20, 2016
@GOPoversight Please review Donald Trump's financials to indentify possible conflicts of interest. I hope you will include me in your tally.

— Julie Thorpe (@juliet25624) November 20, 2016
Trump's conflicts of interest are unprecedented but what's even more unprecedented is congressional GOP's total disregard for its job.

— Matthew Yglesias (@mattyglesias) November 20, 2016
This week, Trump met with three of his Indian business partners, Atul Chordia, Sagar Chordia and Kalpesh Mehta, who are building a Trump complex in Mumbai.
While a Trump Organization spokesperson told the New York Times that the meeting was "not a formal meeting of any kind," the businessmen also took the time to meet with Trump's children, who are taking over his business, while at the same time remaining involved in their father's presidential transition.
Mehta told the Economic Times that Donald Trump Jr said he was satisfied with the company's business in India and showed interest in expanding further.
Speaking in the wake of Trump's victory, he also told the Economic Times: "India probably has the highest number of Trump branded real estate projects outside North America. Trump has five ongoing deals in India with a gross development value of about $1.5 billion."
"Sales have started on two projects and one of these projects is already delivered. Three more projects are likely to be launched in 2017 and we continue to scout for more opportunities."
Trump's Indian business endeavors are among countless others spanning the globe, with the business holding properties in Turkey, Indonesia, Israel, Dubai and the Philippines.
The former reality TV star also owes Deutsche Bank $364 million in loans. Deutsche Bank could owe the Justice Department $14 billion in settlements over a number of mortgage securities investigations from the financial crisis. The investment bank is currently in talks with the DOJ about this.
Trump owes debt to both the Bank of China and Goldman Sachs, who have been subpoenaed by the DOJ over dealings with Malaysian state fund 1MDB.
Trump's daughter Ivanka sat in on a meeting with Japanese Prime Minister Shinzo Abe and Trump last week, along with her husband, Jared Kushner.
Neither Ivanka or Kushner have security clearance, and her presence at the meeting raised some eyebrows. An email sent by her personal jewelry company following her appearance on "60 Minutes" also came as a surprise as it informed customers where they could purchase the $10,800 bracelet she had been wearing.
Trump has said he would have his children run his business empire in a "blind trust." In theory, a blind trust involves selling assets and replacing them with different ones that Trump would have no knowledge of.
Kushner is reportedly seeking advice on whether he can join the Trump administration, with the President-elect's transition team having apparently requested a security clearance for his son-in-law, who is a real estate businessman and owner of the New York Observer.
A federal anti-nepotism law was passed in 1967 a few years after President John F. Kennedy made his brother, Robert, attorney general. It states that the president cannot appoint a family member to an agency or office they oversee.
Kushner's influence has already been hinted at, as New Jersey Governor Chris Christie was swiftly removed from head of Trump's transition team, along with other Christie associates.
Christie prosecuted Kushner's father for tax evasion, witness tampering and illegal campaign donations when he was United States attorney for New Jersey in 2005, with Kushner's father sentenced to two years in prison.
Speculations say that if the Trump family members continue to have a presence in the White House, but remain unofficial, they may manage to avoid violating nepotism rules. Kushner could also get away with being an unpaid adviser.
Vice President-elect Mike Pence responded to concerns surrounding Trump's conflicts of interest on Sunday when asked by Fox News Sunday's Chris Wallace whether Trump's kids running the business would create a "dangerous conflict of interest."
Pence referred to Trump's own statement on the matter, "Who cares?"
The Indiana governor went on to say was confident Trump is "completely focused on the people's business," and assured there would be a "proper separation" from the business enterprise.