Obama ridicules Trump's social media 'severance' (VIDEO)
Published time: 7 Nov, 2016 13:31
Edited time: 8 Nov, 2016 09:22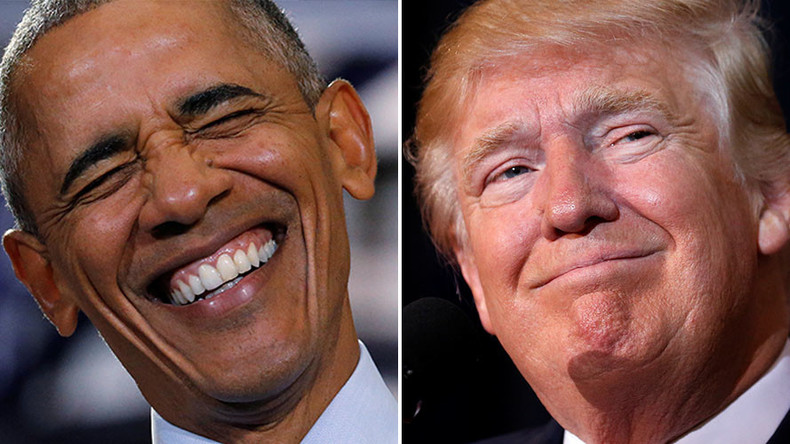 President Barack Obama has derided Republican candidate Donald Trump over reports his social media privileges have been taken away ahead of election day.
FOLLOW RT'S ELECTION LIVE UPDATES
A NY Times insight into the last days of the billionaire businessman's election campaign claims the Republican's press team have "finally wrestled away the Twitter account," much to the amusement of outgoing commander-in-chief Barack Obama.
READ MORE: Trump's porn film past pops up after Twitter 'sex tape' rant (PHOTO, VIDEO)

Trump's penchant for social media is infamous. He has previously tweeted claims that Obama's birth certificate was fraudulent and, more recently, accused a former beauty pageant winner of involvement in a "disgusting" sex tape.
Speaking at a Democrat rally in Kissimmee, Florida, Obama mocked Trump, questioning whether he can be considered suitable to govern if he can't even control his own Twitter.
"Apparently his campaign has taken away his Twitter," Obama joked to the crowd. "In the last two days, they had so little confidence in his self control, they said: 'We're just going to take away your Twitter.'
"Now, if somebody can't handle a Twitter account, they can't handle the nuclear code."
Obama then went on to tell supporters that the Office of the president "magnifies who you are."
READ MORE: Trump warns US presidential election will be 'rigged', calls Hillary Clinton 'the Devil'

In what was an obvious jibe at Trump's campaign, endorsements and sexist tape recordings, Obama added: "If you disrespect women before you became president, you'll do so once you're president.
"If you accept the support of [Ku Klux] Klan sympathisers before you're president then you'll accept their support after you're president.
"If you disrespect the constitution when you're running for president, then you are even more likely to disrespect it even when you swear to uphold that constitution."