Trump's porn film past pops up after Twitter 'sex tape' rant (PHOTO, VIDEO)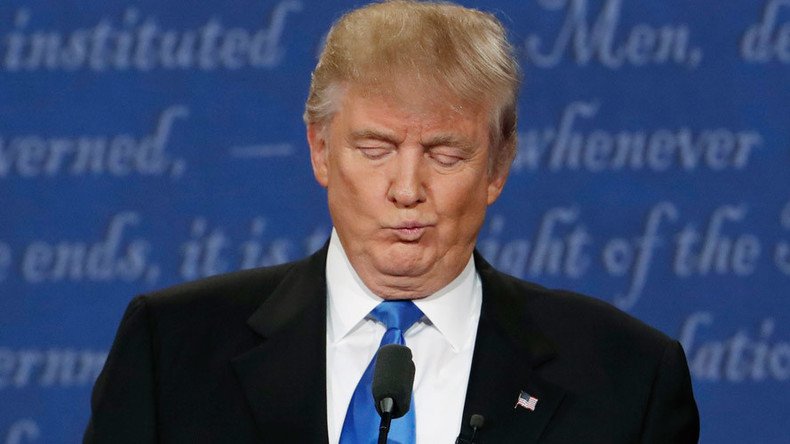 Donald Trump's porn movie past has been dug up after the presidential candidate attacked a former Miss Universe and Clinton ally on social media for appearing in a "sex tape."
The billionaire businessman's unorthodox bid for the White House has taken another peculiar twist, with the emergence of a clip showing Trump's own short, non-sexual cameo in a Playboy porn video.
In a clip from Playboy's 2000 Centerfold production obtained by Buzzfeed, Trump can be seen in New York surrounded by a group of screaming ladies and pouring a bottle of champagne on the side of a limo.
"Beauty is beauty, and let's see what happens with New York," he says, before dousing the Playboy logo with bubbly.
The softcore porn film charts the search for Playboy Bunnies around the US and promises to "leave you hot under the collar as you savor every intimate moment with these spicy sensations," according to the video's blurb.
The revelation comes amid Trump's attempts to appeal to female voters with his childcare policy – and as he calls out the 1996 winner of his Miss Universe competition, Alicia Machado, for apparently appearing in a "disgusting" sex tape.
Trump's late night online rant followed Monday's presidential debate, where Hillary Clinton revealed Machado was likely to vote Democrat. Clinton also used comments made by the Republican candidate about the Venezuelan beauty queen to try to torpedo his appeal to women voters.
"One of the worst things he said was about a woman in a beauty contest," Clinton said on Monday.
"He called this woman 'Miss Piggy.' Then he called her 'Miss Housekeeping' because she was Latina. Donald, she has a name. Her name is Alicia Machado. She has become an American citizen and you can bet she's going to vote this November."
It has since emerged that Machado did not film a sex tape, but was caught in a steamy embrace with a fellow contestant on a Spanish Big Brother-like reality TV show, La Granja.
"There's been a lot of talk about sex tapes today and in a strange turn of events only one adult film has emerged today and its star is Donald Trump," said Nick Merrill, spokesperson for the Clinton campaign.
Machado has spoken of her Miss Universe triumph and how Donald Trump tried to humiliate her over her weight gain.
In a 1997 radio interview on the Howard Stern show, Trump described how he made Machado, who he described as an "eating machine," lose weight. "She gained about 55 pounds in nine months – she was like an eating machine. I think she ate a lot of everything," he said.
You can share this story on social media: