Clinton vs Trump: Early results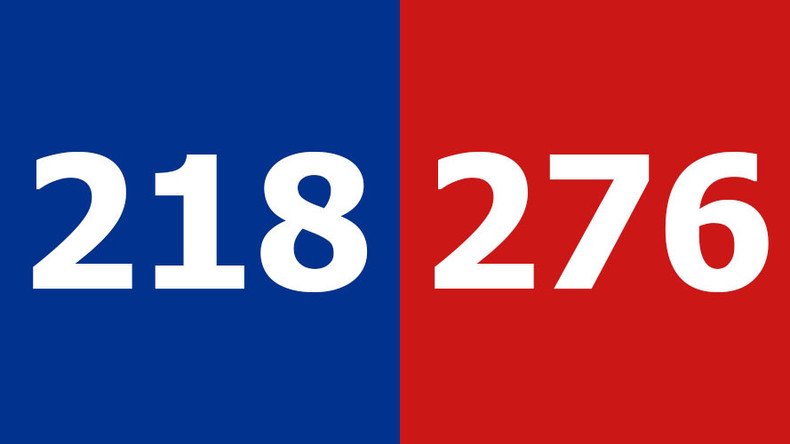 On November 8, Americans decide who will be the next White House inhabitant. Donald Trump and Hillary Clinton go head-to-head, but are facing stronger-than-usual competition from Green and Libertarian candidates.
09 November 2016

18:46 GMT

It looks like the Democrats will win one more seat in the Senate, with Governor Maggie Hassan defeating incumbent Kelly Ayotte.

THIS JUST IN: #nhsen certified results by Sec. of State's office put @GovernorHassan 1,023 votes ahead of… https://twitter.com/i/web/status/796422902086303747

— (@steinhauserNH1) Nov 09 2016

18:44 GMT

Regardless of who won the presidency last night, uniting the country "won't be easy," White House press secretary Josh Earnest told reporters on Wednesday. "As Americans we're rooting for the success for our president in uniting and leading our country."

President Barack Obama and President-elect Donald Trump talked on the phone "very, very late" overnight, including a discussion about meeting in person on Thursday. The Obama administration won't be doing anything differently to ensure the successful implementation of its legacy policies ‒ including the Affordable Care Act (better known as Obamacare), the Iran nuclear deal and climate change ‒ but will brief the president-elect and his transition team on those priorities.

"Part of a smooth transition is ensuring that they have the latest available information about some of these policies," Earnest said.

He then urged Americans without health care to go to healthcare,gov, where the "vast majority" can get insurance for "$75 a month or less," and he warned both the incoming administration and Congress against taking health care away from 22 million people, protections for preexist conditions or against women paying more, and other aspects that would be overturned if Obamacare is repealed.

07:39 GMT

BREAKING: SOURCE TELLS ME CLINTON HAS CONCEDED ON PHONE WITH TRUMP

— Kelly O'Donnell (@KellyO) November 9, 2016

07:28 GMT

The TV's are off here at Trump's DC hotel https://t.co/lYorUtYvDT

— (@maeganvaz) Nov 09 2016

07:10 GMT

Addressing Hillary Clinton supporters in New York City, John Podesta took the stage to announce that Clinton was not conceding in the near future. "They're still counting votes and every vote should count," he told the crowd.

"Everyone should head home, everyone should get some sleep, we'll have more to say tomorrow."

The Clinton campaign's decision to not concede on Tuesday was bolstered by a victory in Maine that earned her 4 more electoral votes.

06:51 GMT

Trump has announced plans to address the nation after being named president-elect by several news networks.

06:37 GMT

The US dollar isn't the only thing plummeting during this election. The Mexican peso has shrunk by over 13 percent against the dollar, marking the peso's biggest move in either direction in 20 years, according to Reuters.

As a result, Mexico's central bank has announced it will hold a joint conference with the Finance Ministry on Wednesday morning.