Race for the White House reaches home stretch
Live updates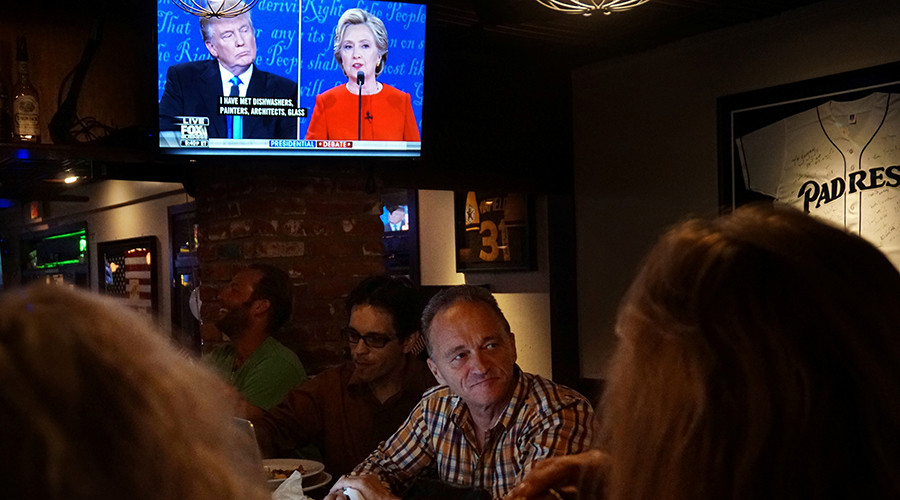 After Donald Trump and Hillary Clinton won their nominations this presidential primary season, they faced stronger-than-usual competition from the Green and Libertarian candidates. On November 9, Americans will decide the next White House resident.
27 October 2016

16:40 GMT

If Justin Timberlake were a voter in New York, it would be unconstitutional to prosecute him for that infamous selfie he took in a Tennessee polling station, according to the defendants of a new lawsuit. The three defendants hope a court will overturn a New York law that prohibits voters from showing their completed ballots to anyone, which includes posting on social media. Showing a marked ballot is a misdemeanor punisahble by up to a year in jail and a $1,000 fine, the New York Daily News reported.

"Taking a photograph of a filled out ballot is a powerful political statement that demonstrates the importance of voting. Without the photograph, the message loses its power," the lawsuit, filed by lawyer Leo Glickman in Manhattan Federal Court on Wednesday, reads.

Timberlake's ballot selfie has since been removed from Instagram.

13:40 GMT

Clinton has earned ‒ or rather, NOT earned ‒ the endorsement of a magazine at her alma mater. The Yale Record may be a humor mag, but it takes its nonprofit status seriously. Green Party nominee Jill Stein is another story, though...

Clinton graduated from Yale Law School in 1973.

03:55 GMT

In a series of tweets Wednesday, Internet entrepreneur Kim Dotcom, creator of the now defunct Megaupload, challenged Congress to "legally" obtain tens of thousands of emails deleted from Hillary Clinton's private servers. Dotcom alleged that NSA whistle blower Edward Snowden could confirm that they were all available through the NSA's "spy cloud" and X-Keyscore, a surveillance program revealed by Snowden's leaks.

Dotcom further implied that Wikileaks had access to the deleted emails, saying they "should release them."

The point I'm trying to make is that there is a 'legal' route to access all HRC emails even if @Wikileaks should release them.

— Kim Dotcom (@KimDotcom) October 26, 2016

26 October 2016

21:11 GMT

As if this election cycle couldn't get any weirder, Donald Trump Jr., filmmaker and occasional documentarian Michael Moore, and former Twitter troll Milo Yiannopoulos are the cast of characters in a zany political comedy that proves that truth is stranger than fiction.

In Act One, Moore releases 'Michael Moore in TrumpLand', a documentary, in which he performs a live stand-up comedy performance ahead of the presidential election in Wilmington, Ohio, a town that heavily supports Trump. Much of the routine supports Clinton, rather than bashes her Republican rival.

In Act Two, Yiannopoulos posts on Facebook that 'Michael Moore in TrumpLand' is actually a pro-Trump movie, using audio from the movie without context or follow through to make it appear as if the filmmaker endorsed Trump. Moore responds with a tweetstorm, and views of the movie skyrocket.

In the final act, Trump Jr. falls for the debunked rumor that the movie says that his father will win. Moore laughs.

19:57 GMT

Calling Trump and "unhinged,""not stable" and from the outset of his campaign stirred up "envy, resentment, and group hatred," the Libertarian Party VP, Bill Weld delivered a blistering critic of the nominee, said he would continue through the election but practically endorsed Clinton, without naming her.

Weld advocated against Trump for president "Trump should not, cannot, and must not be elected President of the United States."

"A President of the United States operates every day under a great deal of pressure — from all sides, and in furtherance of many different agendas. With that pressure comes constant criticism," wrote Weld in a statement issued Wednesday in Boston.

"After careful observation and reflection, I have come to believe that Donald Trump, if elected President of the United States, would not be able to stand up to this pressure and this criticism without becoming unhinged and unable to perform competently the duties of his office."

15:31 GMT

DeRay Mckesson, a well-known activist who came into prominence during the Ferguson protests, has endorsed Hillary Clinton, calling her racial justice platform "strong."
"It is informed by the policy failings of the past and is a vision for where we need to go," he wrote in an op-ed in the Washington Post.

However, Mckesson said that he doesn't agree with many of Clinton's policies. He is one of several activists to support a candidate in the 2016 race. His statement provoked a controversial reaction on Twitter.

13:51 GMT

Donald Trump is leading 2 percent in Florida after a series of rallies in the Sunshine State, a Bloomberg Politics poll shows.

After 5 rallies in the must-win battleground state the he Republican presidential nominee has 45 percent to Democrat Hillary Clinton's 43 percent among likely voters. Even one point is a huge advantage in Florida, according to he former chair of the Florida Democratic Party, Mitch Ceasar.

03:59 GMT

President Obama has repeatedly slammed Trump for accusations of "rigged election," even though it's something he warned his voters about back in 2008.

"I come from Chicago," Obama said, "so I want to be honest, it's not as if it's just Republicans who have monkeyed around with elections in the past. Sometimes, Democrats have, too."

03:58 GMT

Hillary Clinton's campaign has offered Trump a sparkling business opportunity, mocking his souvenirs.

Cinton's campaign website now features a promotional brochure for a "Trump Tin Foil Hat."

"In fact if we elect Donald Trump, we could have a president dedicated to the truth: where is Elvis? Where did we film the moon landing?" the brochure reads.

It offers viewers to print guidelines to the diy tin foil hat, topped with Trump's slogan "Make America Great Again."

03:57 GMT

Donald Trump is hardly enjoying favorable coverage on American TV as a new study revealed "12 weeks of Trump bashing."

The Media Research Center (MRC) says between late July and mid-October, 91 percent of network news coverage has been hostile towards Trump.

Based on the analyses of 588 evening shows, the MRC concluded that the networks spent more time discussing Trump's personal controversies (440 minutes) and alleged sexual scandals (102 minutes) than they spoke, for example, about Clinton's emails (53 minutes) or the Clinton Foundation (40 minutes).