Kaine vs. Pence: Quiet but controversial men square off in veep debate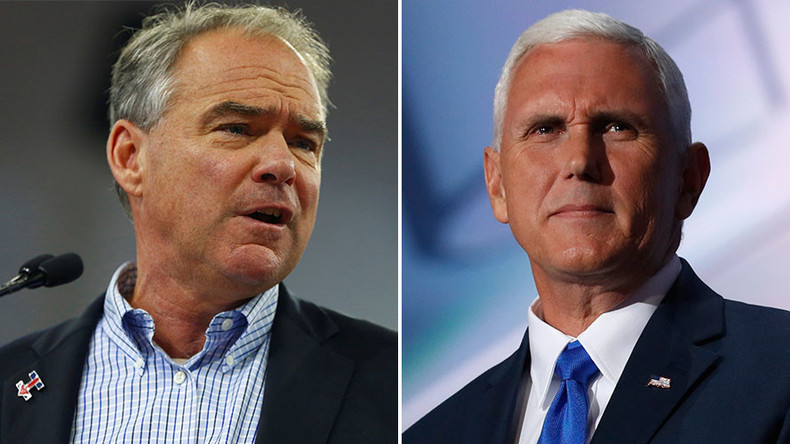 Democrat Tim Kaine and Republican Mike Pence will square off in the first and only vice-presidential debate of the 2016 US election. While both are considered more "moderate" than Hillary Clinton and Donald Trump, each has his share of controversies.
Though they have always been on the opposite side of the political fence, the two candidates share a number of similarities. Both are Catholic, Midwestern and lawyers by training. Both have legislative experience: Kaine served one term in the Senate and Pence served 12 years in the House.
READ MORE: Kaine v Pence: Inspecting the 2016 vice president picks, their records

Tim Kaine
Born in Minnesota, Kaine moved to his wife's hometown of Richmond, Virginia to practice law after graduating Harvard Law School. He describes himself as a "devout Catholic." He entered politics in 1994, getting elected to the Richmond city council, and later served as mayor of Richmond, lieutenant-governor and governor of Virginia, chairman of the Democratic National Committee, and Senator from Virginia.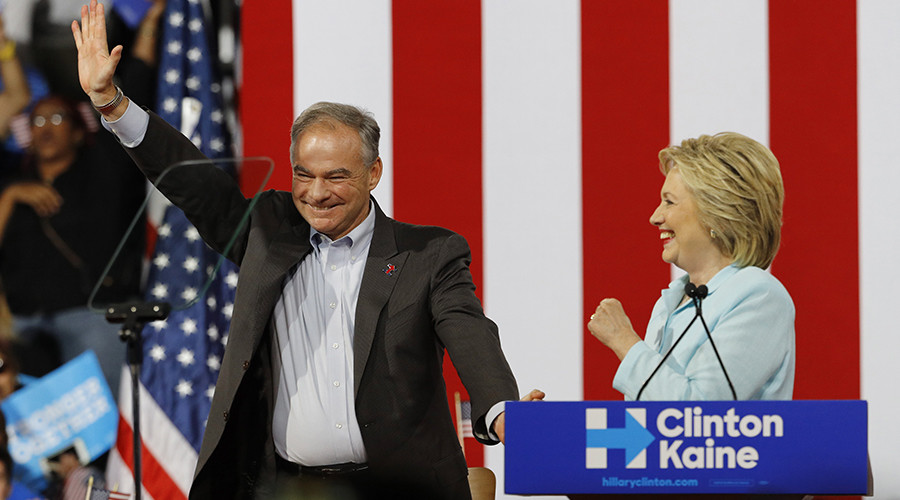 Against capital punishment
Prior to his political career, Kaine worked as an attorney and defended several death row convicts seeking to avoid capital punishment, citing opposition to the death penalty driven by his religious convictions. His first case was a man named Richard Lee Whitley, who confessed to slitting the throat of a 63-year-old woman living in his neighborhood and then using two umbrellas to sexually assault her, according to the Daily Beast.
Kaine later defended Lem Tuggle, who sexually assaulted, raped and murdered a 52-year-old woman shortly after getting out on parole. Tuggle had been jailed for the murder of a 17-year-old girl.
The GOP has just released an ad attacking Kaine for defending murderers such as Whitley and Tuggle. When his GOP rival Jerry Kilgore did something similar during the 2005 gubernatorial campaign, then lieutenant-governor Kaine had a statement prepared.
"My faith teaches that life is sacred," Kaine said. "That's why I personally oppose the death penalty. But I take my oath of office seriously, and I'll enforce the death penalty… because it's the law."
He went on to win the election, and conduct 11 executions during his term as governor.
Gifts that kept on giving
While he served as lieutenant-governor and governor of Virginia, between 2001 and 2009, Kaine accepted more than $160,000 worth of gifts from a total of 139 companies or individuals, according to the Virginia Public Access Project.
Among the gifts were $5,500 in clothes, a $18,000 Caribbean vacation, tickets and transportation to the NCAA Final Four in Indianapolis, Indiana and a private jet to Aspen, Colorado. All were perfectly legal under Virginia's government ethics law, but questions were raised about what Kaine might have done in return.
According to Kaine, every gift was reported, everything was legal and there were never any favors in return. In some cases, however, the gifts were received "around the same time he and his staff were considering official government requests from these donors," according to the New York Times.
Maybe the Pope will come around
Though he previously opposed same-sex marriage, Kaine openly came out in support of it in March 2013, aligning with the Democratic party position. After he was selected as Clinton's running mate, Kaine noted that his position on same-sex marriage was "at odds with the current doctrine of the church that I still attend," but predicted that the Roman Catholic Church would someday adopt his view – prompting two Catholic bishops to publicly disagree with him.
Not Honduras but Semper Fi
In 1980, Kaine spent a year working with Jesuit missionaries in Honduras, where he learned to speak Spanish. He has often referred to this experience.
On the night he accepted the vice-presidential nomination, Kaine wore a lapel pin of a flag with a star in the center, prompting the North Carolina GOP to attack him in a tweet:
"Tim Kaine wears a Honduras flag pin on his jacket but no American flag. Shameful."
The Republicans quickly apologized and deleted the tweet, however, when Kaine explained that the pin was the Blue Star service flag, representing his son Nat – who serves in the US Marine Corps and was deployed a couple days earlier.
Mike Pence
Born in Indiana to an Irish Catholic family, Pence now describes himself as a "born-again, evangelical Catholic." He is also a lawyer, with a degree from Indiana University, and ran for local office in the early 1990s without much success. From 1994 to 1999, he was a conservative radio and TV talk show host.
READ MORE: Who is Trump's running mate? 7 things you may not know about Mike Pence
Pence was elected to the House of Representatives in 2000, and stayed until his election as governor of Indiana in 2012. He belonged to the Tea Party Caucus, and ran for minority leadership in 2006, losing 168-27 to John Boehner of Ohio. During his time in the House, Pence proposed 90 bills; none became law.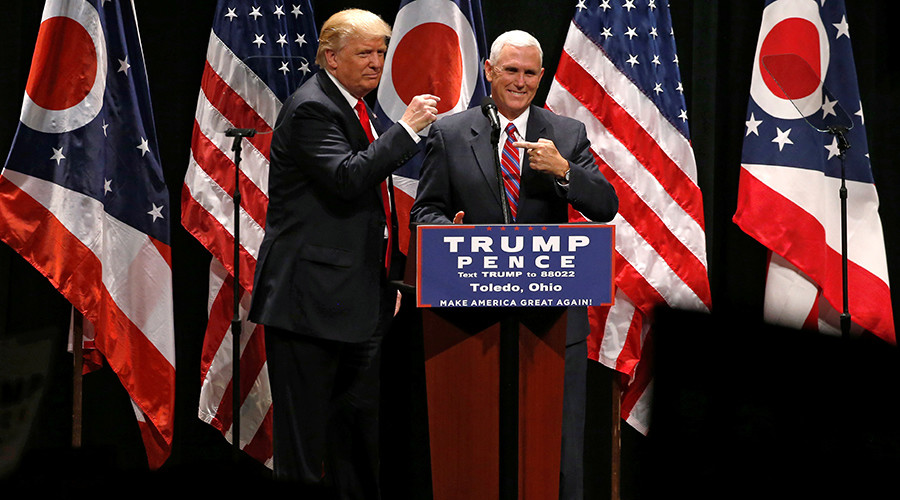 "Cake fight" over religious freedom
In March 2015, Pence signed into law the Religious Freedom Restoration Act, causing a massive backlash from Democrats and LGBT activists, who said it would permit discrimination against same-sex couples.
Originally designed to protect Native American religious practices, the RFRA has been used by a number of states to block discrimination lawsuits against people or businesses who claimed religious reasons for refusing service to customers.
"This bill is not about discrimination, and if I thought it legalized discrimination in any way in Indiana, I would have vetoed it," Pence said, defending the bill. "It doesn't even apply to disputes between private individuals, unless government action is involved."
Celebrities took to social media in protest, NASCAR and the National Collegiate Athletics Association (NCAA) threatened to boycott Indiana, and two states actually banned official travel to Indiana. Pence responded by amending the law to ban discrimination against homosexuals.
Of abortions and funerals
In 2016, Indiana passed a law that would have made it illegal to abort a fetus solely because it was diagnosed with a disability such as Down syndrome. Pence signed it into law. Critics said that the bill also required funerals for aborted or miscarried fetuses, imposing substantial costs on families.
"He signed a law that would have forced women to hold funerals for fetuses, even, in some cases, after a miscarriage," Connecticut Governor Dannell Malloy claimed at the Democratic National Convention.
The law, known as HEA 1337, did require burials or cremations of fetuses "irrespective of gestational age or duration of pregnancy." However, it made the healthcare facilities responsible for the procedure, and the families would only be liable if they chose a different location and method than normally used by the facility.
A federal judge suspended the law from going into effect in June.
"Liberal" condoms
Pence's critics have also brought up a February 2002 appearance on CNN, accusing him of dismissing condoms as "too modern" and "too liberal."
The first-time congressman from Indiana was invited on Wolf Blitzer's show as a panelist, to comment on Secretary of State Colin Powell's endorsement of prophylactics. During the debate, Pence called condoms a "very, very poor protection against sexually transmitted diseases," citing research by the National Institute of Health that there are "at least a half dozen to ten sexually transmitted diseases for which condom use has zero preventative value."
The other panelist, Rep. Jan Schakowsky (D- Illinois), disagreed. "Is it the cure all, is it the perfect solution? No, but it's obviously something that will help," she said.
Pence responded by describing her argument as "a modern, liberal answer."
I will be watching the great Governor @Mike_Pence and live tweeting the VP debate tonight starting at 8:30pm est! Enjoy!

— Donald J. Trump (@realDonaldTrump) October 4, 2016
"Liberal" Mulan and women in the military
Back in his radio-hosting days, Pence published an opinion piece in which he criticized Disney's Mulan as liberal propaganda seeking to promote the idea of women in the military. In July, after Trump picked Pence as his running mate, BuzzFeed dug up the article and put it in the spotlight.
"I suspect that some mischievous liberal at Disney assumes that Mulan's story will cause a quiet change in the next generation's attitude about women in combat and they just might be right. (Just think about how often we think of Bambi every time the subject of deer hunting comes into the mainstream media debate)," Pence wrote.
Many young men and women are sexually attracted to each other, Pence wrote. "Put them together, in close quarters, for long periods of time, and things will get interesting. Just like they eventually did for young Mulan. Moral of story: women in military, bad idea."
Though critics have denounced Pence's thinking as "sexist," the article was accurate insofar as it predicted the normalization of attitudes towards having women in the military: in December 2015, the Pentagon formally opened all positions in the US military to women – including combat duties "as long as they qualify and meet the standards."