Intense backlash hits Indiana after religious freedom law passes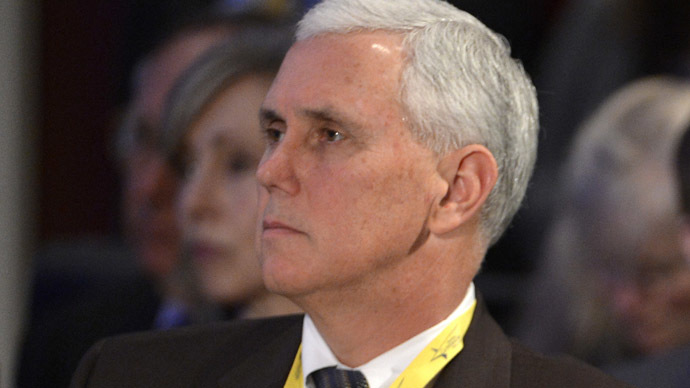 Indiana is under fire by corporations and celebrities after adopting a religious freedom law denounced as discriminatory and offensive to LGBT individuals. It was originally designed by the Clinton administration to protect Native Americans.
Governor Mike Pence signed the Religious Freedom Restoration Act (RFRA) in a private ceremony on Thursday, despite a vocal opposition campaign that at times overwhelmed the telephone exchange at the governor's office. Opponents of the law say it won't protect discrimination, but will protect business owners from being compelled to do things – such as catering to gay weddings – that conflict with their religious beliefs.
I signed SEA 101 today to ensure religious liberty is fully protected under IN law http://t.co/vCOASZBZnHpic.twitter.com/CMFJh6aLDx

— Governor Mike Pence (@GovPenceIN) March 26, 2015
The National Collegiate Athletics Association (NCAA) has expressed concern that the law would allow for the discrimination of athletes and employees. "We intend to closely examine the implications of this bill and how it might affect future events as well as our workforce," NCAA President Mark Emmert said in a statement on Friday.
The association's headquarters are in Indianapolis. It is under contract with the city to pay an annual rent of $1 through 2060. The NCAA collegiate basketball finals are scheduled to be played at Lucas Oil Stadium in Indianapolis through 2021.
Today we are canceling all programs that require our customers/employees to travel to Indiana to face discrimination. http://t.co/SvTwyCHxvE

— Marc Benioff (@Benioff) March 26, 2015
The CEO of the cloud computing company Salesforce, Marc Benioff, led the corporate backlash on Thursday by canceling all programs that would require the company's customers or employees to travel to Indiana. Salesforce acquired the Indianapolis-based ExactTarget, with about 2000 employees, in 2014.
An Open Letter to States Considering Imposing Discrimination Laws http://t.co/2iNMMP0aIt

— Jeremy Stoppelman (@jeremys) March 27, 2015
"It is unconscionable to imagine that Yelp would create, maintain, or expand a significant business presence in any state that encouraged discrimination by businesses against our employees, or consumers at large," CEO Jeremy Stoppelman wrote on the company's official blog on Thursday.
LGBT group Human Rights Campaign has called the law "very, very pro-actively discriminatory." Many celebrities have come out against the bill, including actors George Takei, Ashton Kutcher, and James Van Der Beek. Singer Miley Cyrus had some choice words for Governor Pence.
Miley Cyrus to Indiana governor: You're an a--hole http://t.co/QtlualkShopic.twitter.com/a4zVZGrkR4

— POLITICO (@politico) March 27, 2015
Despite expectations that it would join the boycott, the gaming convention GenCon said it would honor its contract with Indianapolis through 2020. "Due to specific dialog with long-time partners in Indy, we believe that Gen Con attendees not only will receive the same great service and hospitality in 2015, but an even warmer response from the city," GenCon CEO Adrian Swartout wrote in a letter to the convention community on Thursday.
"The message this legislation sends to tourists, Indy locals, and the overall business community is one of exclusion," Swartout noted.
"This bill is not about discrimination, and if I thought it legalized discrimination in any way in Indiana, I would have vetoed it," Governor Pence told reporters on Thursday. "It doesn't even apply to disputes between private individuals, unless government action is involved."
Indiana passes the exact same law Bill Clinton passed in 1993 and *NOW* liberals are upset? #BoycottIndiana

— Stephen Miller (@redsteeze) March 27, 2015
Pence further explained that the law was the same bill adopted by the federal government in the 1990s. Spurred by job discrimination against Native Americans over the consumption of peyote in religious ceremonies, the federal RFRA was adopted unanimously in the House and with a 97-3 vote in the Senate, and was signed into law by President Clinton in November 1993. Barack Obama, then a state senator, voted for the law when it was adopted in Illinois in 1998.
"I understand the concerns that have been raised by some, because frankly, some in the media have tried to make this about one issue or another," Pence said in a radio interview.
Because the Supreme Court ruled in a 1997 case that the RFRA only applied to actions of the federal government, to apply to state and local jurisdictions the law would have to be adopted by the states separately. In addition to Indiana, 19 other states have adopted the RFRA, and eleven additional states apply a heightened standard for court reviews of government actions regarding religion.
You can share this story on social media: