'Russia is killing ISIS': Trump at odds with VP pick over Syria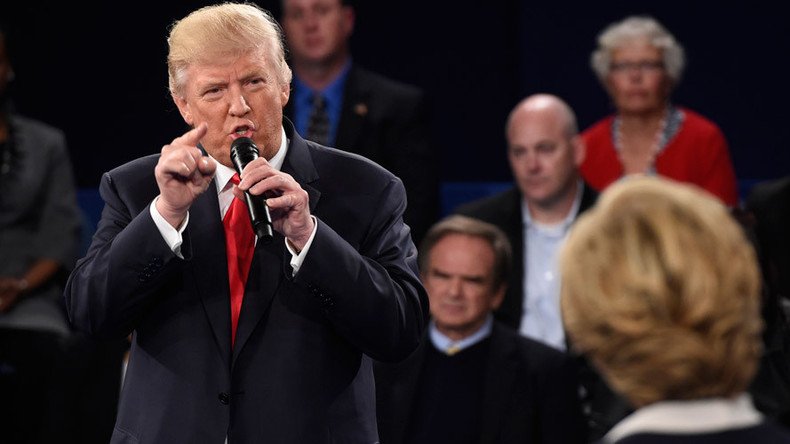 Donald Trump said he "disagrees" with his running mate over US intervention in Syria. Mike Pence had called for hitting Syrian government targets, but on Sunday the GOP nominee said that instead, the US should work together with Russia against ISIS.
"He and I haven't spoken and I disagree," Trump said during Sunday's presidential debate, when asked whether he agreed with Pence's calls for bombing Syria.
READ MORE:Clinton, Trump face off in second debate (WATCH LIVE)
During the presidential debates on Tuesday Pence had said that the US should be ready to strike the Syrian army if Russia continues to be involved in what he called"barbaric actions" in Aleppo.
Both Trump and Clinton were asked what would they do about the situation in Aleppo, which the question – asked via Facebook – compared to the Holocaust.
Clinton blamed the situation in Aleppo on the Syrian government and Russia, accusing Moscow of not paying "any attention to ISIS" but only being "interested in keeping Assad in charge."
"We need some leverage with he Russians because they're not going to come to the negotiation table without leverage," Clinton said, repeating her calls for establishing a no-fly zone and arming the Kurds, but acknowledging that sending US troops on the ground would not work.
"I would not use American ground forces in Syria, I think that would be a very serious mistake," Clinton said.
READ MORE: No-fly zone would 'require war with Syria and Russia' – top US general

"She talks rebels, but she doesn't know who the rebels are." Trump replied. "Almost everything she's done in foreign policy, it's been a mistake and it's been a disaster."
Trump took issue with Clinton's claim that Russia was not fighting Islamic State (IS, formerly ISIS/ISIL).
"Assad is killing ISIS. Russia is killing ISIS. Iran is killing ISIS. And those three have now lined up together because of our weak policy," he said.

"I think it would be great if we got along with Russia. We could fight ISIS together," Trump had said earlier in the evening.
What would happen if Aleppo falls, asked ABC's Martha Raddatz.
"Aleppo… I think that it basically has fallen," Trump replied.
The Republican nominee also repeated his criticism of the US military announcing an attack on IS in Mosul, thus sacrificing the element of surprise, ending with declaring that "Generals George Patton and Douglas McArthur are spinning in their graves at our stupidity in the Middle East."
You can share this story on social media: