'You'd be in jail' Trump says to Clinton & other debate zingers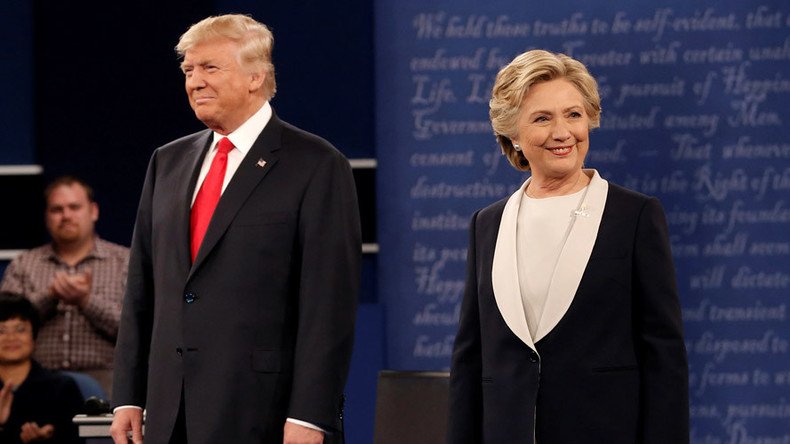 Trump says Hillary Clinton would be in jail if he were in charge of the justice system, promising to hire a special prosecutor to "look into her situation" if he's elected president.
Speaking at the second presidential debate on Sunday, Clinton said it was "awfully good that someone with the temperament of Donald Trump is not in charge of the laws in this country."
'You'd be in jail'
Quickly responding to that remark, Trump said that was "because you'd be in jail" if that were the case.
Trump also promised that he would hire a special prosecutor to look into the Clinton email scandal.
"If I win, I am going to instruct my Attorney General to get a special prosecutor to look into your situation, because there has never been so many lies, so much deception, there has never been anything like it, and we're going to have a special prosecutor," the Republican candidate said.
When Trump accused Clinton of trying to avoid questions about her use of a private email server, Clinton noted the Republican candidate's own diversion tactics – and took a jab at the number of his supporters leaving him.
"Ok, Donald. I know you are big into diversion tonight, the way your campaign is exploding and people are leaving you. But let's get to the issues people care about tonight," she said.
'Absolutely false'
Clinton declined to address Trump's vow directly, but accused everything he said of being "absolutely false."
"But I'm not surprised," she said.
"It would be impossible to be fact-checking Donald all the time, I would never get to talk about all the things I want to..." she added, encouraging people to go to her website for real-time fact-checking of her opponent.
The debate continued into a constant exchange of jabs between the two candidates, with Clinton accusing Trump of possibly having close connections with Russia – a claim which the Republican candidate called "so ridiculous."
'Honest Abe didn't lie'
Clinton was asked about a Friday WikiLeaks release during the debate, which includes transcripts of some of her paid speeches before Wall Street firms. In one of those, she reportedly said that you need a "public and private position" at times, in order to achieve things in politics.
She said during the debate that the remark came after the release of the film 'Lincoln,' which showed the president's efforts to get Congress to ratify the 13th amendment, prohibiting slavery. She said the comment was meant to show how Lincoln had successfully governed during that time.
However, Trump responded by saying Clinton had been "caught in a total lie," and that she was "blaming the lie on the late great Abraham Lincoln."
"Honest Abe never lied," Trump added, saying that was a "big, big difference" with Clinton.
'Living in his own reality'
When Trump accused Clinton of wanting to raise taxes for Americans, Clinton accused the Republican candidate of living "in his own reality."
Trump also introduced a fair share of sarcasm to the debate, saying "congratulations, great job" to Clinton over her "bad judgments" on Libya, Syria, and Iraq.
Forced friendliness
But the candidates were forced to share a little kindness at the end of the debate, when asked if they could name one positive thing that they respect in one another.
Clinton said she respects Trump's children.
The Republican candidate said he takes the remark as a "compliment," but said he wasn't sure if it was truly meant to be one.
In response, Trump praised Clinton for being a "fighter."
"She doesn't quit, she doesn't give up. I respect that. I tell it like it is. She's a fighter...she does fight hard and she doesn't quit and I consider that to be a very good trait."
He noted, however, that he disagrees with a lot of what she's fighting for.
You can share this story on social media: