Highest ranking officer in Freddie Gray case to receive $127k in back pay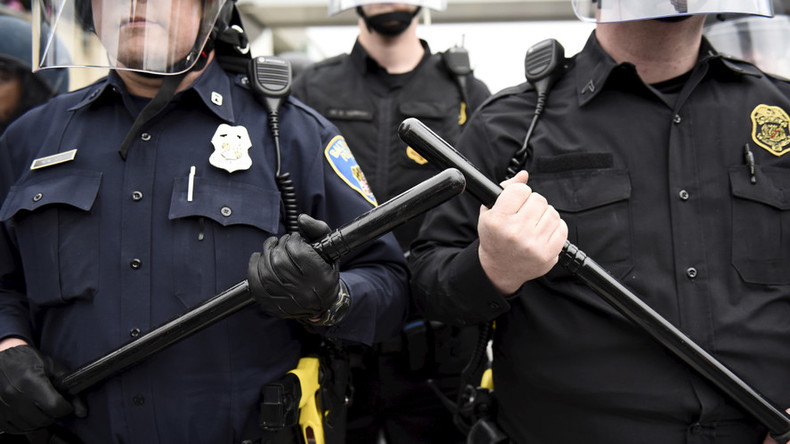 Lieutenant Brian Rice ‒ the highest-ranking police officer involved in the in-custody death of Freddie Gray ‒ will receive nearly $127,000 in back pay, a Baltimore, Maryland panel has announced. Rice was acquitted of all charges.
Rice, 42, was suspended without pay per department policy on May 1, 2015, the same day the state's attorney's office charged him with involuntary manslaughter, assault in the second degree, misconduct in office and false imprisonment. A judge found him not guilty of all charges at the end of a bench trial on July 18, allowing Rice to be reinstated ‒ and receive back pay.
"Being suspended without pay for over a year has been financially devastating to Lt. Rice and his family," said Michael Belsky, Rice's attorney, according to the Baltimore Sun.
Baltimore's Board of Estimates is set to authorize a payment to Rice of $126,916 on Wednesday. During the city's 2016 fiscal year ‒ from July 1, 2015 to June 30, 2016 ‒ Rice would have received a salary of $105,351, according to a database of Baltimore City employee salaries.

Rice was suspended for a total of 14.5 months over two fiscal years. However, his back pay does not reflect that his salary changed between 2015, when his salary was $98,591, and this year.
The median salary of a police lieutenant in the US is nearly $77,000 a year, according to PayScale.com. Almost 90 percent of police lieutenants have more than 10 years experience; Rice has been a member of the Baltimore PD since 1997.
Rice's official position is police lieutenant EID. The highest paid of the 51 such police lieutenants in Baltimore earned annual salaries of nearly $112,000 last year, while the lowest paid received a salary of just over $96,000. When it came to gross pay, the highest paid Baltimore PD lieutenant received more than a quarter of a million dollars. The lowest paid ‒ other than Rice, who received nothing ‒ was about $103,000.
On April 12 of last year, Gray fled from police after making eye contact with an officer. He was subsequently arrested and charged with carrying a switchblade knife, which is illegal in Baltimore City. Prosecutors argued that the knife was not a switchblade, and that Gray's arrest was thus unlawful. While being transported to the police station, Gray was not secured in the van with a seatbelt, which was against police regulations. During the ride, he suffered severe injuries that put him in a week-long coma before he died.
As the highest-ranking of the six officers involved in Gray's arrest and transport, Rice should have made sure that the 25-year-old was seatbelted in the van, as required by department protocol, prosecutors argued. However, defense lawyers said that Rice made the correct decision because Gray was being combative and a hostile crowd was looking on.
In July the Board of Estimates approved a payment of nearly $88,000 to Officer Caesar Goodson, who drove the van and was also acquitted in a bench trial. The charges against the remaining officers were all dropped in July.
The lieutenant still faces an administrative review by the Baltimore PD, Mayor Stephanie Rawlings-Blake has said.