Remaining charges dropped against police officers in Freddie Gray case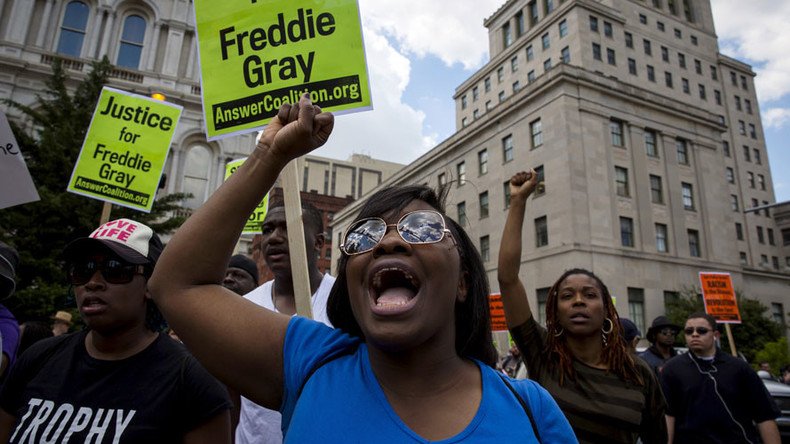 Prosecutors dropped all charges against the three remaining Baltimore Police Officers that were indicted over the death of Freddie Gray.
The decision was announced by the Baltmore City State's Attorney's Office on Wednesday morning during a motions hearing for Officer Garrett Miller. Officer William Porter was to set be retried in September, and Sgt. Alicia White was scheduled for trial in October.
The dismissal of the charges wrap up one of the highest-profile criminal cases in Baltimore history, with prosecutors winning no convictions against any of the six officers indicted for their alleged role in the death of Freddie Gray.
The remaining trials would have been presided over Circuit Judge Barry G. Williams, who had previously acquitted Officers Edward Nero, Caesar Goodson and Brian Rice in bench trials in May, June and July, respectively.
Gray, a black man, was arrested on the morning of April 12, 2015, after he ran from police officers who were on bicycles. His wrists and legs were shackled, and he was loaded into a police van without seat-belted in. During the ride to the police station, Gray fell and suffered from a spiral injury that led to his death in the hospital a week later.
Prosecutors argued that Gray's arrest was illegal, and that officers' were negligent by not securing the 25-year-old in the Van and failing to call a medic when he indicated that he wanted to go to the hospital.
Gray's death became a national news sensation, with activists claiming that his death was another example of police being needlessly brutal with black men. Baltimore erupted into violent protests, riots and arson in the days following Gray's funeral.
The inability to fetch even one conviction lends credence to the argument that Baltimore State's Attorney Marilyn Mosby acted too quickly to indict the officers without enough evidence.
However, Mosby defended her decision to prosecute on Wednesday morning. Speaking at the site of Gray's death, she told reporters that she still blames police for the young man's death, pointing out that the medical examine found the death to be a homicide.
She declined to take questions, citing a lawsuit that the officers have filed against her.
Following the acquittal, Baltimore Police Commissioner Kevin Davis released a statement.
"As the quality of this investigation has been called into question, I want to remind our residents that over 30 ethical, experienced, and talented detectives worked tirelessly to uncover facts," the statement said. "We embedded (sic) the Baltimore Sun's Justin George into the investigation because we knew the community would need a transparent assessment from an independent third party. His accounting of our investigative efforts speaks for itself."
"The tragic death of Mr. Freddie Gray has stirred many emotions in all of us. And while we are all entitled to our own opinions, we are not entitled to our own facts," the statement continued. "Our American criminal justice system has run its course, and today's decision by State's Attorney Marilyn Mosby is a wise one that will undoubtedly help Baltimore to continue to heal."
You can share this story on social media: