Baltimore police driver Goodson found not guilty in Freddie Gray case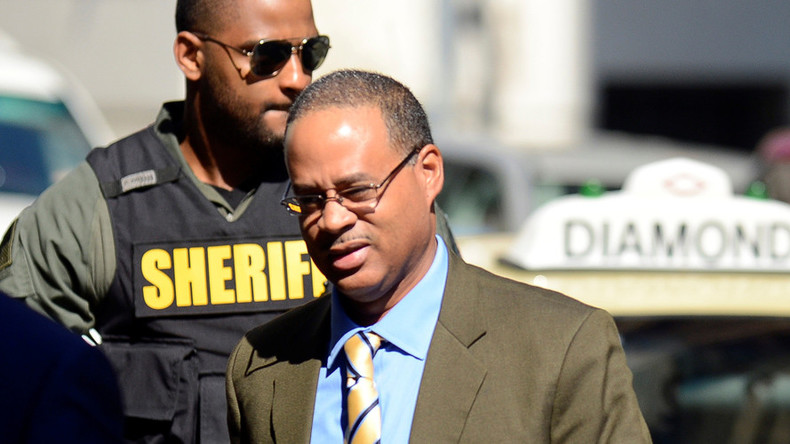 Officer Caesar Goodson, Jr. has been found not guilty of all charges in the death of Freddie Gray. Goodson was the driver of the police van in which Gray suffered a fatal spinal injury in April 2015, sparking riots in Baltimore, Maryland.
Of the six officers involved in Gray's arrest, Goodson faced the most serious charges, including second-degree "depraved-heart murder," second-degree assault, reckless endangerment, and misconduct in office. Like Gray, he is African-American.
A veteran of the Baltimore Police Department, Goodson chose a bench trial before Circuit Judge Barry Williams, who delivered the verdict Thursday morning. Previously, Williams acquitted Officer Edward Nero of all charges, while the prosecution of William Porter ended in a mistrial due to a hung jury.
Prosecutors have argued that Goodson intended to injure Gray by not buckling him in inside the police van, and failed to seek medical help when he realized Gray had suffered severe injuries that ultimately proved fatal.
Goodson acted as a reasonable officer in all of his interactions with Gray, who "created the high degree of risk" for himself by standing up and moving around inside the van during the ride, Goodson's attorney Matthew Fraling said during the closing arguments on Monday, according to the Baltimore Sun.
Baltimore police are bracing for possible protests in the wake of the verdict, with all leave canceled. Maryland National Guard is also on alert. Last April, protests over Gray's death escalated into a full-blown riot. The authorities responded by arresting hundreds, deploying the Guard and imposing a curfew in the city.
The Goodson trial is seen as a make-or-break battle for State's Attorney Marilyn Mosby, who shot to fame after indicting the six officers involved in Gray's death.
"This is their Waterloo. This is their Gettysburg," attorney Warren A. Brown, a critic of Mosby, told the Baltimore Sun. "They've got to win this. She is virtually persona non grata in the white community and her support is waning in the black community and will continue to wane if she continues to lose these cases."
Baltimore Mayor Stephanie Rawlings-Blake appealed to citizens "to be patient and to allow the entire process to come to a conclusion," noting that Goodson is still under administrative review by Baltimore PD, even though he was acquitted of all criminal charges.
The trials of three other Baltimore PD officers involved in Gray's arrest – Officer Garrett Miller, Lieutenant Brian Rice, and Sergeant Alicia White – are still pending.