NBA legend Michael Jordan 'saddened and frustrated by divisive rhetoric and racial tensions'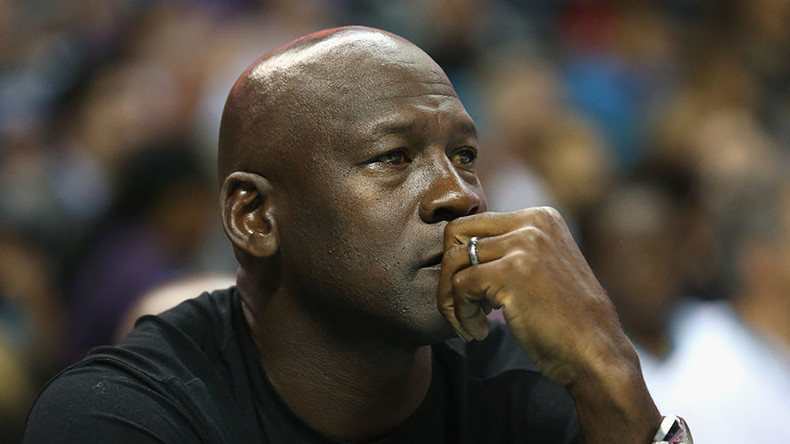 Michael Jordan, a five-time NBA most valuable player and current owner of the league's Charlotte Hornets, says he "can no longer stay silent" in the face of fatal shootings of black Americans by police and recent killings of US police officers.
Promising to donate $1 million each to two groups involved in police-community relations, Jordan said in a letter to The Undefeated that he has "been deeply troubled by the deaths of African-Americans at the hands of law enforcement and angered by the cowardly and hateful targeting and killing of police officers."
Jordan referenced his father's 1993 murder in saying that he was "saddened and frustrated by the divisive rhetoric and racial tensions that seem to be getting worse as of late.
"I know this country is better than that, and I can no longer stay silent," he added. "We need to find solutions that ensure people of color receive fair and equal treatment AND that police officers – who put their lives on the line every day to protect us all – are respected and supported."
Jordan acknowledged that, as one of the world's most famous athlete celebrities thanks to his prowess on the basketball court in the 1980s and 1990s, as well as his globally-famous brand of Nike products, he has not had the same experiences with law enforcement as other people of color. He said his decision to speak out about police brutality and the violent reaction to it is "in the hope that we can come together as Americans, and through peaceful dialogue and education, achieve constructive change."
Jordan announced that he was donating $1 million to the International Association of Chiefs of Police's Institute for Community-Police Relations, whose "policy and oversight work is focused on building trust and promoting best practices in community policing," he said. Another $1 million will be donated to the legal defense fund of the National Association for the Advancement of Colored People (NAACP) to "support its ongoing work in support of reforms that will build trust and respect between communities and law enforcement."
Until recently, Jordan had long resisted using his immense stature to enter into public political conversations, to the criticism of people such as Craig Hodges, once a teammate of Jordan's with the Chicago Bulls and a fellow black man, who recognized Jordan's potential for social change.
"I'm not going to tell Michael what to do," Hodges told the New York Times in June 1992, months after fierce rioting in Los Angeles occurred following the acquittal of police officers who were caught on video savagely beating an unarmed black man, Rodney King.
"At the same time, I cannot go talk to young kids and not use Michael as an example of what is possible because he has so much and he has children in the palm of his hands."
Jordan has also received scrutiny and ridicule for profiting substantially off of sales of his branded Nike products, despite alleged child labor and other human rights violations associated with the company.
Jordan did enter the fray this year when his home state of North Carolina passed a strict anti-transgender "bathroom bill" that blocked any municipality from passing an ordinance allowing a transgender person to use a public restroom facility corresponding with their gender identity.
The bill, House Bill 2, mandated that all employment, wages, and public accommodations measures instituted by local governments be in accordance with state law, which allows discrimination based on sexual orientation or gender identity. It also required that people use the bathrooms and locker rooms in any government building, including public universities and colleges, designated for the biological sex corresponding to that listed on their birth certificate.
Jordan came out in opposition to HB2 following the law's passage.
"As my organization has stated previously, the Charlotte Hornets and Hornets Sports & Entertainment are opposed to discrimination in any form, and we have always sought to provide an inclusive environment," Jordan said in a statement to the Charlotte Observer.
Last week, the National Basketball Association decided to move its 2017 All-Star Game away from Charlotte, North Carolina, citing the discriminatory climate created by HB2.
Jordan's gesture also comes two weeks after the ESPY awards, during which current NBA stars Carmelo Anthony, LeBron James, Chris Paul, and Dwayne Wade called for heightened political action among athletes to help raise awareness and speak out against police brutality, particularly police killings of black Americans.
In addition, players in the Women's National Basketball Association (WNBA) have made public stands recently over police brutality, appearing at games wearing t-shirts in support of the Black Lives Matter movement. The WNBA initially announced it would fine the players for violating dress code, but those fines were later rescinded.