Neymar 1st footballer to get Nike Jordan boots
Published time: 2 Jun, 2016 14:02
Edited time: 9 Aug, 2018 09:30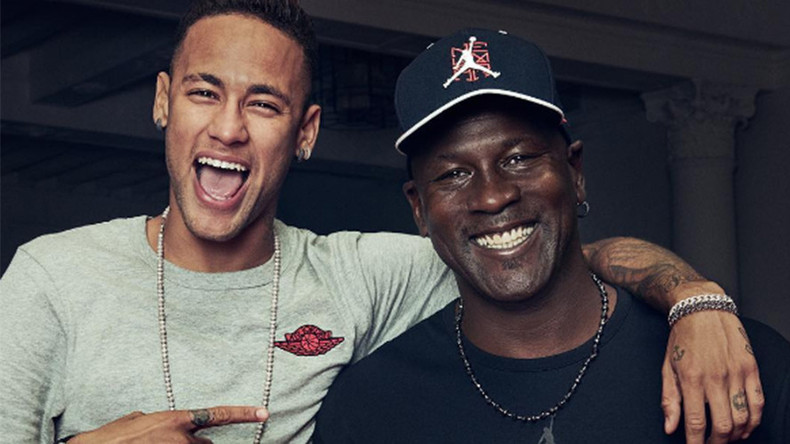 Sportswear giant Nike has looked to cash in on the popularity of two of its most high-profile athletes, with Neymar's new football boots featuring Michael Jordan insignia.
The American apparel powerhouse is locked in a battle for supremacy with rivals Adidas and recently struck a hammer blow in a record-breaking deal with Barcelona.
READ MORE: Barcelona signs world record $112m per year contract with Nike
Neymar is one of the most popular players on the planet and is an idol in his homeland Brazil, with the South American tipped to be a future Ballon d'Or winner.
His latest boots, which he could well wear at the Olympics this summer, have Jordan's iconic number 23 etched into the heel and the former Chicago Bulls star's 'V' logo both on the outside and inside of the shoe.
The initials 'DL' – those of Neymar's son – and a miniature Brazilian flag are also included on the laces in the trendy design.
The Barcelona attacker said he was delighted to collaborate with a star such as Jordan.
"Michael Jordan set the standard for greatness. He's an incredible competitor and a champion," Neymar said.
"I've always admired him, so to collaborate with him and have his icon on my boots means a great deal to me."
The admiration is apparently mutual, as the retired basketball legend was full of praise for his Nike stablemate.
"I'm excited that Neymar and the Jordan Brand are working together," he said.
"I'm a fan of his creativity, style and passion for the game of soccer. He's a special player and I look forward to this collaboration."
Nike Football senior design director Nathan VanHook praised the product.
"The Jordan 'V' is very iconic and has the fighter jet shark teeth on the front," he said.
"The Hypervenom II [boot] that Neymar Jr. wears has an almost modernized version of that feature, so we took those elements and put them together."
Despite Lionel Messi and Cristiano Ronaldo widely being regarded as the two best players on the planet, Neymar is one of a number of stars in the chasing pack.
The Brazilian was third in the 2015 Ballon d'Or standings and is expected to be a driving force for Barcelona and Brazil for years to come.
Jordan's brand continues to sell at an astronomical rate, with the American icon integral to Nike's success, despite the shooting guard retiring in 2003.
Neymar's new boots are priced at US$190 and are available to buy on Nike.com from tomorrow.