Top 10 Highest-Paid Retired Athletes in 2016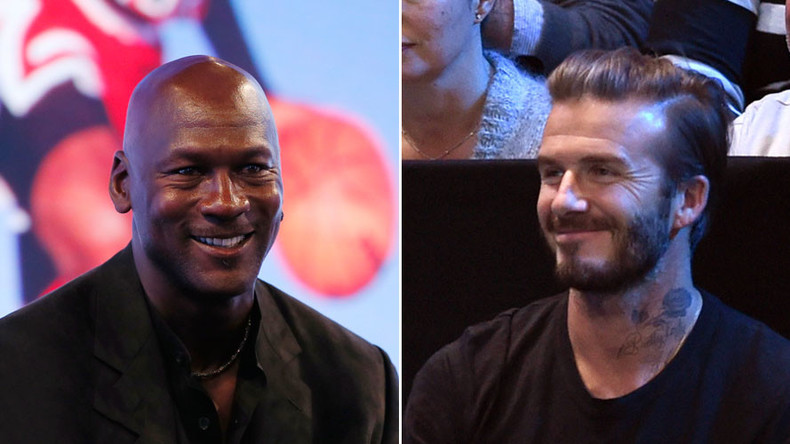 Sports stars in the modern era can earn millions of dollars more than their counterparts from days gone by. Ever-increasing broadcast deals, personal endorsements and team sponsorships are pushing salaries to eye-watering levels.
According to a 2015 Forbes report, the world's 100 highest-paid athletes pocketed $3.2 billion between them over the preceding 12 months - a rise of 17 percent year-on-year.
While many current top athletes are cashing in, there are some shrewd stars from days gone by who are still raking in the cash long after their pro sports careers have ended.
Michael Jordan, David Beckham and Arnold Palmer are familiar names, and it's no surprise to see them appear in Forbes' top 10 list of highest-paid retired athletes, but there are also some lesser-known people on the list.
A former NBA star, Jordan retired in 2003, having banked more than $4 million in salary just twice during his 15-year playing career.
His Nike Jordan brand saw a rise in sales of 14 percent in the US last year, leaving him with estimated total earnings of $110 million for last year.
Jordan also benefits from link-ups with Gatorade, Five Star Fragrances, Hanes and Upper Deck. Nike hopes to double the Jordan brand's revenue by 2020, meaning his estimated worth of $1.1 billion will increase even further.
Ex-England footballer Beckham enjoys partnerships with numerous leading brands, including Adidas and Kent & Curwen, while he is edging ever-closer to launching a brand new MLS franchise in Miami.
His $65 million earnings in 2015 lag a bit behind Jordan, but it puts him comfortably ahead of third-placed Arnold Palmer.
The legendary golfer's $40 million salary comes primarily from the 500 Arnold Palmer-branded sports stores in Asia. He also puts his name on a line of drinks (namely an iced tea-lemonade mix) made by the AriZona Beverage Co. He has also owned Bay Hill Club & Lodge, a golf resort in Florida, for over 40 years.
In his 12-year NBA career, ex-Milwaukee Buck Junior Bridgeman never came close to reaching Jordan's dizzy heights, but since retiring in 1987, he's gone on to make a fortune in the restaurant business, earning $32 million last year.
Bridgeman Foods has over 450 franchises, including Wendy's, Chili's and Fazoli's outlets, while Blaze Pizza is a new addition to his portfolio.
Jerry Richardson rounds off the top five, having earned $30 million in 2015. He retired in 1960 after just two seasons in the NFL, but became a success in the restaurant business before being awarded the football league's 29th franchise in 1993 with the Carolina Panthers.
American golfer Jack Nicklaus ($26 million), ex-NBA star Shaquille O'Neal ($22 million) and former race car driver Roger Penske ($20 million) fill the next three places, with golfer Gary Player ($19 million) and legendary basketball player Earvin "Magic" Johnson ($18 million) completing the top 10.
Top 10 Highest-Paid Retired Athletes in 2016
1. Michael Jordan $110m
2. David Beckham $65m
3. Arnold Palmer $40m
4. Junior Bridgeman $32m
5. Jerry Richardson $30m
6. Jack Nicklaus $26m
7. Shaquille O'Neal $22m
8. Roger Penske $20m
9. Gary Player $19m
10. Ervin 'Magic' Johnson $18m