4 suspects at large after shooting near NYPD cops in Brooklyn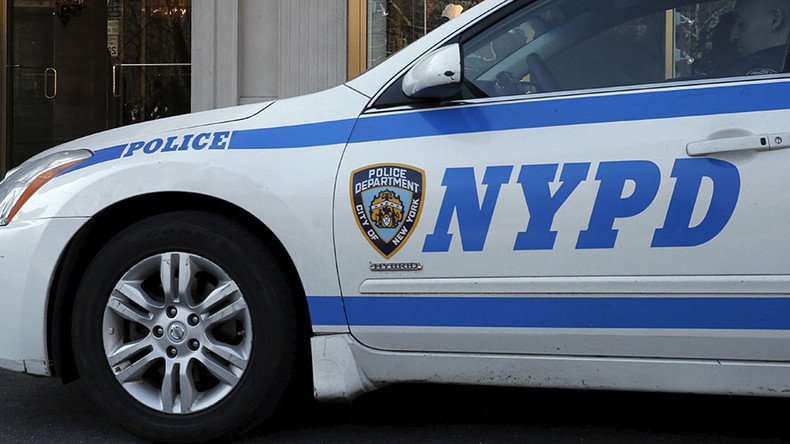 Several shots were fired near police officers in Brooklyn. No one was hurt but the car that fled the scene. An active search for the four suspects is underway. Police now think they were not the alleged targets.
Police have instituted a Level 1 Mobilization after NYPD officers were attacked on Flatbush Avenue and Ditmas Avenue in the Flatbush section of Brooklyn at about 10:40pm.
While no injuries have been reported, at least two shots were fired from a passing black Nissan four-door sedan that immediately fled the scene, police sources told New York Daily News.
Flatbush Ave & Ditmas Ave in Brooklyn officers were fired upon by 4 males in a black auto no officers have been injuried.

— SBA (@SBANYPD) July 20, 2016
According to reports, police are now searching for four black males who later abandoned the vehicle. A ground and air operation involving K-9 Units, at least one helicopter and Emergency Services Units managed to locate the vehicle on Rogers Avenue.
READ MORE: Police captain shot and killed in Kansas City, Kansas
According to Sergeants Benevolent Association, which promotes the welfare of New York's finest, two uniformed officers were shot at after suspects in a "dark colored sedan with tinted windows slowly approached them, then made a statement about 'getting' them and proceeded to fire shots." The association said that the car had four "male blacks" inside.
Racial tensions are at all-time high in the country as Black Lives Matters protests reignited with new fervor following the deaths of Alton Sterling and Philando Castile, two black men shot dead by police officers earlier this month.
READ MORE: Number of US police officers killed by guns surges by 72 percent compared to July 2015
Following the end of peaceful rally by Black Lives Matter in Dallas, Texas, against police brutality on July 7, a ex-military officer killed five police officers, and injured seven others.
Allegedly driven by revenge, 25-year-old Micah Johnson of Mesquite, Texas, began to take out police officers using a sniper rifle which led to a tense standoff and resulted in the death of the attacker. At the time of the standoff, Johnson told hostage negotiators that he had been angry about recent fatal shootings of black men by police across the US and wanted to kill white people, especially police officers.
READ MORE: 'Hated in uniform, threat to cops when not': Slain black Baton Rouge officer's emotional appeal
In another incident last Sunday, a 29-year-old African American, Gavin Long of Kansas City, ambushed and killed three law enforcement officers and wounded three others in Baton Rouge, Louisiana, before being killed in a shootout with the police.
Investigators into Tuesday night's shooting in New York, have now determined that contrary to initial reports, the officers were not the intended target. The target was a group of people standing 30-40 feet down the block from the beat cops, according to the department spokeswoman, reported Gothamist.
You can share this story on social media: