'Hated in uniform, threat to cops when not': Slain black Baton Rouge officer's emotional appeal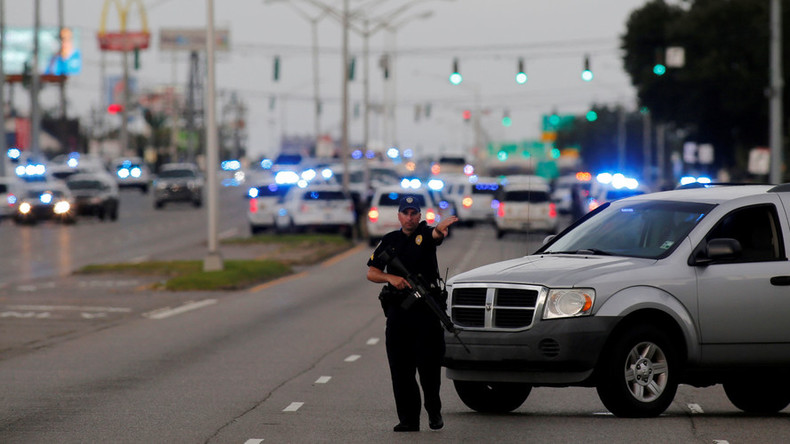 The black policeman gunned down by the Baton Rouge shooter on Sunday had recently posted a message on Facebook full of compassion and love, as he struggled with being both a black man and a police officer following Alton Sterling's death.
Montrell Jackson, 32, was slain on Airline Highway by Gavin Eugene Long, a former marine and alleged member of the Nation of Islam, an African American Islamic movement. The Baton Rouge police officer had taken to Facebook on July 8 to express his feelings in the aftermath of the fatal police shooting of Alton Sterling, a black man, which sparked nationwide protests and is thought to have incited the revenge killing of five police officers in Dallas on July 7.
The inflamed debate on the excessive force often used by police when dealing with black Americans in particular and an outbreak of anti-police violence in response has created an atmosphere of hatred in the city, Jackson wrote.
"In uniform I get nasty hateful looks and out of uniform some consider me a threat. I've experienced so much in my short life and these last 3 days have tested me to the core," Jackson wrote, saying that he was "tired physically and emotionally."
The officer expressed disappointment that even his family and friends, as well as his colleagues, got caught up in the emotion and made "reckless comments" about the tragic events. Jackson said that, given what he had heard, he would "definitely" not look at these people "the same way" as he used to, but was confident that the love in his heart would prevail, as "hate takes too much energy."
As he was able to identify with the victims from both sides, Jackson sent a message of peace to everyone affected by the tragedy, whichever side they were on.
"I personally want to send prayers out to everyone directly affected by this tragedy. These are trying times. Please don't let hate infect your heart," he appealed, stressing that "the city [Baton Rouge] must and will get better."
Jackson concluded his message with a heartwarming offer, saying "I'm working in these streets so any protesters, officers, friends, family or whoever, if you see me and need a hug or want to say a prayer. I got you."
Jackson's fellow officer Matthew Gerald, 41 and sheriff's deputy Brad Garafol, 45, were also killed by the shooter as they were responding to a call about a "suspicious person walking down Airline Highway with an assault rifle."
Witness accounts claimed the officers were not the shooter's initial target, as there had been a running gunfight between several people when they arrived at the scene. However, others speculated that the shootout might have been a form of a bait to attract police.
READ MORE: 65 police brutality protesters, including 10 underage, detained in Baltimore

Three more officers were shot and are being treated at a nearby hospital. The assailant was subsequently killed by police.
A wave of mass protests has gripped the US since the recent killing of 37-year old Alton Sterling, a black man who was shot dead by two white police officers in the city of Baton Rouge on July 5. A criminal probe was launched following the release of a video showing how police officers shot Sterling multiple times while he was lying on the ground. That incident was succeeded on July 6 by the killing of yet another black man, Philando Castile, which was streamed live on FB by his girlfriend. The killings sparked mass protests across US cities, as civil rights groups accused police of brutality and using excessive force.
READ MORE: ACLU sues Baton Rouge police, calls for temporary restraining order on future protests