ACLU sues Baton Rouge police, calls for temporary restraining order on future protests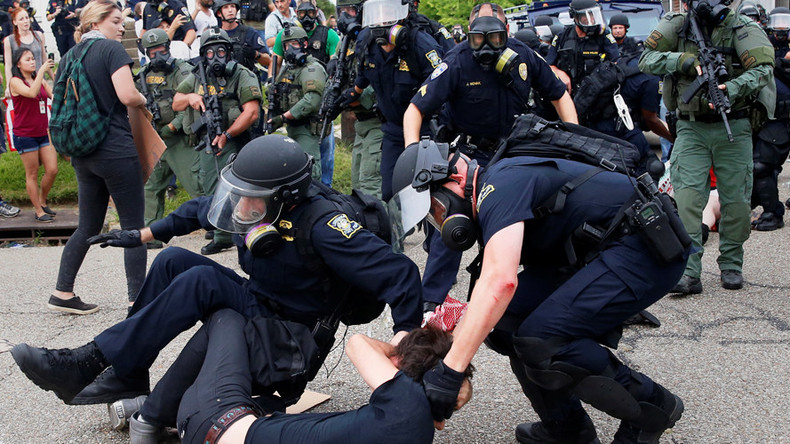 The American Civil Liberties Union is suing the Baton Rouge Police Department for excessive force, abuse and wrongful arrest during a protest over the killing of Alton Sterling. The group is also seeking restrictions on police presence at future protests.
"[The police response] made me afraid to protest," Crystal Williams, local resident and organizer with North Baton Rouge Matters, told ACLU. "Seeing the way the police were manhandling folks caused me to hide, scream out of fear, and finally flee for my safety. I had to run."
Read more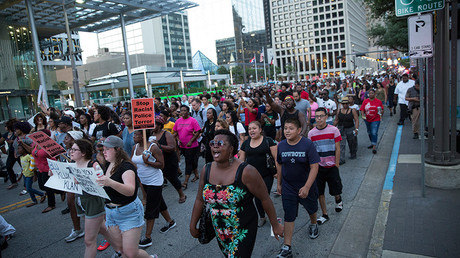 The ACLU's legal action was joined by local organizing groups. In their lawsuit, they say the Baton Rouge Police Department violated First Amendment rights of demonstrators, who took to the streets protesting the July 5 police killing of Alton Sterling.
Additionally, ACLU lawyers requested a temporary restraining order to keep police from the defendants, as long as the defendants stay on sidewalks while exercising First Amendment-protected speech and assembly.
"The lawsuit alleges that the police used excessive force, physical and verbal abuse, and wrongful arrests to disperse protesters who were gathered peacefully to speak out against the police killing of Alton Sterling," the ACLU said in a statement.
Another eyewitness told the plaintiffs that she saw peaceful protestors "violently attacked and arrested, assault weapons pointed at them with fingers on the triggers."
"The police didn't do their job in Baton Rouge, again. They are bound to protect us from harm, to keep us safe, to do everything possible before throwing someone to the ground or pulling the trigger," said ACLU of Louisiana Executive Director Marjorie Esman. "Yet Alton Sterling is on the long list of Black people killed needlessly by our nation's police, and protests in his honor have turned into circuses of violence where the First Amendment is tossed aside."
Sterling, a 37-year old resident of Louisiana, was shot and killed by Baton Rouge police officers Blane Salamoni and Howie Lake. Both have been suspended.
READ MORE: Officers involved in Alton Sterling shooting suspended, names released

Video footage taken by a witness at the scene showed Officer Lake near the head and chest of Sterling and Officer Salamoni pinning him down near his legs and waist.
Sterling was the father of five children, and had been living in a homeless shelter in the months leading up to his shooting.
"He's got a gun! Gun!" an officer, presumed to be Salamoni, shouts at the beginning of the video, prompting his partner to pull out his service pistol and fire several shots.
READ MORE: 'Suspect down': Video footage, dispatch tape from Alton Sterling police shooting released (GRAPHIC)

According to the East Baton Rouge Parish Sheriff's Office's autopsy, Sterling died from gunshots to the back and the chest.