Officers involved in Alton Sterling shooting suspended, names released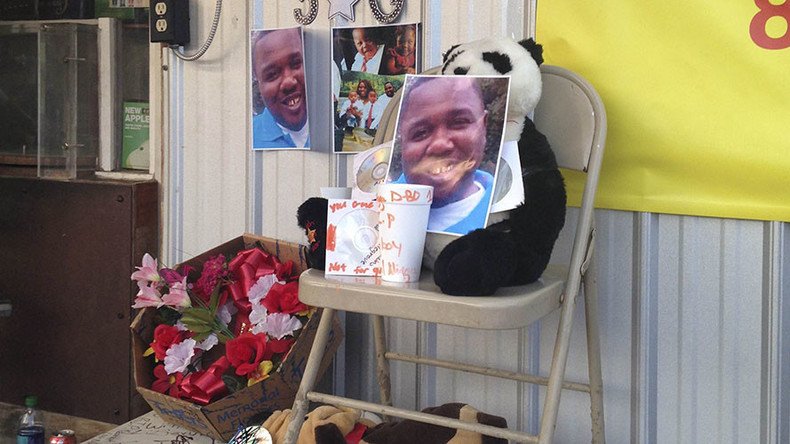 The chief of Baton Rouge, La police said officers involved in Alton Sterling were suspended while the investigation is underway. The officers' names were also released: Blane Salamoni, 4-year veteran, and Howie Lake II, 3-year veteran.
Officers say they were called to a convenience store after an anonymous caller claimed a that a man selling CDs had threatened him with a gun.
After police arrived, video footage shows police pinning down Sterling and shooting him several times, allegedly because of his possession of a pistol.
While Louisiana is an open carry state – meaning that Sterling was likely legally allowed to have his gun on him – such a law doesn't change how police are expected to assess threats from armed suspects.
The video was widely shared widely on social media and sparked local protests and drew the attention of national media.
The Baton Rouge police chief said at a press conference that the police department is "demanding answers" over the shooting of Alton Sterling, and that an independent investigation will be conducted by the FBI.
At A Wednesday press conference, Baton Rouge Police Chief Carl Dabadie said that there is a lot that the department does not know about the shooting of 37-year old Alton Sterling by officers.
He did, reveal, however, that two officers were behind the killing were four-year veteran Blane Salamoni and three-year veteran Howie Lake II. Both have been placed on administrative leave during the investigation.
Lake has been put on administrative leave for his involvement in a police killing before. In December 2014, he was involved with a firefight with a suspect.
The probable cause report noted a dash cam captured the entire incident on video. Police have not released that video to the media.
Six police officers were put on administrative leave with pay after the shooting. They include Paul Brown, an 8-year veteran; James Crisler, a 3-year veteran; Howie Lake, a 2-year veteran; and recent academy graduates Sirtelli Dorsey, Todd Thomas and Curtis Wilson.
Dabadie said that both officers were wearing body cams, but that they fell off before the shooting incident. There is, however, still some footage from the devices, police said.
The shooting sparked protests in Baton Rouge Tuesday night. Many are expressing outrage online over what they believe was an excessive use of force by police against an African-American man.
Dabadie said that he spoke with US Attorney Walt Green, Louisiana State police Colonel Michael Edmonson, and the FBI about the shooting, saying that the FBI will be conducting the investigation.

"We must have transparency. We started talking about this yesterday. This wasn't just an idea that we had to have a press conference today," Dabadie said. "We are not here to hide anything at all and that we believe that justice will be served."
Sterling was the father of five children, and had been living in a homeless shelter in the months leading up to his shooting. He had been selling CDs outside of the same convenience store for five years.
You can share this story on social media: