65 police brutality protesters, including 10 underage, detained in Baltimore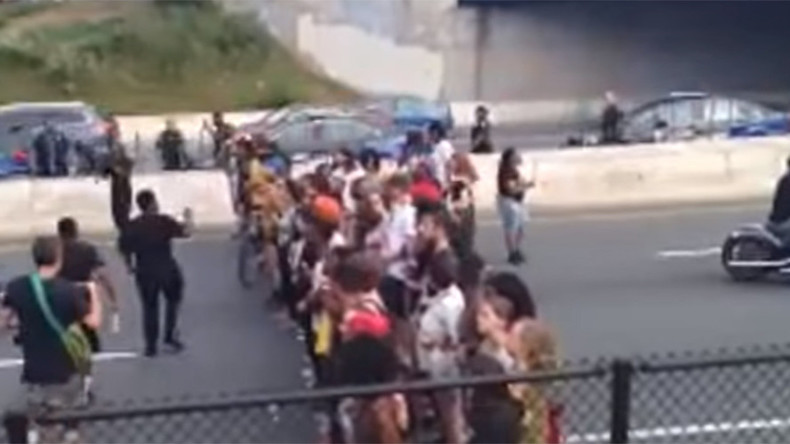 Sixty-five protesters, among them 10 underage, were arrested for attempting to shut down Interstate-83 in Baltimore, police report. The demonstration, dubbed Afromation, was organized in response to fatal shootings of black people by police.
The protesters began their march at Guilford Ave. and E. Chase St. before moving through Artscape, where an annual festival was underway. They then continued down the Charles Street ramp to Interstate-83 (I-83), where, at approximately 6:00 pm, "after previously being warned multiple times, numerous individuals ran onto the Jones Falls Expressway (I-83), locked arms, and blocked traffic," the Baltimore Police Department reported.
The protest became "an affirmation of black life in the face of so much black death," WBALTV quoted protester Lawrence Brown as saying. The demonstration was called to protest the police-involved shooting deaths of Philando Castile and Alton Sterling.
"Traffic and the highways are the arteries that sort of move the blood of a city, and so we're standing in the middle of the city to sort of let the body of the city know, let Baltimore City as a body know, something is not right," Brown said.
Soon after I-83 was blocked, officers of the Baltimore Police Department arrived and began making arrests, detaining a total of 55 adults and 10 juveniles.
Interstate-83 remained blocked for only about two or three minutes before police officers ordered the demonstrators to clear the way for an ambulance, the Baltimore Sun cited David Blair, 24, who was one of the march organizers, as saying.
Blair, who was not arrested, insisted "we complied with the officers," adding that instead of an ambulance, two vans carrying a group of police officers arrived and parked on the shoulder of the expressway, before ordering the protesters to clear the way.
"I think there are so many people that deserve to get arrested – not peaceful protesters," Blair added, stressing that none of the protesters had resisted arrest.
The detainees with "proper identification" were transported to Baltimore's District Station/Central Booking Intake Facility, "where they will be issued criminal and traffic citations and released."
These individuals "will be charged with failure to obey and illegally walking on a highway," police reported.
In April of 2015, Freddie Gray, 25, a black Baltimore resident, fell into a coma and died a week after he had been arrested due to spinal cord injuries he suffered while being transported in a police van. The officers that detained Gray had no reason to believe that he had committed any crime, but began to chase him after he had made "eye contact" with them. They only later accused Gray of carrying an illegal switchblade.
Gray's death caused immense outrage, sparking protests in Baltimore and nationwide, which have added tension to the already strained relations between US law enforcement and civilians, especially in communities of color.