Number of US police officers killed by guns surges by 72 percent compared to July 2015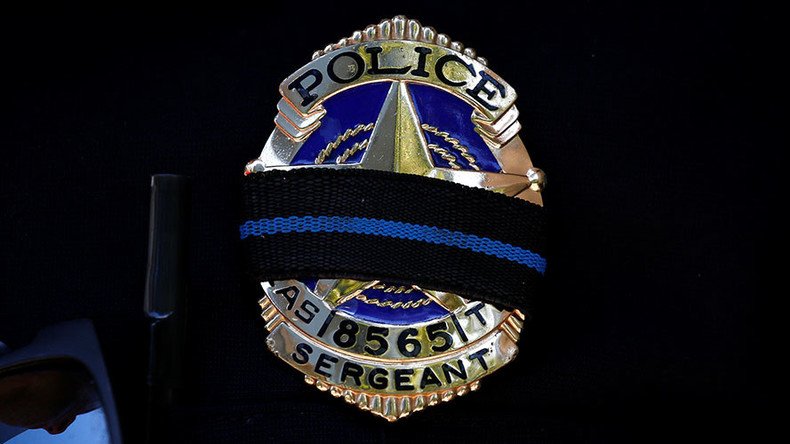 The fatal shootings of three police officers in Baton Rouge, Louisiana has pushed the number of cops killed by firearms so far this year to 31 ‒ a whopping 72 percent higher than the same period last year.
The surge in police fatalities, recorded by the National Law Enforcement Officers Memorial Fund, follows a particularly deadly month for law enforcement after the high profile killings of police officers in Dallas, Texas and Baton Rouge. Cops were also shot in Michigan, Georgia, Tennessee and Missouri in incidents that garnered less media attention.
A total 31 police officers have been killed by guns in the line of duty up thus far in 2016, compared to 18 during the same period in 2015, according to the statistics.
National Law Enforcement Officers Memorial Fund spokesman Steve Groeninger said this change was alarming.
"It's very concerning to see that firearms are responsible for more law enforcement fatalities today than this time last year," he told CNN.
Overall there have been 63 police fatalities so far in 2016, meaning firearms-related fatalities have made up almost half of all officer deaths. Out of the123 total officer fatalities in 2015, only 41 were a result of guns.

So far this year, 24 officers have died as a result of traffic-related incidents, while eight were listed as"'other," which includes drownings, electrocutions, falls and fire-related incidents.
Texas has had the highest number of police fatalities in 2016, at 11, followed by Louisiana where seven cop deaths have been recorded.
READ MORE:Protests breakout in response to #PhilandoCastile and #AltonSterling
Earlier this month, five cops were fatally shot and nine injured in Dallas during protests sparked by the police killings of Alton Sterling and Philando Castille.
Three cops were killed and three more injured Sunday in Baton Rouge by a lone shooter.
Louisiana State Police Superintendent Colonel Mike Edmonson said the gunman's "movements, his direction, his attention was on police officers," and he was definitely "seeking out" police.
READ MORE: Not just Dallas: Attacks in 3 states target cops for 2 days in row
Authorities believe a number of recent shootings in other states also targeted law enforcement.
The Tennessee Bureau of Investigation issued a statement after a preliminary investigation into the July 7 shooting in Bristol that left one woman dead and an officer among the injured, saying they believed the incident was sparked by the recent police killings of African-American men.
On July 8, an officer in Ballwin, Missouri was ambushed while walking back from a traffic stop. He was critically injured in the shooting.
"A direct attack on an officer like this is not common. It was a very open and very blatant ambush," said Officer Benjamin Granda of the St. Louis County Police Department.
An officer in Roswell, Georgia was also shot at during a traffic patrol on the same day but was not injured.
Also on July 8, this time in Valdosta, Georgia, another officer was shot while responding to a 911 call. He survived the shooting.
Meanwhile, Michigan felt the brunt of the rampant violence when two court bailiffs, both former policemen were killed on July 11 by an inmate inside the Berrien County Courthouse.
READ MORE: 2 bailiffs, shooter dead after shots fired at Michigan courthouse
You can share this story on social media: