Hoosier VP? Trump taps Indiana Gov. Pence to join ticket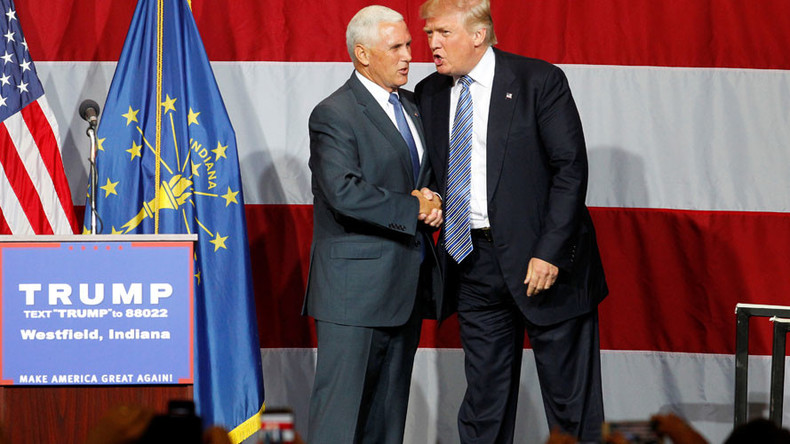 Presumptive Republican presidential nominee Donald Trump has selected Indiana Governor Mike Pence as his running mate, the billionaire businessman tweeted.
Trump was set to reveal his vice presidential pick on Friday morning during a press conference, but decided to hold off due to the terrorist attack in Nice, France on Thursday evening. Instead, the press conference will occur on Saturday morning.
I am pleased to announce that I have chosen Governor Mike Pence as my Vice Presidential running mate. News conference tomorrow at 11:00 A.M.

— Donald J. Trump (@realDonaldTrump) Jul 15 2016
Honored to join @realDonaldTrump and work to make America great again.

— Mike Pence (@mike_pence) Jul 15 2016
Pence revealed on Thursday that he was suspending his re-election campaign for governor. On Friday, Lieutenant Governor Eric Holcomb filed paperwork to enter the gubernatorial race, WRTV reported. Pence officially withdrew his name before the noon deadline.
Before being elected as the 50th governor of Indiana in 2012, Pence served 12 years in the House of Representatives from two different congressional districts. While on Capitol Hill, he was a member of the GOP leadership as the chair of the House Republican Conference. Pence previously was an attorney in private practice and an admissions counselor at his alma mater, Hanover College. His career in politics began with unsuccessful runs for Congress in 1988 and 1990. After that he became the president of the Indiana Policy Review Foundation, a self-described free-market think tank, before hosting 'The Mike Pence Show', a talk radio show that was syndicated in Indiana, as well as a weekend political talk show from 1995 to 1999.
At the beginning of July, the presumptive Republican presidential nominee met with the Indiana governor and his family.
Spent time with Indiana Governor Mike Pence and family yesterday. Very impressed, great people!

— Donald J. Trump (@realDonaldTrump) July 4, 2016
They also had breakfast together the Wednesday before the party convention, the day after campaigning together in Indiana.
Pence brings both executive and congressional experience to the GOP ticket, something Trump has previously said he values in a running mate, according to the New York Times, saying in an interview that he would choose someone with "a strong political background, who was well respected on the Hill, who can help me with legislation, and who could be a great president."
The Indiana governor previously endorsed Texas Senator Ted Cruz in the GOP presidential race, but promptly endorsed Trump after Cruz dropped out.
Pence is a conservative Republican and a member of the Tea Party. On immigration, he is against amnesty, but supports a guest worker program. He is against gay marriage, abortion and needle-exchange programs, even in the face of an HIV epidemic among drug users in his state. He was the face of a since-revised Religious Freedom Restoration Act-style law in Indiana that implied businesses were allowed to discriminate against gay, lesbian and transgender customers on religious grounds. The bill incurred national condemnation, and deeply hurt Indiana's economy. Pence also led the charge against allowing Syrian refugees to be resettled in the US.
Born and raised in Indiana, Pence majored in history at Hanover College and went to law school at Indiana University. His parents were Irish Catholic Democrats, though the governor identifies as an evangelical Christian. He and his wife Karen have three children.
The Trump-RNC joint fundraising committee first out with an fundraising email off Pence news, and new logo!

— Nick Corasaniti (@NYTnickc) Jul 15 2016
The Republican National Committee applauded Trump's VP choice.
"Governor Mike Pence is a strong addition to the ticket," RNC Chairman Reince Priebus said in a statement. "Governor Pence is an experienced public servant and a solid conservative whose policies have led to the longest period of uninterrupted job growth in Indiana's history."
"This is a job-creating, America First ticket, whose wealth of knowledge and experience will get middle class families thriving again. Their winning ideas are in stark contrast to Hillary Clinton, whose plans are merely more of the failed Obama policies which have sent debt skyrocketing and paychecks slumping," he continued. "Our ticket's robust vision for prosperity and security makes it clear that the Republican Party is the only party prepared to lead an American turnaround."
You can share this story on social media: