Indiana hires PR firm to fix image in wake of religious freedom bill controversy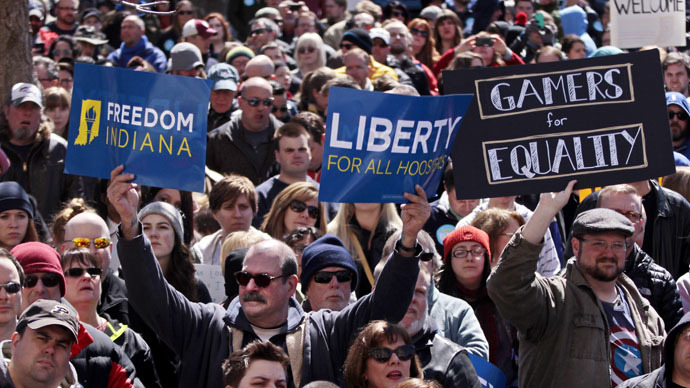 The state of Indiana has hired a public relations firms to strengthen its image as "a welcoming place to live, visit and do business." The 'damage control' is occurring just weeks after a national outcry over its discriminatory religious freedom bill.
National criticism descended upon Indiana after its Religious Freedom Restoration Act (RFRA) – before it was revised – was understood to have allowed businesses to discriminate against gay, lesbian and transgender customers on religious grounds. The bill incurred national condemnation, with state governors in Connecticut and New York, as well as the mayor of Washington, DC, banning state-funded travel barring revisions to the law.
Indiana is planning to spend millions to repair its image after #RFRA. http://t.co/OXH59RlAL3pic.twitter.com/jZfMQdfnfR

— IndyStar (@indystar) April 14, 2015
The New York firm Porter Novelli was retained by the Indiana Economic Development Corporation (IEDC) to support ongoing public relations initiatives to continue strengthening Indiana's global brand reputation.
READ MORE: Indiana lawmakers alter 'religious freedom' law under public pressure
"Now more than ever, we want to remind the world that Hoosiers welcome everyone and that Indiana is a great place for individuals, entrepreneurs and businesses to reach their full potential," said Victor Smith, Indiana Secretary of Commerce, to the Huffington Post. "That's why we are moving forward with this initiative together."
The IEDC doesn't mention the religious freedom law in its statement on the hire, but in an email sent to The Associated Press, the public relations companies said it was hired "to restore Indiana's image after the recent political controversy surrounding RFRA."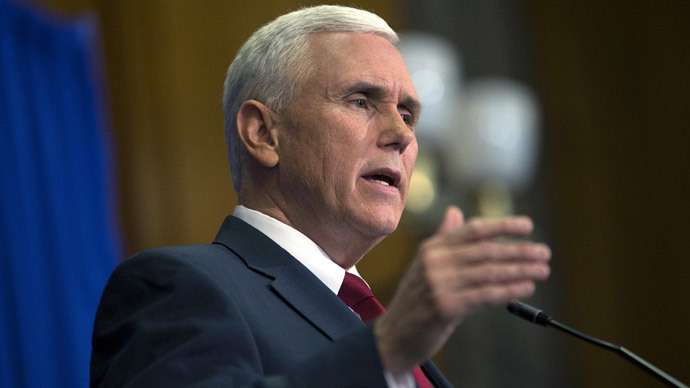 The AP reported the Senate Appropriations Committee added $1 million to tourism funding in the state budget specifically for that purpose last week. It is unclear whether any Indiana public relations firms were able to compete for the bid.
The Salon: http://t.co/YjavPEVwmF#Gop2012#Tcot#Tlot#Gop#Election2012#TeaParty#DefeatObama

— Gop2012news (@gop2012news) April 13, 2015
Indiana Governor Mike Pence (R) signed the religious freedom law that would have allowed any individual or corporation to refuse service and cite religious belief as a defense when sued by a private party. National condemnation arose as it was seen that the law would allow businesses to turn away gay and lesbian customers for religious reasons.
READ MORE: Obama wants to end 'conversion therapies for gay & transgender youth
Under pressure, condemnation from business organizations such as NASCAR and Apple, and state bans on travel to Indiana, Pence signed a revised measure to clarify the law does not allow businesses to deny good or services to LGBT customers.