Obama wants to end 'conversion' therapies for gay & transgender youth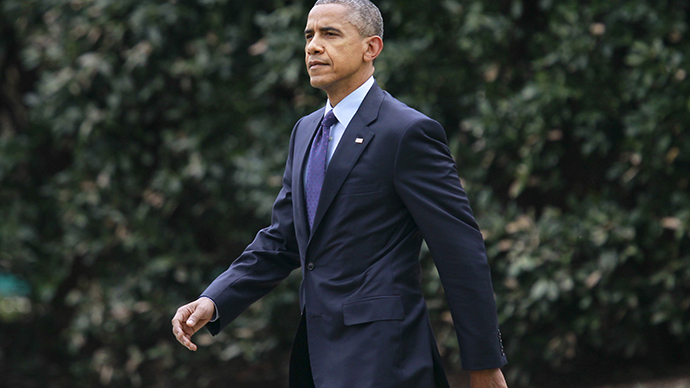 President Barack Obama has condemned the psychiatric practice that religious and conservative groups use to 'repair' gay, lesbian and transgender youth to make them straight. His decision will support efforts at state level to ban the practice.
Obama's announcement on Wednesday follows a petition for Leelah's Law that would ban 'conversion' therapy, which was signed by more than 120,000 petitioners. Leelah's Law is named after Leelah Alcorn, an Ohio transgender teen whom threw herself in front of a tractor-trailer in December after writing in an online suicide note that religious therapists had tried to convert her back to being a boy.
#LeelahAlcorn said she wanted her death to mean something.In response, Obama will call for end to conversion therapy http://t.co/mrg3WFOvi8

— Liam Stack (@liamstack) April 9, 2015
"Tonight, somewhere in America, a young person, let's say a young man, will struggle to fall to sleep, wrestling along with a secret he's held as long as he can remember. Soon, perhaps, he will decide it's time to let that secret out," wrote Obama.
"What happens next depends on him, his family, as well as his friends and his teachers and his community. But it also depends on us – on the kind of society we engender, the kind of future we build."
READ MORE: Indiana gov. backtracks seeks to amend religious freedom law after backlash
The president has not indicated plans to call for a federal law banning therapists from using such techniques, but White House officials told the New York Times "he is open to conversations with lawmakers from both parties."
Conversion therapists reject gay or gender dysphoria and argue that gays or those with transgender identities should be reversed so that people can be heterosexual.
READ MORE: In 'historic' ruling Calif. order to pay $100K for transgender inmate's sex change
California, New Jersey and the District of Columbia have banned therapists from offering the treatment to minors and 18 other states have introduced similar legislation in 2015.
Challenges to the laws in New Jersey and California were rejected by federal appeals court judges in 2013 and 2014, officials at the Human Rights Campaign said.
"I only need to look at the recent suicide note of Leelah Alcorn in Ohio to see that the desperation and tragedy I felt growing up is still around today," whistleblower Chelsea Manning told Cosmopolitan in an interview this month about her transition to a woman while an inmate in a military prison. "I've drafted similar notes at tough times in my life."
READ MORE: 'I had always known I was different' Chelsea Manning on transitioning as a woman
Valeria Jarrett, a senior adviser to the president who posted the White House response to the petition, told the New York Times the president was also moved by Alcorn's death.
"It was tragic, but I will tell you, unfortunately she has a lot of company," Jarrett said. "It's not the story of one young person. It is the story of countless young people who have been subjected to this."
Yes! Obama speaking out against conversion therapy for gays and trans people is amazing! #LeelahsLaw is becoming a reality!

— Dylan (8Bit) (@8bithomo) April 9, 2015
You can share this story on social media: