'I had always known I was different' Chelsea Manning on transitioning as a woman
Published time: 9 Apr, 2015 02:13
Edited time: 9 Apr, 2015 04:59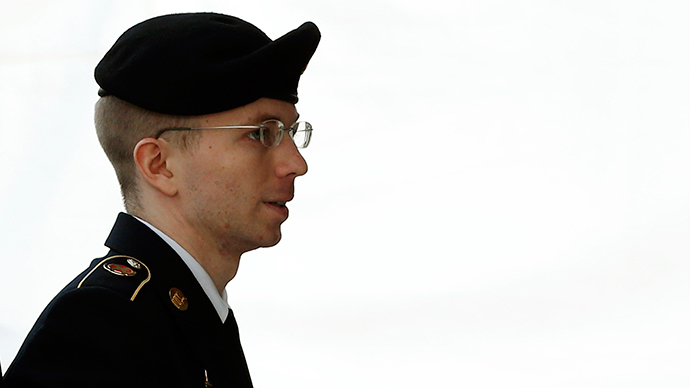 Private Chelsea Manning faced stern resistance when she wanted to come out as transgender, she said in an exclusive ​interview with Cosmopolitan. She also spoke about her transition to living as woman in a military prison.
Chelsea Manning – known as Bradley when she leaked troves of classified data via WikiLeaks – described a number of times where she wanted to come out. Often it was in response to the question like, "Is it normal for a guy to cross-dress a lot?"
READ MORE: Whistleblowing Manning begins tweeting from prison
The military doesn't allow in-person or phone interviews by inmates with reporters, so Cosmopolitan's interview with Manning, 27, at Fort Leavenworth prison in Kansas was conducted entirely by mail. Cosmo asked her about life behind bars and her lifelong desire to live as a woman.
During Manning's 2013 court martial, two doctors testified they had diagnosed her with gender dysphoria, or gender identity disorder. After being sentenced to 35 years in prison in August 2013 for leaking classified military documents for the purpose of revealing the human cost of war, Manning stole news headlines by declaring, "I want everyone to know the real me. I am Chelsea Manning. I am female."
@xychelsea Chelsea, your Cosmopolitan interview is on newsstands now—and on its way to you in the mail. Best, Abigail pic.twitter.com/fTD7ao9c1Z

— Abigail Pesta (@AbigailPesta) April 8, 2015
Since then, Manning said her quest for medical care during her transition has been distressing because she feels "like a joke" to military officials. She got a legal name change and requested treatment for gender dysphoria, but the requests were ignored. She had to sue the military for treatment with the help of the American Civil Liberties Union.
Military prison officials have since granted her hormone therapy and female grooming supplies, which includes makeup and female underwear. But she is forbidden to grow her hair, which she finds painful and awkward.
"I am torn up," she told Cosmo. "I get through each day OK, but at night, when I am alone in my room, I finally burn out and crash."
The @Cosmopolitan article has just hit stands. Check it out here: http://t.co/pp2dzMCZVX. Haven't gotten to see it yet =o

— Chelsea Manning (@xychelsea) April 8, 2015
The ACLU and Manning said they will continue to fight for the right to grow her hair. Cosmo contacted the Army about the lawsuit, who referred questions to the Department of Justice, which said it couldn't comment on pending litigation.
"The fact that Chelsea is receiving hormone therapy and other treatment for gender dysphoria is an important victory for her that will hopefully ease her distress," ACLU staff attorney Chase Strangio told the magazine.
READ MORE: Army court orders military to stop calling Chelsea Manning a man
Manning told Cosmo she spent much of her life feeling disconnected. She secretly dressed as a girl starting at age five or six. She was bullied in school, where she was called a 'girly boy' and 'faggy'. As a teenager, she denied that she was transgender or gay and tried to convince herself she was going through a phase. Her home life was rocky, her mother tried to commit suicide, and eventually her parents divorced.
"I had always known that I was 'different.' I didn't really understand it all until I got older," Manning said. "But there was always this foreboding sense something was 'wrong.' I never knew how to talk about it. I just remember feeling terrified about what would happen if someone found out. It was a very lonely feeling."
Nowadays, Manning says she spends most of her time in the prison library working on her degree in political science. She works out at the gym and has a job in a woodworking shop, which she describes as "very fun."
READ MORE: Jailed whistleblower Chelsea Manning to receive taxpayer-funded hormone therapy
She said the vast majority of transgender women are housed in male prison facilities, but that she hasn't faced harassment from inmates and has made some friends.
"The guys here are adults … There are some very smart and sophisticated people in prisons all across America – I don't think television and the media give them credit."
She is allowed visits from friends and relatives, but the prison doesn't allow visits from people who didn't know Manning prior to her incarceration.
However, she receives letters from transgender people around the world.
"I am always flattered that they feel that I have inspired them in some way,"she said. "But honestly, I think it's the other way around: They inspire me more than I think they might realize."
Manning could get out on parole in around seven years, but a parole officer would supervise her until her maximum release date in 2045.