Whistleblowing Manning begins tweeting from prison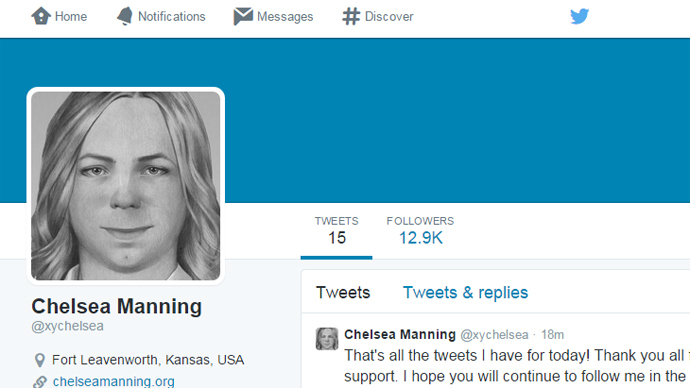 The former Army intelligence analyst and whistleblower, who passed classified US documents to Wikileaks, has begun tweeting from prison. Chelsea Manning, formerly Bradley, is using the handle @xychelsea.
Born Bradley Edward Manning, the Army private came out as a transgender woman in April 2013, and legally changed her name to "Chelsea Elizabeth Manning." The Army court of criminal appeals recently ruled the Army was obligated to refer to Manning as a woman.
Read More: Army court orders military to stop calling Chelsea Manning a man
Starting with a shout out to the friends who have always stood by me @ggreenwald@amnesty@carwinb@savemanning and so many others #thankyou

— Chelsea Manning (@xychelsea) April 3, 2015
Manning had nearly 13,000 followers by Friday afternoon.
"Given the conditions of her custody – which do not extend to internet access – she will dictate comments by phone to supporters who will then post on her behalf," announced the Guardian. Manning has written several columns for the UK paper since last month.
Also for those of you asking: @fitzgibbonmedia is handling my account for the time being

— Chelsea Manning (@xychelsea) April 3, 2015
Transgender people are currently not allowed to serve in the US military, though the new defense secretary recently said he was "very open-minded" about welcoming transgender personnel.
Read More: In 'historic' ruling Calif. ordered to pay $100K for transgender inmate's sex change
#FF This is going to be the official account of Chelsea Manning. She will start tweeting this afternoon → @xychelsea

— jeremy scahill (@jeremyscahill) April 3, 2015
Please welcome Chelsea Manning aka @xychelsea to Twitter.

— Anonymous (@AnonyOps) April 3, 2015
Exposing War Crimes Is Not A Crime! Chelsea Manning now has her very own Twitter account! → @xychelsea#Manningpic.twitter.com/0jTKAuPU1o

— CODEPINK (@codepink) April 3, 2015
Manning is currently serving a 35-year sentence in the military's maximum-security Fort Leavenworth prison, following the 2013 conviction under the Espionage Act and US military laws, for handing over a trove of secret government documents to Wikileaks.
The documents included videos of US airstrikes that killed civilians in Iraq and Afghanistan, 250,000 US diplomatic cables, and 500,000 Army reports that became known as the "Iraq war logs" and "Afghan war logs."
She will be eligible for parole in seven years.