Indiana gov. backtracks, seeks to clarify anti-gay law amid national backlash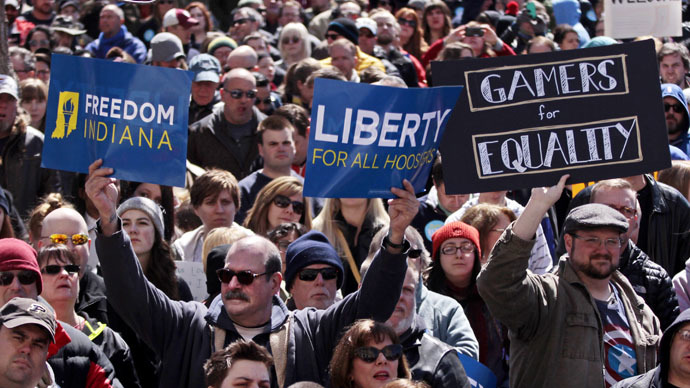 National backlash against Indiana's new religious freedom law has forced the governor to agree to clarify the text to ensure better protections for gays and lesbians. Two states have begun boycotting the state, while some companies threatened boycotts.
The White House spokesman told reporters Tuesday that the administration doesn't agree with Indiana Gov. Mike Pence that the new religious freedom law is just like the federal law enacted more than 20 years ago by President Bill Clinton. The 1993 federal law was aimed at protecting the freedom of religious minorities from federal intrusion and was mostly concerned with the religious rights of Native Americans, with protections for tribal land and religious sites.
White House Press Secretary Josh Earnest said the Indiana law, dubbed the Religious Freedom Restoration Act, is much broader because it applies to corporations, not just people and religious groups. Indiana's law allows the owners of for-profit businesses to invoke religious rights, which many fear will be used to deny service to the lesbian, gay, bisexual and transgender (LGBT) communities.
Three big myths about Indiana's religious freedom law, debunked: http://t.co/gMuqt6dcDi (Chute/Reuters) pic.twitter.com/70hZvYy33Z

— msnbc (@msnbc) April 1, 2015
"The law in Indiana applies to private transactions as well and that's why we've seen such a bipartisan political outcry against the law," Earnest told reporters. "[It] flies in the face of the kind of values that people across the country strongly support.
Earnest said that Pence had agreed to fix the law to clarify that it doesn't discriminate against gays and lesbians, and Pence announced publicly that he had asked state lawmakers to make the changes by the end of the week.
READ MORE:Intense backlash hits Indiana after religious freedom law passes
"I don't believe for a minute that it was the intention of the General Assembly to create a license to discriminate, or a right to deny services to gays, lesbians or anyone else in this state. And it certainly wasn't my intent," Pence said. "But I can appreciate that that's become the impression -- not just here in Indiana, but all across this country. And we need to confront that."
Critics of the law say it does "create a license to discriminate," because it would protect businesses which do not want to serve gays and lesbians – such as florists or caterers who might be hired for a same-sex wedding.
Hey #Indiana -- #religiousliberty laws should never be used as a sword, only a shield. http://t.co/lLdB1TccUU

— Congressman Nadler (@RepJerryNadler) March 31, 2015
Also critical of the law are the governors of Connecticut and New York. Connecticut Gov. Dannel P. Malloy banned all state-sponsored travel to Indiana in an executive order Monday afternoon and announced the move via Twitter.
"When new laws turn back the clock on progress, we can't sit idly by," he tweeted. "We are sending a message that discrimination won't be tolerated."
The executive order directs all state departments and agencies to immediately review all plans for state-paid trips to places "that create the grounds for such discrimination and to bar any such publicly funded travel unless necessary for the enforcement of state law, to meet contractual obligations, or for the protection of public health, welfare and safety."
As the executive order applies to the University of Connecticut, an immediate question is whether anyone from UConn's men's basketball team will attend the NCAA Final Four activities during the weekend in Indianapolis.
UConn coach won't go to Final Four because of Indiana "religious freedom" law http://t.co/qY1pp9OejC

— Huffington Post (@HuffingtonPost) April 1, 2015
New York Gov. Andrew Cuomo also issued a similar ban on travel on Tuesday.
"New York State has been, and will continue to be, a leader in ensuring that all LGBT persons enjoy full and equal civil rights. With this action, we stand by our LGBT family members, friends and colleagues to ensure that their rights are respected," said Cuomo in a statement.
Washington, DC Mayor Muriel Bowser issued an executive order banning city-funded travel until Indiana repeals or amends its law.
READ MORE:'Enshrining discrimination': Apple CEO hits out at US wave of religious legislation
Businesses are also speaking out, with NASCAR becoming the latest critic issuing statement.
"NASCAR is disappointed by the recent legislation passed in Indiana. We will not embrace nor participate in exclusion or intolerance. We are committed to diversity and inclusion within our sport and therefore will continue to welcome all competitors and fans at our events in the state of Indiana and anywhere else we race," said NASCAR Senior Vice President and Chief Communications Officer Brett Jewkes.
In a related story, the Arkansas state legislature passed its version of a religious freedom law on uesday. It is now heading to the state's Republican governor, Asa Hutchinson, for a signature. There were several attempts to add a clause to the bill that would explicitly bar the discrimination of gays and lesbians, but they failed.