'Enshrining discrimination': Apple CEO hits out at US wave of religious legislation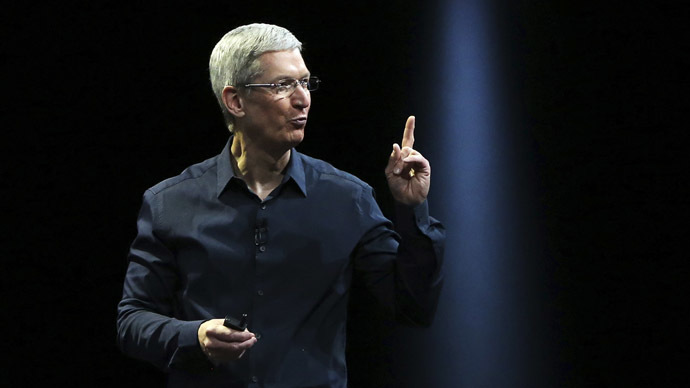 Apple CEO Tim Cook is not happy about the climate of inequality and discrimination in the US. The tech giant's chief has struck out at laws in some states as being downright "dangerous" in their erosion of a healthy society.
The opinion was published in a Washington Post editorial on Sunday, in which Cook's immediate target was the new wave of laws sweeping several states up in a religious frenzy that is dangerous or disrespectful to everyone living in those states.
Apple is open for everyone. We are deeply disappointed in Indiana's new law and calling on Arkansas Gov. to veto the similar #HB1228.

— Tim Cook (@tim_cook) March 27, 2015
"A wave of legislation, introduced in more than two dozen states, would allow people to discriminate against their neighbors. Some, such as the bill enacted in Indiana last week that drew a national outcry and one passed in Arkansas, say individuals can cite their personal religious beliefs to refuse service to a customer or resist a state nondiscrimination law."
Cook is speaking here of the controversial law that would free up shopkeepers from serving people who don't conform to their religious standards; naturally, the LGBT community comes up, although no one understands how to go about asking every person what their sexuality is, if it's not overtly apparent. A further problem is that the Indiana law, in particular, speaks of any agitation that would "substantially burden" an individual's religious freedoms. Therefore, opponents of the law say there's simply no clarity.
READ MORE: Intense backlash hits Indiana after religious freedom law passes
Indiana has since faced a fierce backlash from celebrities and corporations alike. The law was actually designed during the Clinton administration, to protect the rights of Native Americans.
In Cook's view, the bill "rationalizes injustice by pretending to defend something many of us hold dear."
The Apple CEO fears that the prejudice is less veiled in other places, listing Texas as a place to watch, for its law that threatens to strip the salaries and pensions of officials who agree to officiate at gay weddings.
"In total, there are nearly 100 bills designed to enshrine discrimination in state law." What's more, Cook believes they seek to undermine the very foundations on which the United States was built and, more importantly, the years of progress achieved toward a greater equality.
#Indiana. Where you can marry your cousin while carrying assault rifles, but gay people are refused a cheeseburger. pic.twitter.com/DSdmLHlkVa

— Bipartisan Report (@Bipartisanism) March 29, 2015
He is greatly in favor of the business community continuing to stand behind any groups that may suffer because of this perceived reversal.
"America's business community recognized a long time ago that discrimination, in all its forms, is bad for business," Cook went on. "On behalf of Apple, I'm standing up to oppose this new wave of legislation – wherever it emerges."
Cook remains one of the most prominent chief executives ever to publicize his own homosexuality, but seeks to emphasize that his views on the controversial laws don't impact his "great reverence for religious freedom." He was also baptized as a child.
However, current developments remind him too much of an America marked by 'Whites Only' signs that marked the doors of businesses just half a century ago. "We must never return to any semblance of that time. America must be a land of opportunity for everyone," Cook warned.
Although the Arkansas, Indiana and other bills don't explicitly seek to target the LGBT community, there is overwhelming agreement in the US that this will be the biggest marker on which a decision to serve a customer is based.
If @GovPenceIN truly believed in the Bible, he'd heed Proverbs 12:22: "Lying lips are an abomination to the Lord" pic.twitter.com/fVbpEGFf2H

— The Daily Edge (@TheDailyEdge) March 30, 2015
Cook's final words are that "this isn't a political issue. It isn't a religious issue. This is about how we treat each other as human beings. Opposing discrimination takes courage. With the lives and dignity of so many people at stake, it's time for all of us to be courageous."
Currently, same-sex marriage is legal in 37 states, following a Supreme Court ruling in 2013 that excluded federal law from pursuing punishment for such unions.