Arm yourselves: 54% of Americans support legally carrying guns for self-defense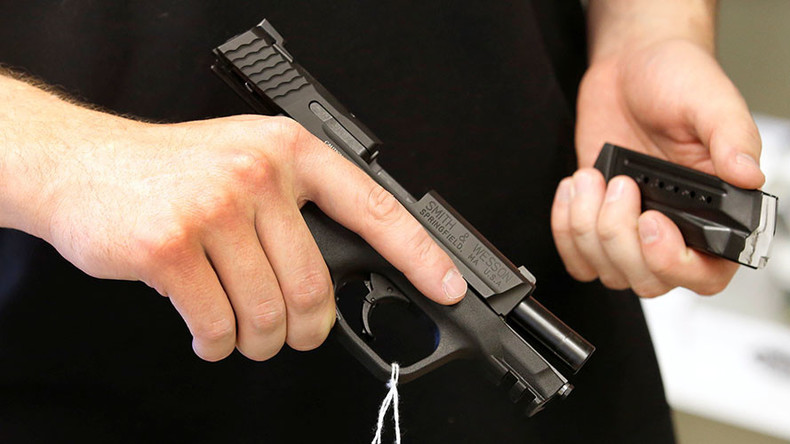 Although more than half of Americans support some form of gun control measures, a new poll finds that a majority of adults think people should be encouraged to legally carry guns for self-defense.
Americans are long known to support the passage of stricter gun control measures in the wake of a mass shooting. Just over a week after Omar Mateen opened fire at a gay nightclub in Orlando, Florida and killed 49 people and injured 53 others, the Washington Post and ABC News conducted a survey that had similar results.
READ MORE: Clinton shows double-digit lead in new poll as Trump slips behind
Surprisingly, however, 54 percent of respondents supported encouraging more people to legally carry guns for use in self-defense, while 42 percent opposed. The vast majority ‒ 86 percent ‒ would like to block people from buying guns if they appear on the FBI's list of people with possible connections to terrorism. Congressional Republicans have defeated several such measures introduced by Democrats since the Pulse nightclub shooting, arguing that such a ban would violate the constitutional right to due process. Democrats have likewise prevented the passage of more narrowly tailored options introduced by Senate Republicans.
Respondents were almost evenly split, 51-48 percent, in favor of a nationwide ban on the sale of assault weapons, with 41 percent of all adults saying they strongly favored such a ban, while 37 percent strongly opposed one. The numbers were statistically the same when looking at only the answers by registered voters.
For the first time during a post-9/11 presidential election campaign, significantly more people trusted the Democratic candidate on terrorism over the GOP candidate, according to previous polling by the Pew Research Center. Exactly half of adult respondents said presumptive Democratic nominee Hillary Clinton was more trustworthy on terrorism than presumptive Republican nominee Donald Trump, while 39 percent opted for the GOP candidate.
In 2012, 47 percent of respondents thought President Barack Obama was better able to handle terrorism, compared to 43 percent for his opponent, former Massachusetts Governor Mitt Romney. When Obama first sought the White House, however, only 39 percent of thought he was better suited on the topic, and 53 percent preferred the GOP nominee, Senator John McCain of Arizona. In 2004, Senator John Kerry (D-Massachusetts) and President George W. Bush, a Republican, were statistically tied on terrorism, with only a percentage point difference between them.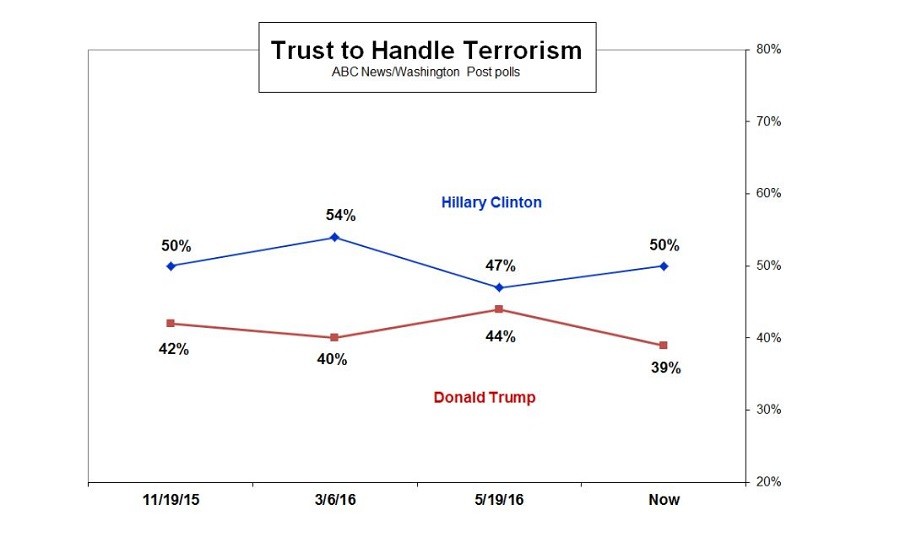 Respondents were more likely to think that Clinton had a better reaction to the Orlando massacre than Trump. Nearly half ‒ 46 percent ‒ of adults felt the former secretary of state "did a better job responding to the attacks overall," compared to 28 percent who preferred the billionaire businessman's response. A quarter of respondents didn't have a preference (17 percent), didn't like either (7 percent) or liked both equally (1 percent).
The preference for Clinton on terrorism didn't extend to her party, however, as respondents tended to trust Republicans overall more than Democrats, 46-37 percent.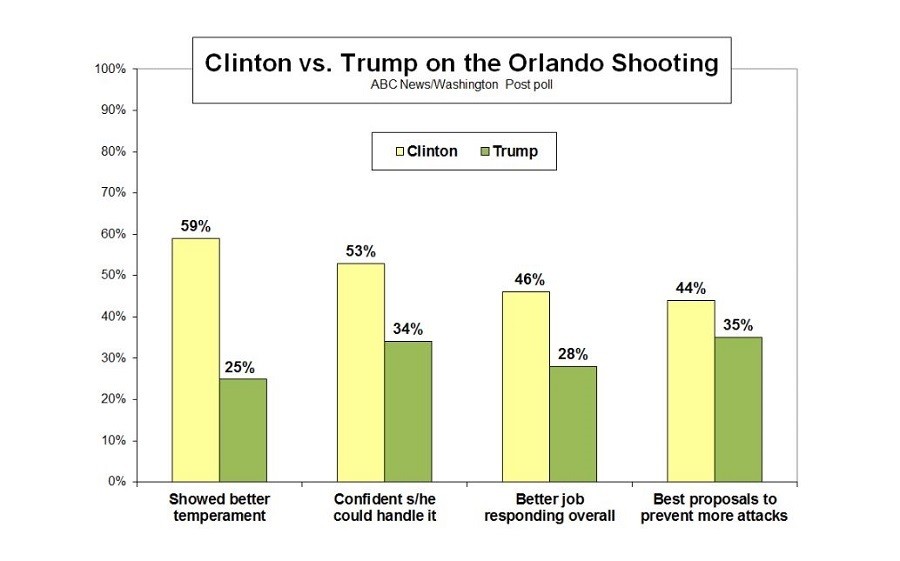 Clinton also gave more than half of respondents ‒ 53 percent ‒ "the most confidence" that she "could handle the situation as president," while 34 percent preferred Trump. Nearly six in 10 felt the Democratic candidate "showed better temperament in responding to the shooting," compared to only a quarter who thought Trump had the better mentality.
The nationwide survey of 1,001 randomly sampled adults was conducted June 20-23. A third of respondents identified themselves as independents, while 36 percent said they were Democrats and 24 percent identified as Republicans. The margin of error was plus or minus 3.5 percentage points.
You can share this story on social media: