'Stopping lone wolves a top priority': Clinton outlines plan to tackle ISIS after Orlando massacre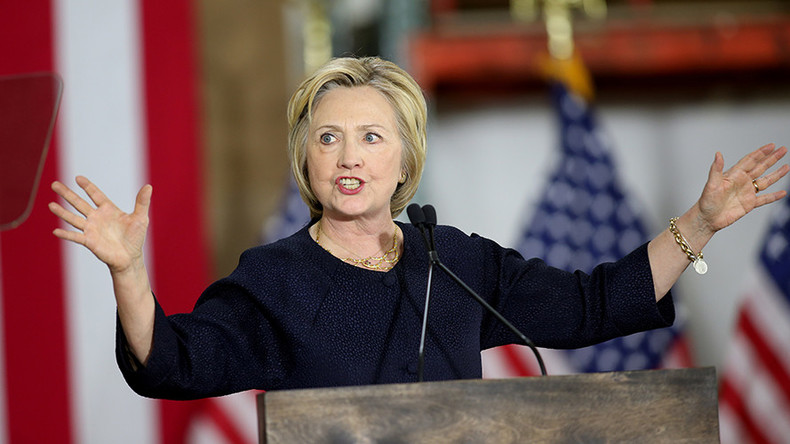 In light of the Orlando massacre, presumptive Democratic presidential nominee Hillary Clinton has outlined how she would tackle Islamic State and similar lone wolf terrorist attacks.
Speaking during a campaign event in Cleveland, on Monday, the Democratic presidential hopeful was introduced by Senator Sherrod Brown (D-Ohio), who said that the attack on Sunday was "fueled by hatred – hatred which has no place" in America.
Paying tribute to those killed in the tragic event, Clinton said that as a mother, she "can't imagine what the families [of the deceased or injured] are going through" and that "all Americans need to stand together."
Noting that the gunman, 29-year-old US citizen Omar Mateen, had pledged allegiance to Islamic State (IS, formerly ISIS/ISIL), Clinton went on to outline how she would tackle the group as president.
"The Orlando terrorist may be dead, but the virus that poisoned his mind remains very much alive," Clinton said. "We must attack it with clear eyes, steady hands, unwavering determination and pride in our country and our values."
READ MORE: 'Beyond good & evil': Russian FM spokeswoman slams homophobic comments on Orlando massacre
"We have to be as adaptable and versatile as our enemies," Clinton said, adding that she would "make identifying and stopping lone wolves a top priority" of her presidency.
The former secretary of state detailed a three-step plan that, firstly, involves working with other nations to stop money and arms being funnelled into terrorist organizations if there is to be any success in "stemming the flow of jihadists."
Secondly, Clinton said that on US soil, the government must "harden our own defenses" and "do more" to support first responders, law enforcement agencies and intelligence officers.
Clinton then took aim at gun laws, stating that it is "essential we stop terrorists getting the tools they need to carry out the attacks… and that is especially true of assault weapons like those used in Orlando and San Bernardino."
READ MORE: #WeAreOrlando: World landmarks light up following deadly shooting (PHOTOS, VIDEO)
"Weapons of war have no place on our streets," Clinton added, alluding to the AR-15 assault rifle reportedly used in the Orlando attack. "If the FBI is watching you for suspected terrorist links, you shouldn't be able to just go buy a gun with no questions asked."
Clinton also touched on the "loopholes" that allow people buy weapons without background checks through online purchases or at gun shows.
"If you're too dangerous to get on a plane, you're too dangerous to buy a gun in America," Clinton added.
The third area that Clinton said was important to tackle was further work to prevent the radicalization of young people and map out "jihadist networks" and show alternatives.
In an apparent attack on Republican rival Donald Trump, Clinton said it was important not to scapegoat all Muslims or isolating them, but rather to intensify discussions with Muslim communities to help stop radicalization.
"Inflammatory, anti-Muslim rhetoric and threatening to ban the families and friends of Muslim Americans, as well as millions of Muslim business people and tourists, from entering our country, hurts the vast majority of Muslims who love freedom and hate terror," she said.
When Clinton took to the stage, protesters interrupted her chanting "H is hypocrisy." The rest of the crowd responded by chanting, "We love Hillary."