Senate rejects four gun control measures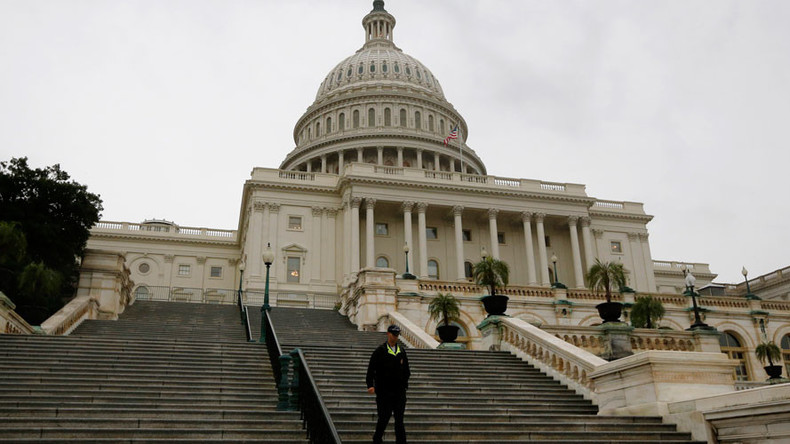 Just over a week after the massacre at a gay nightclub in Orlando, Florida, the US Senate voted against four gun control amendments, with Democrats and Republicans entrenched in their respective corners.
All four proposals were offered as amendments to a Justice Department spending bill set to hit the Senate floor on Monday.
Senator Dianne Feinstein (D-California) sponsored an amendment that would allow the Department of Justice to deny a gun sale to anyone if the agency has a "reasonable belief" that the buyer is likely to engage in terrorism.
Feinstein's amendment failed in a 47-53 vote.
Sen. John Cornyn (R-Texas) is offering a competing amendment, which would require that law enforcement be alerted when anyone on the terror watch list attempts to buy a gun from a licensed dealer. If anyone who has been investigated for terrorism within the last five years tries to purchase a firearm, the DoJ would be able to block a sale for up to 72 hours while prosecutors go to court to show probable cause to permanently block the transaction. The National Rifle Association has offered its support for this measure.
Cornyn's amendment failed in a vote of 53-47.
An amendment proposed by Sen. Chuck Grassley (R-Iowa) tackles the issue of mental health and buying guns. His measure would clarify current language regarding mental health and make it more difficult to add mentally ill people to the background check database, which would give those people suspected of having serious mental illness a process to challenge that determination. The amendment would also boost funds for the National Instant Criminal Background Check System and ensure that the correct records are uploaded into the system in a timely manner.
Grassley's amendment failed 53-47.
Finally. Sen. Chris Murphy (D-Connecticut) sponsored an amendment that would close the so-called "gun show loophole" by requiring every gun purchaser to undergo a background check, even during private sales or at gun shows. The measure would also expand the background check database.
Murphy's amendment failed in a 44-56 vote.
Even Murphy admitted that it was highly unlikely any of the amendments would pass because they would need 60 votes to overcome a potential GOP filibuster. Instead, he focused on the public's response to his nearly 15-hour filibuster last Wednesday and Thursday.
"I admit that the background checks bill is going to be tough to get 60 votes on, but we still have hope that we can get Republicans to support the bill, stopping terrorists from getting weapons," Murphy told ABC's 'This Week'. "But in the final analysis, what may be most important is that our filibuster helped galvanize an entire country around this issue."
"It wasn't just that 40 senators came to the floor and supported my effort to get these votes but there were millions of people all across the country who rose up and who joined our effort," he said on Sunday.
Bills that would have closed the gun show loophole failed after the 2012 Sandy Hook shooting in Newtown, Connecticut and after the 2015 terrorist attack in San Bernardino, California.
The NRA is opposed to requiring private sellers to be licensed, which would require them to perform background checks on any sales ‒ even if a person only ever sells one firearm. The guns rights group is also opposed to cracking down on internet gun sales, saying that it would be a violation of both the First and Second Amendments, according to NBC News.
"We all agree that terrorists should not be allowed to purchase or possess firearms. We should all agree that law-abiding Americans who are wrongly put on a secret government list should not be denied their constitutional right to due process. These are not mutually exclusive ideas. It is shocking that the safety of the American people is taking a backseat to political theatre," Chris Cox, the executive director of the NRA's lobbying arm, said Monday.
"We look forward to working with those interested in real solutions to keep the American people safe, including their right to defend themselves in the face of government failure," Cox added.

Cornyn's amendment had the highest chance of bipartisan support, since it was backed by both the NRA and Attorney General Loretta Lynch. She told 'Fox News Sunday' that such an amendment would give the federal government the ability to stop a sale to somebody on the terror watch list.
Cornyn's amendment also has the implied support of presumptive Republican presidential nominee Donald Trump.
Another potential gun control option may be in the pipeline. Maine Sen. Susan Collins, a moderate Republican with a history of compromise and who is not up for reelection in 2016, is working with both her fellow party members and some Democrats to write a bill that would prevent people on the federal no-fly list from purchasing guns, Fox News reported. However, she does not have the GOP's blessing, so it's unclear if her bill would get a floor vote.
On the House side of Capitol Hill, Speaker Paul Ryan (R-Wisconsin) told NBC's 'Meet the Press' that he's in no rush to vote on gun control.
"We're going to take a deep breath and make sure that this is done correctly, so that the policy of making sure that the authorities know, and have time to respond to if a person who was on a terrorist watch list is trying to buy a gun, that they're notified," Ryan said Sunday.
You can share this story on social media: