Senate rejects attempt to expand background checks on firearm sales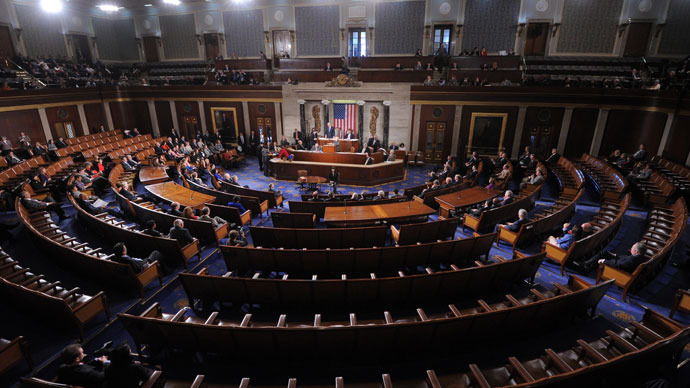 The United States Senate has rejected a gun control law that would have expanded background checks. President Obama, during a statement Wednesday afternoon, characterized Congress' failure to pass the bill as a "shameful day in Washington."
Lawmakers in Washington voted 54-46 in favor of the Toomey-Manchin universal background checks amendment Wednesday afternoon. The measure needed 60 'yes' votes to be approved and for a larger gun control bill to be voted on by the full Congress.
Hours earlier, Vice President Joe Biden urged lawmakers to adopt the amendment.
"I hope to God that there's 60 people up there who have the courage to stand up," Biden said Wednesday afternoon. "It doesn't take that much courage. The people are with them."
The vice president was in attendance on Capitol Hill for Wednesday's vote on the chance that he'd be required to cast a ballot himself. Under Senate rules, Biden serves as President of the Senate and can cast votes in instances that would otherwise end in a tie. Just one day earlier at a speaking engagement in Baltimore, Maryland, the vice president said the vote "may literally come down to one or two senators."
Before the vote, relatives of the victims of the mass shootings in Newtown, Connecticut and Aurora, Colorado gathered on the grounds of the US Capitol Building to read aloud the names of Americans killed by guns in the last year.
Patricia Maisch, a victim of the 2011 Tucson, Arizona shooting that critically injured Congresswoman Gabrielle Giffords, yelled, "Shame on you!" as the vice president read the results of the vote. "They have no soul," she said.
Also on Wednesday, White House press secretary Jay Carney urged members of the Senate to pass new firearm restrictions, such as the Toomey-Manchin amendment, a bipartisan effort that would have expanded background checks.
"Ninety per cent of the American people support expanded background checks. If you are opposed to this legislation, you should obviously explain why you are against what 90 per cent of the people are for," Carney said.
US President Barack Obama condemned members of Congress who rejected the measure in a Wednesday speech following the vote. Obama had previously said that the proposed background check expansion, which some criticized as being too weak to be effective, should "transcend politics" between Democrats and conservative Republicans. 
"By now it's well-known that 90 per cent of the American people support universal background checks that make it harder for a dangerous person to buy a gun," he said. "We're talking about convicted felons, people convicted of domestic violence, people with a severe mental illness." 
His speech came just minutes after news broke that a man protesting the background check measure was arrested on Capitol grounds carrying a loaded gun. 
As Obama spoke, the Senate voted 40 to 60 to defeat a bill that would have reinstated an expired ban on military-style guns like those used in both the Aurora, Colorado and Newtown, Connecticut massacres. The president was joined in the Rose Garden by relatives of victims who were killed at Sandy Hook Elementary School, as well as Giffords. 
Gun lobbyists and their allies "willfully lied about the bill," Obama said, adding that "They claimed that it would create some sort of 'Big Brother' gun registry - even though the bill did the exact opposite. This legislation in fact outlawed any registry, plain and simple, right there in the text."
The US Senate also voted 46 to 54 to defeat an amendment to limit the size of ammunition magazines. 
During his remarks, Obama added that Wednesday's vote made for "a pretty shameful day for Washington," encouraging Americans to vote against politicians he said ignore their constituents' best interests in next year's midterm elections.